What are 360 feedback tools?
Employees are the bedrock of your organization and to improve the drawbacks of your company, the performance of your employees needs to be thoroughly assessed. So 360 feedback tools make this assessment easier. You can gather real-time feedback on your employees' performance effectively from peers, superiors, subordinates, etc. along with maintaining the anonymity of the feedback received.
Top Ten 360 feedback tools:
Searching for the ideal online feedback tool can be really difficult and so we have tried our best to help you with the same. We have kept all amazing features including a well-designed dashboard, reliable survey templates, customization, and security in consideration while formulating this list of the 10 best 360 feedback tools. Engage in these characteristics of the mentioned tools and decide which one best suits your needs!
360 Feedback Tool #1 : Fynzo Survey
Fynzo provides a powerful and advanced suite of software that fulfills your different business needs. Their support team is available around the clock for hearing out their customers and helping them utilize the software to the fullest.
Fynzo offers a free 360 feedback tool– Fynzo Survey, which comes with modern features and multiple customization options.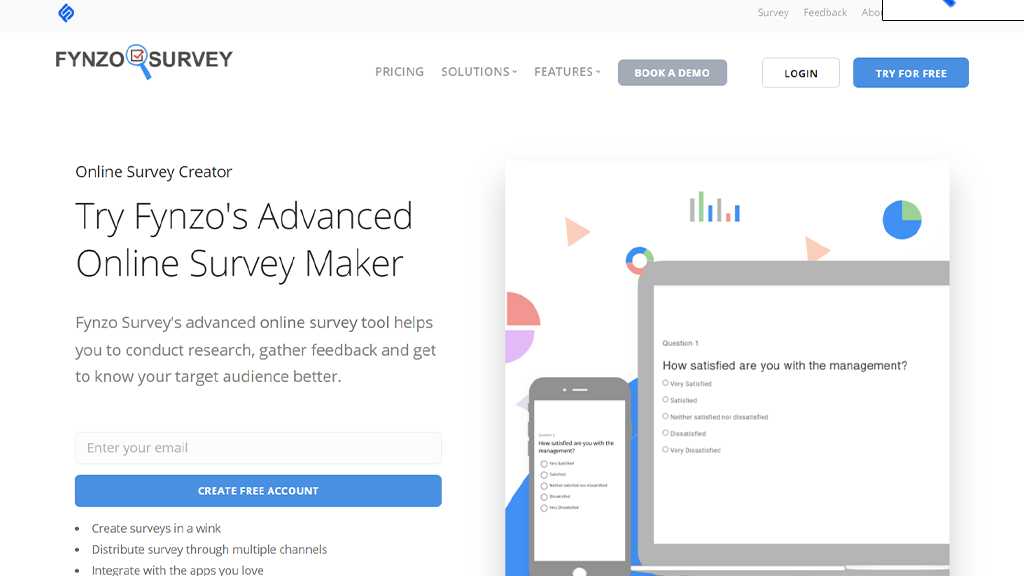 Lets explore some pros and cons of this online survey software:
Pros:
Comes with an easy survey builder interface.
Create multiple question types including NPS, Likert scales, and smiley, star ratings, and many more.
Implement advanced survey features like jump logic, piping, and custom variables, and many more.

Share surveys

on different social media platforms, send them via email, embed on your website, or circulate them with the help of QR codes, etc.

Analyze the reports

received in different formats including cross-tabulation, trend report, and many more.
Schedule reports on multiple emails.

Collaborate

with your team members while creating surveys, analyzing reports, etc.

Personalize

your surveys by adding your organization's logo, background, theme color, etc.
Download the data received in Excel, CSV, SPSS, pdf, and many other formats or export to Google Sheet.
Integrate with the apps you love including Zapier, Google Analytics, Slack, Facebook Pixel, and many more.
Fynzo Survey comes with an online survey app that supports Android, iOS devices. You can create surveys, share them, and view/download the results with the mobile app too.
Grab geolocation while taking the surveys in the field with mobile App.
On top of all these amazing features, Fynzo Survey

pricing

starts at only $17 a month
Con:
Young company: Since it is a young company, it is still evolving and adding new features.
Pricing: $17/month
360 Feedback Tool #2 : Typeform
Typeform is a well-known web-based platform that is gaining popularity day by day. It collects useful feedback from your entire team to conduct the evaluation process of your employees efficiently. With this online 360 feedback software, you can personalize your forms and share them via any platform of your choice.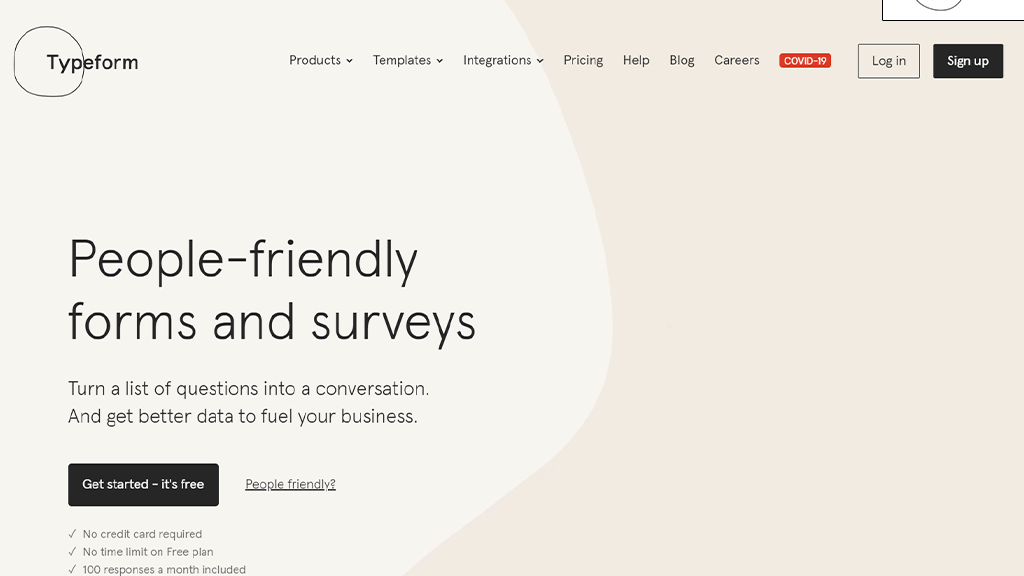 Pros:
Professional surveys: The presentation of the forms is extremely neat and professional. You do not need to customize it much for making it look professional.
Smooth interface: It focuses on completing just one question at a time and then smoothly goes over to the next one. It is easy to navigate and gives a sense of completion to the respondent after answering each question.
Customization options: You can customize these forms with ease. Also, add graphics and images to make the form look more appealing to the eye.
Report feature: This particular feature makes the representation of the data collected easier to comprehend. Survey reports provide the visual representation of the survey results you obtain which makes it easier to present to a team.
Con:
Unreliable customer support: Their customer service is not available 24X7. So, if people have queries on hours apart from their regular business hours, they won't be solved before the next workday.
So if you are an existing customer of Typeform, looking for a change you may check out this blog and select the Typeform alternatives that best suits your business needs.
Pricing: $35/month
360 Feedback Tool #3 : SurveySparrow
SurveySparrow is on an online feedback collection tool that offers highly personalized survey experiences with the help of multi-UI platforms. You can automate and conduct 360 feedback surveys at given time intervals. Also, identify those channels which fetch you great responses easily using SurveySparrow.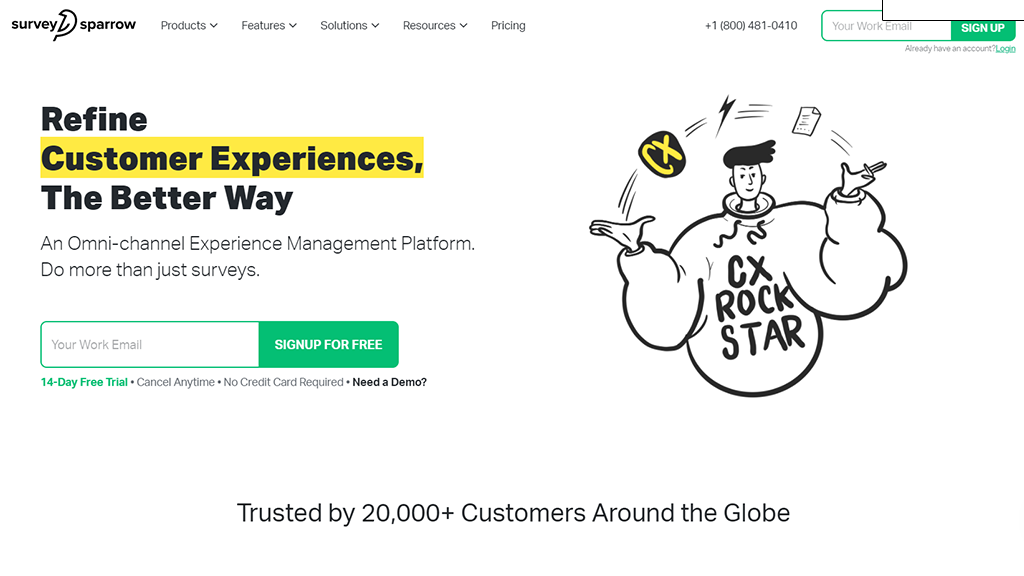 Pros:
Measure NPS: With Survey Sparrow's NPS tool you can collect NPS ratings of different areas of expertise of the employee you are assessing at present.
Mobile-first interface: It has an interface suitable for mobiles and similar devices. This increases survey response rates according to recent surveys. Filling out a survey seems like text messaging on a phone.
Conversational surveys: You can create surveys that have a conversational tone along with chat type surveys. This makes the respondents feel at ease when they are filling up their forms.
Responsive customer support: They have a dedicated customer service team which is available for answering the confusions of their users and provide useful solutions
Cons:
Features need improvement: The report and analyzing tools need to be improved as exported reports do not show answers to custom text answers. Also, you can only read them when you are online.
Pricing: $19/month
360 Feedback Tool #4 :SurveyMonkey
SurveyMonkey is one of the smartest 360° feedback tool that helps you align the departments of your company in a way that would help you achieve your organizational goals. You can receive anonymous feedback using simple surveys provided by Survey Monkey and customize them according to the needs of your employees.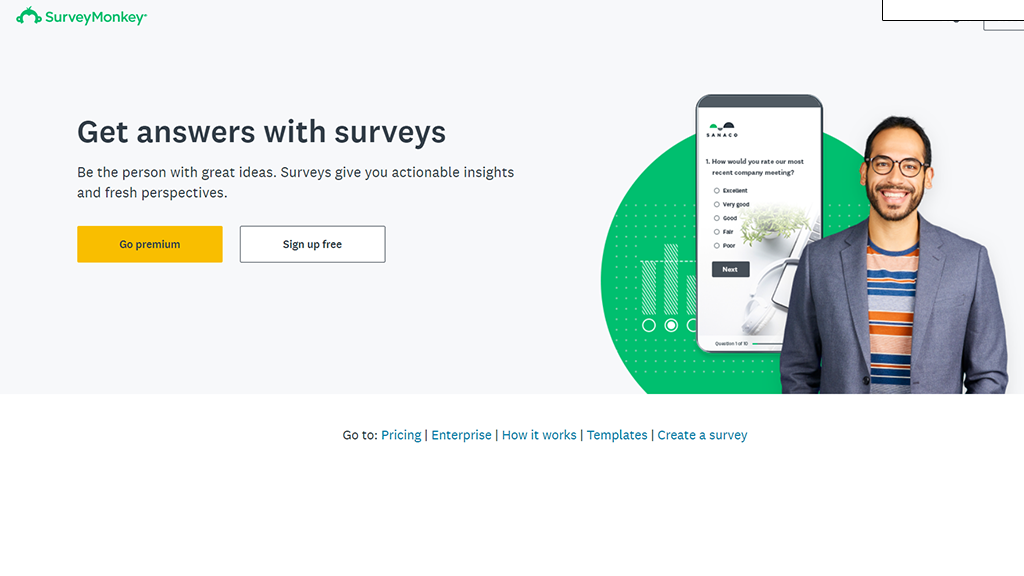 Pros:
Ease of use: An easy-to-use interface allows users to complete prolonged surveys in a short time.
Ready-made templates: Well made templates and questionnaires that allow users to utilize them without having to create fresh surveys from scratch
Customizable branding options: Its customizable branding and reporting features make it popular among various organizations. Since it gives an overall professional look to the forms
Effective integrations: Social media and third-party integrations are a major advantage of SurveyMonkey.
Cons:
Non-interactive interface: The structure of this software is not engaging. Hence it needs to upgrade to a more interactive interface for increasing survey response rates.
If you are an existing customer of the Survey Monkey platform, you can check out these best SurveyMonkey alternatives as listed after meticulous research.
Pricing: $31/month
360 Feedback Tool #5 : WP Forms
It is an easy to use WordPress plugin that is trusted by over 30, 00,000 sites. WPForms Lite is its free version. With this 360 degree feedback tool, you can easily create surveys without having any knowledge of coding.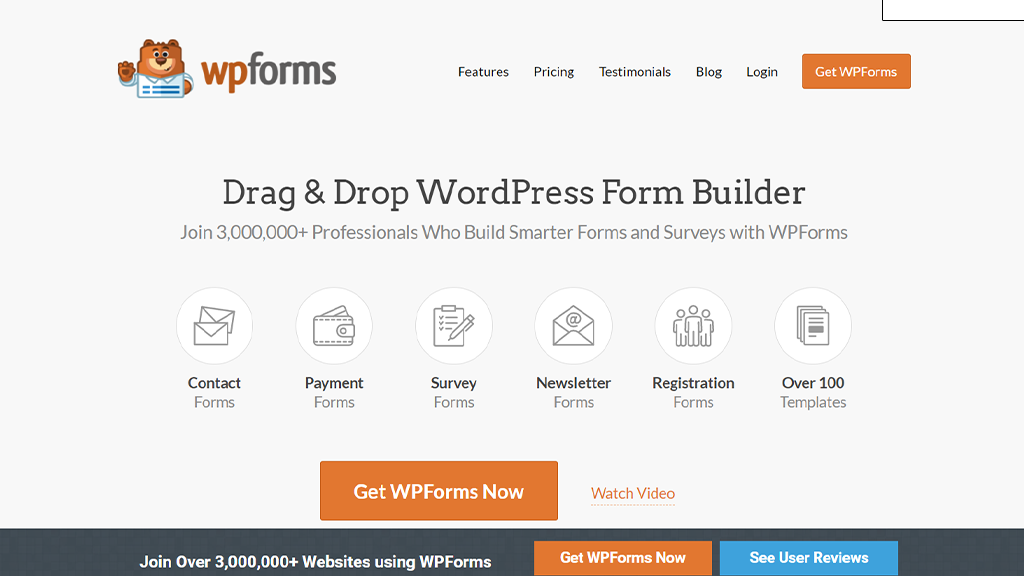 Pros:
Beginner-friendly: It is one of the easiest form builders in the market. It has a drag and drop builder in WordPress itself that helps to create surveys in a matter of a few minutes.
100+ readymade templates: Customers can simply browse through the available templates and select one that best suits their needs. These ready-made templates save a lot of time.
Good customer support: It is renowned for its customer support as it follows a support ticketing system. Customers can simply submit a support ticket and have their queries answered within 24 hours on a weekday.
Interactive forms: They provide conversational forms that boost survey response rates. It helps to maintain an engaging tone of the conversation between the user and their audience while they fill-up the form.
Con:
Limited features: The free version has very few features and the Pro version is very expensive i.e. $599 per year. So it is not cost-effective at all.
360 Feedback Tool #6 : Microsoft Forms
Microsoft Forms is a well known online survey creator and a good 360-degree feedback tool. Users can create surveys, quizzes, and polls easily and distribute them among their networks. Also, these can be used from any device of the user's choice.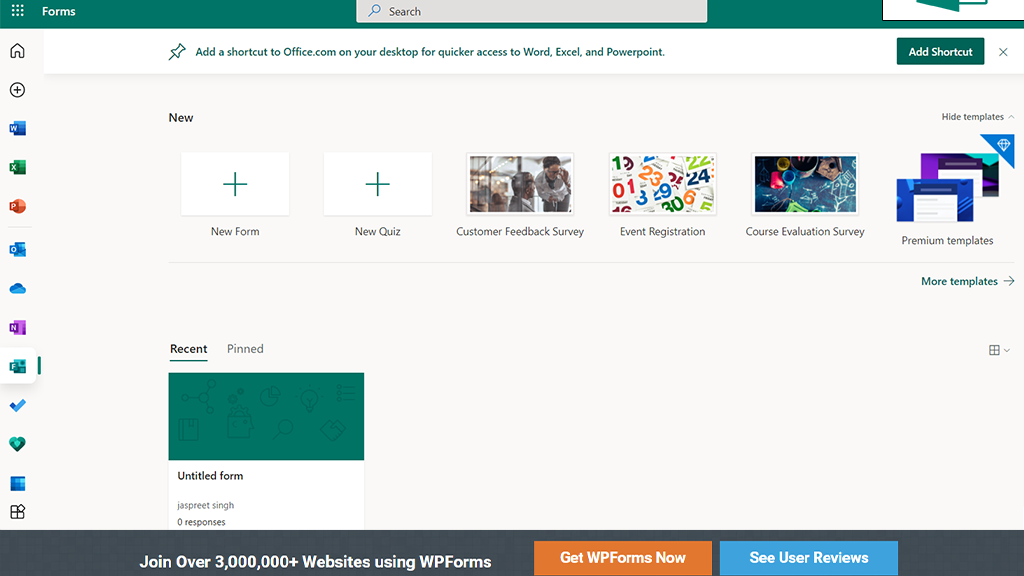 Pros:
Easy to use: With Microsoft Forms users can quickly create surveys, polls, and quizzes. It's drag and drop option facilitates its ease of use.
Real-time response collection: This software can collect real-time responses. It provides charts for helping users visualize the data received.
Compatibility: Microsoft Forms is compatible with any web browser. Hence it helps the target audience to answer the survey from any browser they use.
Easy integration: Its most renowned feature is its easy integration with the tools of the Microsoft Suite like Excel, OneNote, PowerPoint, etc.
Cons:
Tools have limited features: The tools provided only allow a very limited number of features as compared to the other available online survey tools.
You may be already using MS Forms but if you are looking for a switch, explore the best Microsoft Forms alternatives and select the one which suits your organizational goals perfectly.
360 Feedback Tool #7 : Qualtrics
Qualtrics is an easy-to-use web-based survey tool. It helps to conduct extensive research, evaluation, and many more data collection activities. Also, it offers 360 feedback as an integral part of their Employee XM. Qualtrics has some security settings that allow respondents to submit anonymous forms.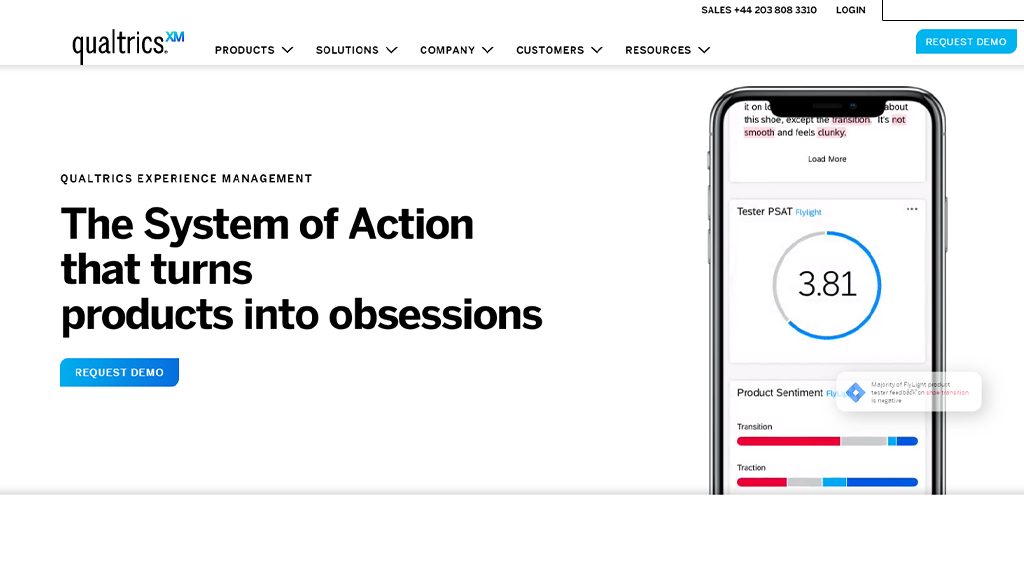 Pros:
Beginner-friendly interface: The point-and-click interface is user friendly and makes survey creation easier and less time consuming
Vast question types: It provides over 85 question types that give users a vast range to choose from
Exporting data: It can export data easily to common apps that are the user's favorites. These include Word, Excel, PDF, CSV, SPSS, etc
Free online training: Qualtrics provides a free online training webinar for beginners to utilize this software to its full potential.
Cons:
Faulty mobile view: It has glitches on it's mobile version. Also it doesn't provide a mobile compatible interface.
Already a Qualtrics user? But want to check out some more viable options? Scroll through this link and check out these top Qualtrics competitors!
Pricing: $1500/year
360 Feedback Tool

#8 : Zoho Forms
Zoho Forms is a web-based online 360 feedback software, developed by Zoho Corporation, that helps to collect and manage data efficiently. Its features can be utilized both offline and online in its app version. Also, it is known for offering multiple levels of security including software, physical, and process levels.
Pros:
No-code form builders: To use this software, users do not need to have prior knowledge of coding. They can simply select the most suited type from the 40+ available field types.
Collaboration on Microsoft Teams: Send updates on Microsoft Teams channels. Also, this helps teams to collaborate on form data.
Easy integration: Its most appreciated feature is its easy integration with some of the commonly used apps. It integrates with Google Sheets, Zapier, Salesforce, WordPress, G-Suite, etc.
Value for money: It is available at an affordable price. Hence this makes it an attractive option for frequent users.
Con:
Basic designs: Limited form designs available. Also, the available template options are not very attractive. It is suitable for users who are searching to create simple forms.
Pricing: $10/month
360 Feedback Tool #9 : Jotform
JotForm is one of the best 360-degree feedback software that helps to create surveys easily with the help of its drag and drop option. It has 7000+ form templates and over 2 million users. Also, users can generate leads, distribute surveys among their target audience, collect online payments, and a lot more using Jotform. Some of the pros and cons of this 360-degree online feedback tool are :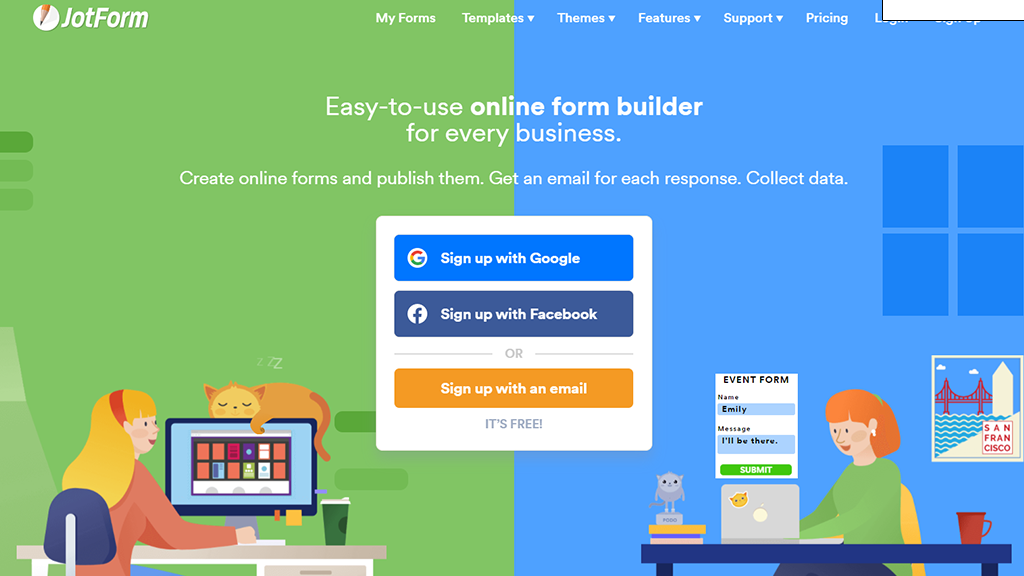 Pros:
Ease of use: JotForm provides an easy to use interface which is ideal for beginners. Its drag and drop feature makes survey building easier.
Good customer support: They have a dedicated Customer Support team that clears queries of customers any time within the business hours.
Value for money: The free version contains quite many features that are sufficient for survey building. The paid version adds some great features and is quite affordable.
Ready-made templates: It makes the task of creating online surveys easier with its well designed available templates.
Con:
Difficulty in adjustment: If the user doesn't like the default version, adjusting the alignments and spacing can be tricky.
If you are an existing JotForm customer – looking for a more suitable alternative, check out these top JotForm Alternatives listed after thorough research.
Pricing: $24/ month
360 Feedback Tool #10 : Cognito Forms
Cognito Forms provides an extremely easy to use interface with 100+ readymade templates. This 360 feedback tool is well known among clients for its free trial option. Also, it gives users the option to create contact forms, registration forms, order forms, and many more.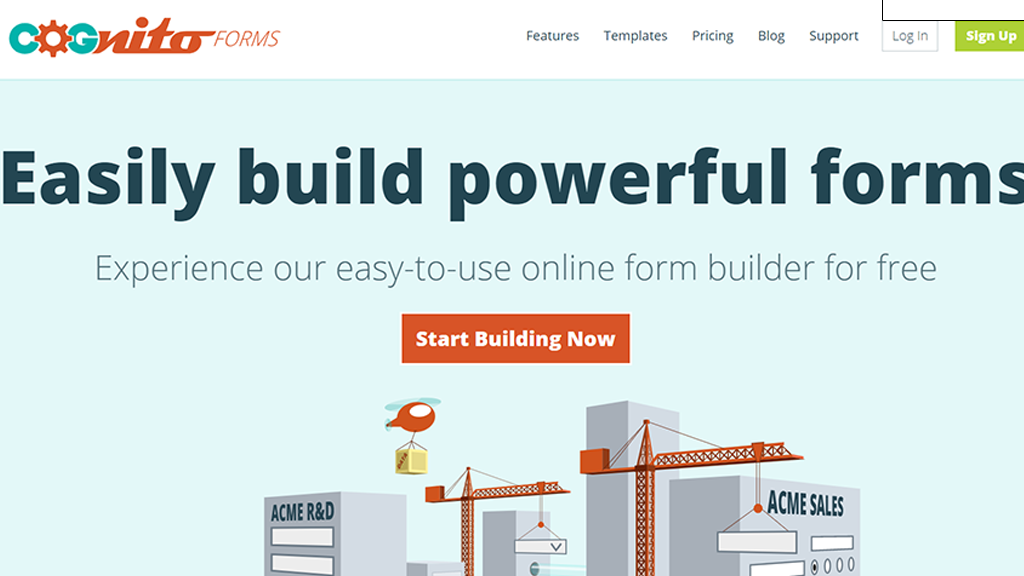 Pros:
Free trial: The free trial feature of this particular online software helps you to test it out before investing in this online survey tool.
Integrations: It makes the collection of data easier because of its easy integration options with MS Flow and MS Sharepoint. This feature has considerably increased its functionality.
Responsive customer support: The support team is highly responsive to the queries raised by the users. They even have multiple guides available on the website to help users with the possible problems they can face while using the software.
Highly customizable forms: Users can browse through the multiple options of form structures offered by this online survey tool. They are customizable and can be used by users to fulfill various purposes.
Con:
Not accessible from all mobile devices: The interface is not user friendly. Hence, it is not properly accessible from mobile devices which makes it difficult to use from multiple platforms.
Pricing: $10/month
Conclusion :
With powerful 360 feedback tools, you can collect valuable feedback about your organization and your employees. Derive insights from the collected data and act upon it accordingly. When your employees know their shortcomings and strengths they will be motivated to work better, increasing employee satisfaction considerably.
Honest feedback contributes most to the accelerated growth of any organization. 360 feedback is the future of employee feedback and valid assessment. In this way, the performance of your employees can be improved as and when required. Hence, paving the path for progress towards your organizational goals.