One of the most used office software packages worldwide is Microsoft Forms. But utilising them has disadvantages, just like everything else. The reasons you may wish to hunt for a Microsoft Forms Alternatives and the many negatives of utilising Microsoft Forms will be covered in this blog article. We hope that this will provide you the information you need to decide whether or not to use a different form creator software.
What is Microsoft Forms and what is it used for?
Microsoft Forms is an online survey builder that helps users to create customized online forms even without having any knowledge of coding. Its drag and drop interface simplifies the form building process sufficiently. Also, with its reliable customer support and value for money, it is now being used by multiple businesses. But Microsoft Forms has certain negative aspects that are slowly making people opt for better alternatives. Before we jump on to Microsoft Forms alternatives, let us know something about Microsoft forms and reasons to opt an alternative.
How is Microsoft Forms useful?
Microsoft Forms are a well-liked tool for data collection and computation. Anyone can start utilising them straight away since they are simple to use.
The best form for your requirements can be selected from the various online form templates available.
Forms are useful tools for data gathering and analysis since they can be customised to match your unique requirements.
The proper form must be chosen for your requirements since forms are adaptable and may be used for a number of reasons.
Therefore, Microsoft Forms are an excellent option whether you're seeking for an easy approach to collect data or wish to utilise forms to execute complicated computations.
Some of the limitations or disadvantages of Microsoft forms
Forms are a crucial component of business and are often used to record data and monitor progress. However, consumers need to be aware of a few significant limitations. For starters, maintaining and upgrading forms may be costly, which over time may have an influence on their general performance. Forms are often not particularly user-friendly, which makes it challenging for individuals to complete them effectively. The creation and customization of forms might take a lot of time, which is another prevalent problem.
Restricted to just 100 questions
The number of questions that may be asked on Microsoft forms is limited, and customising them takes time. Alternatives like Google Forms are preferable for organisations since they provide greater versatility and capabilities. It's critical to stay current with trends in order to create forms that are both user-friendly and visually appealing.
Little branding
Forms for minimal branding might be difficult to use and are not pleasant to users. They don't provide enough customisation, which might harm client relationships. Additionally, forms are more challenging to use and administer since they don't interact well with other software packages. Businesses may be discouraged from downloading or utilising these sorts of forms altogether if there is a lack of branding.
Templates
Online templates are widely accessible, but they all have the same drawback: they're not particularly user-friendly. It might take a lot of time and effort to create a shape, particularly if you want it to appear ideal. Additionally, forms often consume resources inefficiently and are difficult to customise. Some templates also don't integrate with other software programmes, which reduces their total use. It is clear that the available template solutions are subpar, and there is a need for better ones that will allow organisations to save time and effort while still offering the required functionality.
Only 20 questions that may be used with likert scales
One of the most often used survey instruments is the likert scale. They may not, however, be the best option for all inquiries or surveys. Surveys containing more than 20 items or complicated questions that need extensive processing are two examples. Additionally, the 20 question restriction on LIKERT scales may make data input and analysis difficult and time-consuming.
Integration
In internet marketing, forms are often seen as a necessary evil. Forms may be quite challenging to use and effectively connect with other applications, despite the fact that they do offer certain benefits. Because of this, many marketers avoid using them at all. Forms may progressively vanish in the future as more sophisticated and user-friendly software becomes accessible, completely replacing the need for them. Forms will still be crucial to internet marketing up until that point, but only when utilised properly.
Unique Domain
A fantastic approach to get information from your consumers is using custom domain forms. Before switching, however, there are a few significant negatives that should be taken into account. Forms may be irritating for company owners since they are not customizable and take a lot of time and effort to put up. Additionally, forms lack design flexibility, which means that a number of features could not work as planned. Microsoft forms fall short in terms of capabilities and versatility, but there are many more solutions available.
Microsoft Forms Alternatives :-
Businesses often utilize Microsoft Forms, a well-liked online form builder, to gather data from their clients. However, with the development of more effective and adaptable form builders, it's important to think about which one is ideal for your company. We'll look at the top 10 Microsoft Forms alternatives in 2022 in this post. All of them provide free plans and simple customization, making them ideal for enterprises with a tight budget or no coding background. They also interface with other well-known sites, which makes it simple to share forms with your clients right from those platforms. The two most well-liked choices are Google Forms and Fynzo Survey. Anyways, we have put together the top 17 Microsoft Forms alternatives that will be suiting your business needs.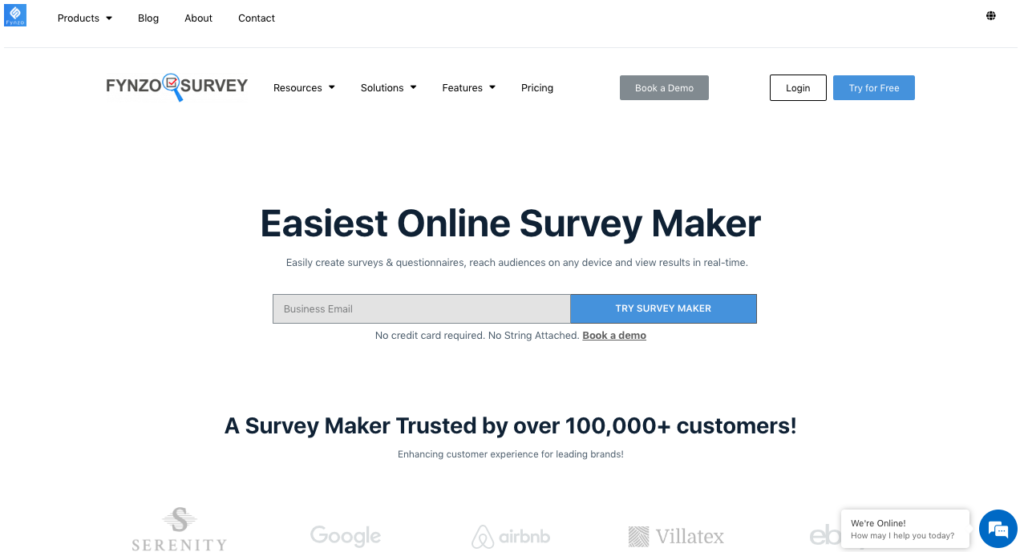 Fynzo provides a powerful and advanced suite of software that fulfills your different business needs. Their support team is available around the clock for hearing out their customers and helping them utilize the software to the fullest.
Fynzo offers a robust online form creator– Fynzo Survey, which comes with modern features and multiple customization options. Given below are the key features of the Fynzo Survey:
Comes with an easy survey builder interface.
Create multiple question types including NPS, Likert scales, and smiley, star ratings, and many more.
Implement advanced survey features like jump logic, piping, and custom variables, and many more.
Share surveys on different social media platforms, send them via email, embed on your website, or circulate them with the help of QR codes, etc.
Analyze the reports received in different formats including cross-tabulation, trend report, and many more.
Schedule reports on multiple emails.
Collaborate with your team members while creating surveys, analyzing reports, etc.
Personalize your surveys by adding your organization's logo, background, theme color, etc.
Download the data received in Excel, CSV, SPSS, pdf, and many other formats or export to Google Sheet.
Integrate with the apps you love including Zapier, Google Analytics, Slack, Facebook Pixel, and many more.
Fynzo Survey comes with an Android, iOS app. You can create surveys, share them, and view/download the results with the mobile app too.
With Fynzo mobile app you can collect data even when you are not connected to the internet. Your data received will be backed up once your device receives an internet connection.
Grab geolocation while taking the surveys in the field with mobile App.
On top of all these amazing features, Fynzo Survey pricing starts at only $17 a month
These advanced features of Fynzo Survey along with its pocket-friendly pricing plans make it the #1 MS Forms Alternative.
It is offered for a broad variety of costs, ranging from $0 to $74 per month.
Microsoft Forms Alternative #2 : JotForm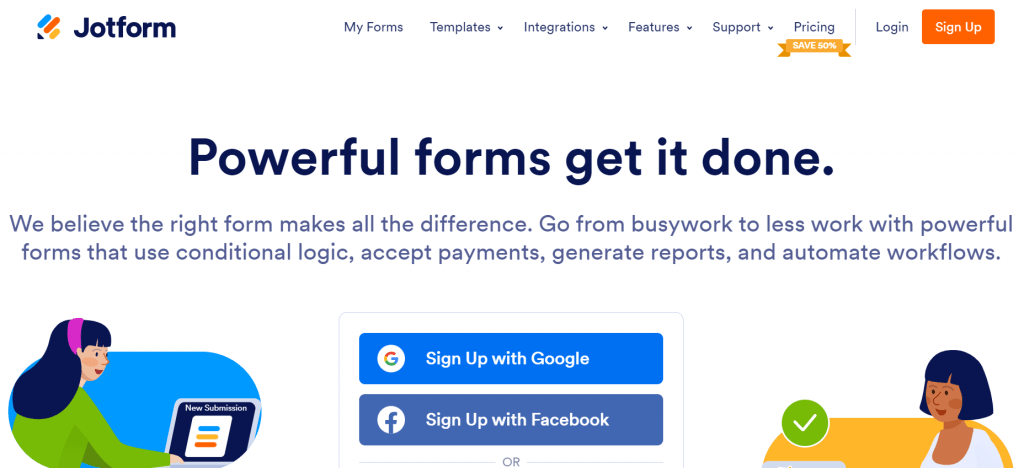 Businesses in 2022 may use JotForm, a dependable and user-friendly form builder.
Features:
Monitoring team members
Handling orders
Gathering data from clients.
JotForm makes form modification simple because to its:
Abundance of features
Flexibility
Usability
It's one of the most widely used form builders online which ensures that you'll find what you're searching for.
It is offered for a broad variety of costs, ranging from $0 to $79 per month.
Microsoft Forms Alternative #3 : SurveyMonkey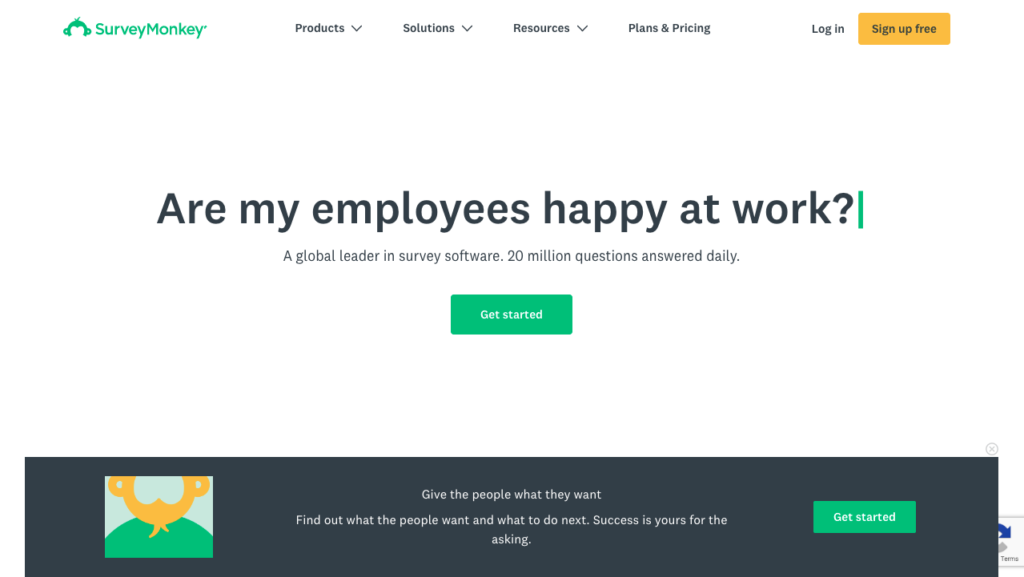 Businesses may utilise SurveyMonkey, a flexible survey platform, to collect data.
Its user-friendly platform and compatibility with a wide range of commercial tools make it ideal for:
Gathering consumer feedback
Product testing
Market research, and many more
Additionally, it provides customization tools so that surveys may be adjusted to meet your unique requirements. This makes it the ideal option for both online and offline surveys.
Overall, SurveyMonkey offers useful data that supports company decision-making.
It is offered for a broad variety of costs, ranging from $25 to $75 per user per month.
Microsoft Forms Alternative #4 : SoGoSurvey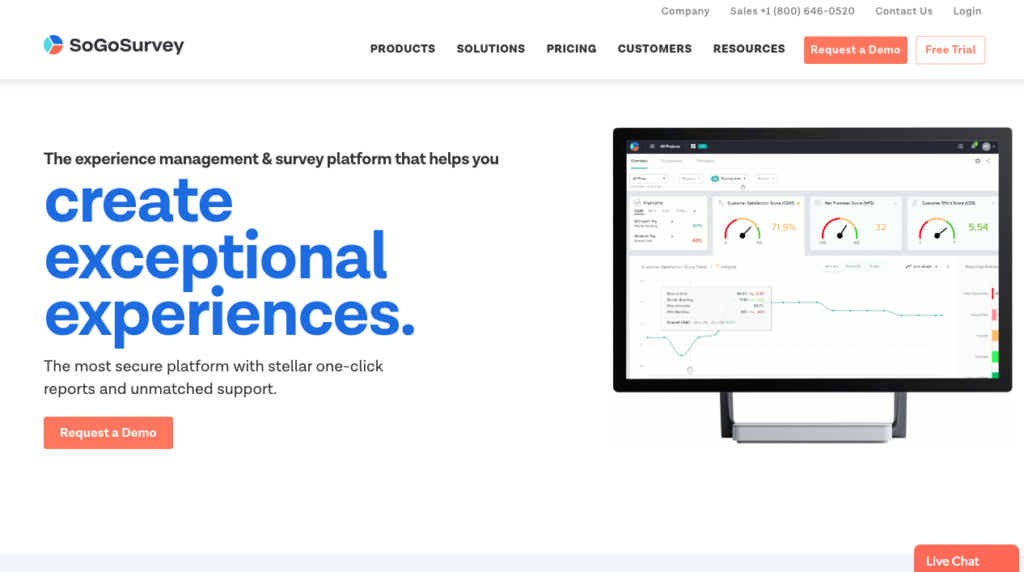 SoGoSurvey is the survey creator for you if you're seeking an economical and simple solution to monitor the results of your customer feedback surveys.
This tool will assist you in gathering precise information on how your clients feel about your goods or services thanks to its user-friendly design and capability to monitor outcomes over time.
Because of its adaptability, it can be used in a variety of contexts, including both face-to-face and online surveys.
Additionally, SoGoSurvey is ideal for you as a small company owner who wishes to regularly perform client satisfaction surveys.
Its accessibility makes it perfect for small enterprises with minimal funding.
It is offered for a broad variety of costs, ranging from $25 to $99 per month.
Microsoft Forms Alternative #5: TypeForm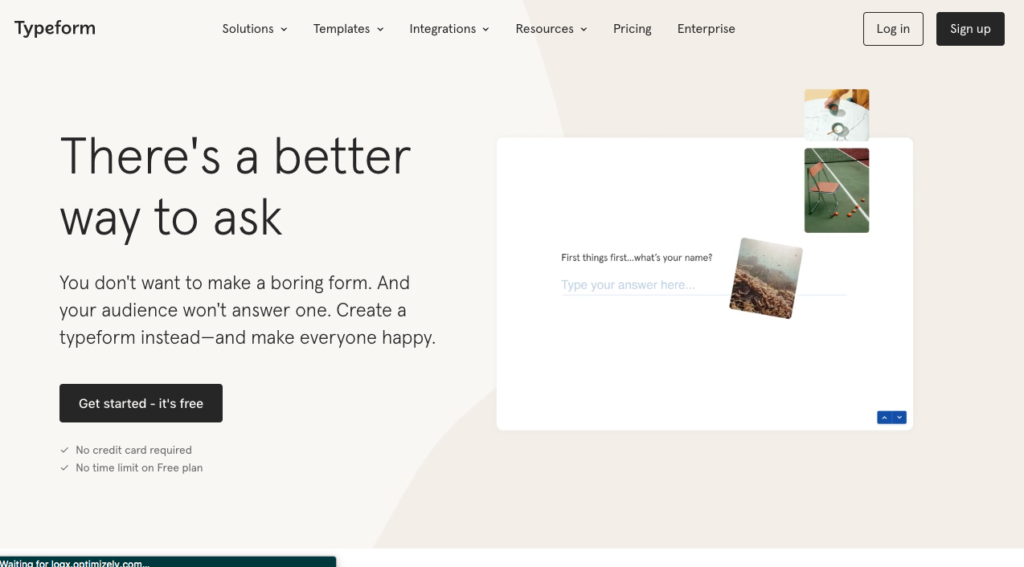 For submitting online forms, Typeform is a fantastic tool.
Its drag-and-drop interface is simple to use and makes building forms a snap.
You don't have to worry about losing any data since form data is automatically stored.
With the form builder, you can quickly and simply design stunning, personalized forms that are ideal for getting feedback from your customers or clients.
It is offered for a broad variety of costs, ranging from $25 to $83 per month.
Microsoft Forms Alternative #6: Formsite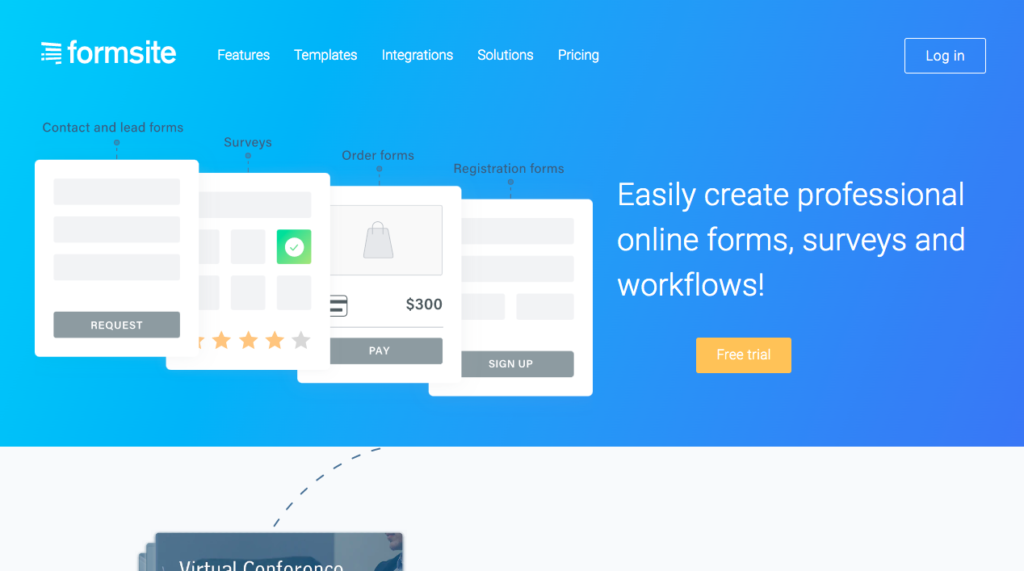 Business owners can easily develop and manage forms with Formsite, a fantastic online form builder.
Anyone looking for a quick and easy method to fill out forms online would love it.
Plus, it's simple to use, making it perfect for form submission beginners.
You may work together on projects with others using Formsite, which makes submitting forms much easier.
It is offered for a broad variety of costs, ranging from $21 to $209 per month.
Microsoft Forms Alternative #7: LimeSurvey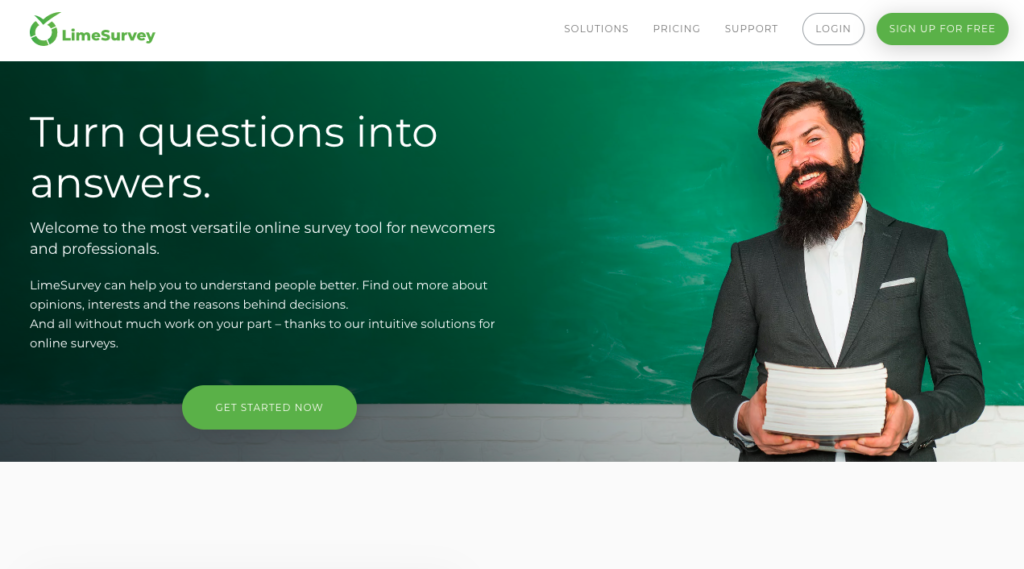 Creating polls, surveys, and inquiries is simple with LimeSurvey, a form builder.
This is ideal for usage in internet marketing since Google Drive can be quickly incorporated for data preservation and analysis.
Additionally, LimeSurvey has language support so you can connect with people worldwide.
LimeSurvey makes building forms fast and simple with features like:
Picture and video uploads
Endless customization possibilities
The ability to export data into numerous formats!
Microsoft Forms Alternative #8 : Formidable Forms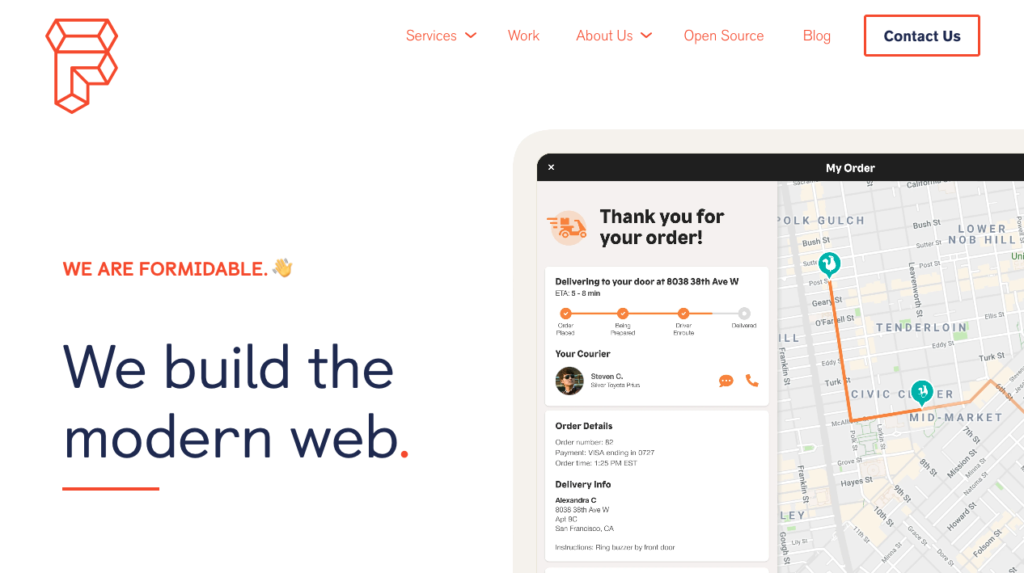 Fromidable Forms is one of the best and quickest WordPress plug-in with which surveys are created faster than ever before. From simple contact forms to complex multi-page forms, survey creation is facilitated with conditional logic, calculations, etc. Some special features that make it a decent Microsoft Forms alternative are:
Ease of use: It's easy to use drag and drop interface makes complex form building a quick and easy task
Online calculator forms: This features provide immediate online estimates and calculate advanced product options
Conditional logic: Utilize smart forms which show your respondents only those questions which are applicable for them
Create polls, surveys, quizzes easily by adding images, and using readymade form templates.
Microsoft Forms Alternative #9 : SurveyGizmo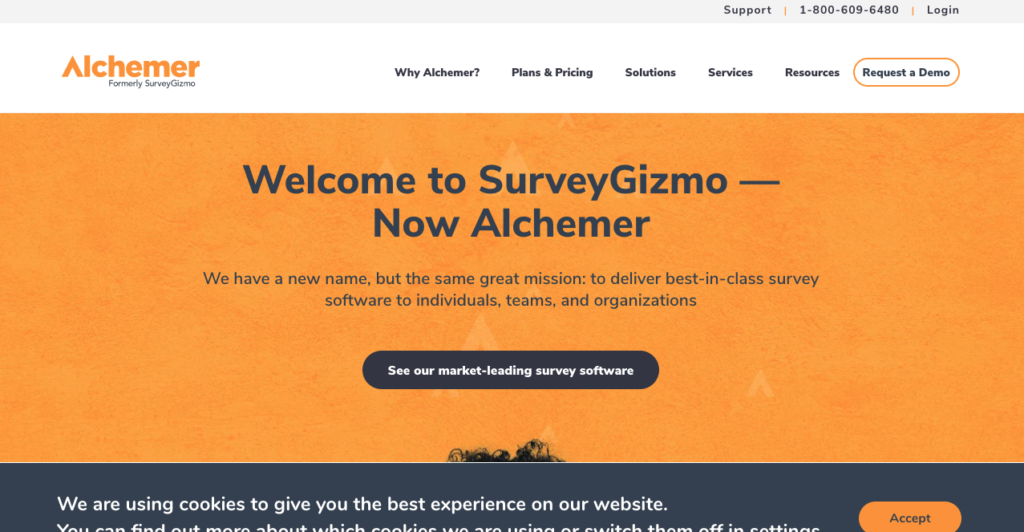 SurveyGizmo is a popular online platform for creating surveys, polls, quizzes, contact forms, ticketing queues, etc. Surveys can be used in marketing, research projects, and lead generations. This Microsoft Forms alternative also offers a free trial. Some unique features of this software are:
Value for money: Its basic plan provides unlimited questions along with unlimited surveys and number of responses.
Easy data sharing: Simply copying the URL and distributing it will help to spread your form among your target audience
Vast number of question types: Users can utilize a vast number of question types for creating the ideal form of their choice.
With its standard skip logic, page logic, geo-targeting, or tracking features available on the basic plan, it has become a viable online survey maker. But if you are a current user, looking for a variation, go through these top SurveyGizmo Alternatives and check out the varied features of these tools.
Microsoft Forms Alternative # 10 : Wufoo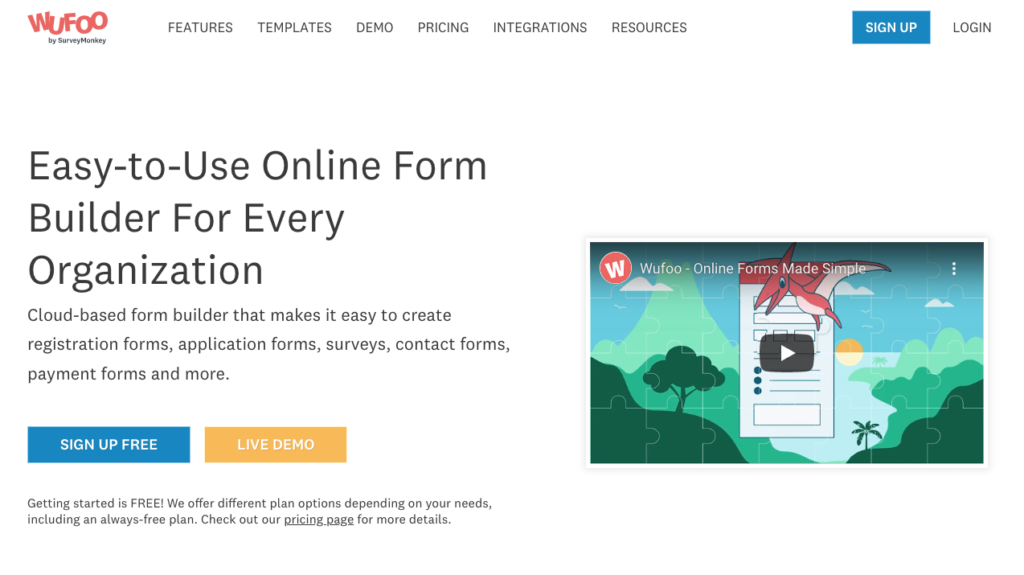 Wufoo forms are completely customizable survey forms that can be created without having any prior knowledge of coding. Also, it ensures data protection for all of its plans. Some special features of Wufoo that make it a standard Microsoft Forms alternative are as follows:
Theme designer: This online software's theme designer helps to customize the readymade themes available. Also, logos and brand elements can be added to give an official look to your forms
Real-time notifications: The users of this software are notified via emails or texts as soon as someone completes their form.
Integrations: Wufoo provides dozens of native integrations for connecting your data with other business tools.
If you are a current Wufoo user, looking for a switch, check out these top Wufoo alternatives and select the one which best fulfills your business needs.
Microsoft Forms Alternative #11 : 123FormBuilder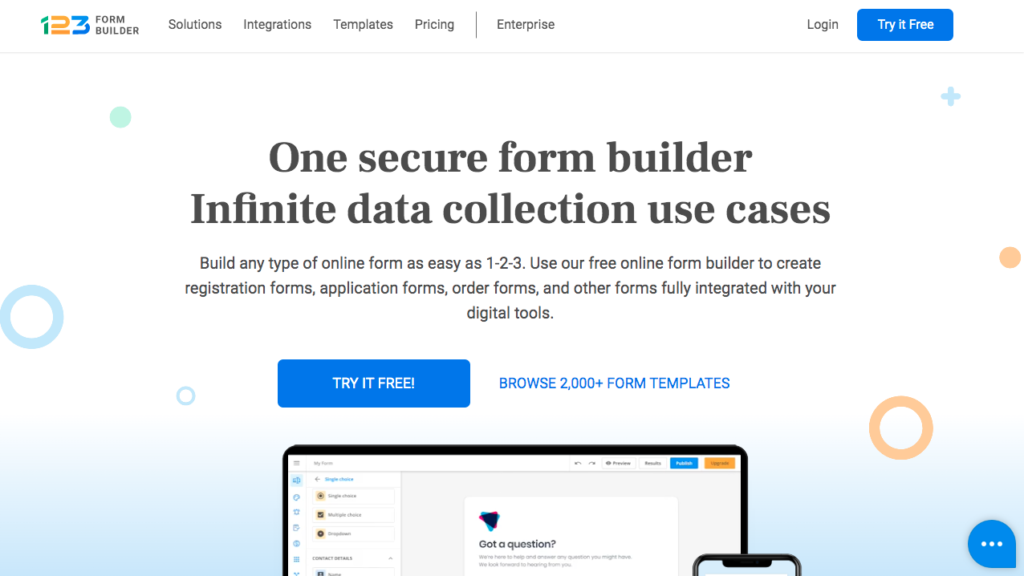 123Form Builder is a secure online form creator that offers a free plan which includes 5 forms and 100 submissions per month. It allows individuals, and businesses to create forms, quizzes, surveys, polls online. The key features which make this Microsoft Forms alternative stand out are:
Responsive forms: Owing to its responsive layout, users can fill out forms from wherever they want on any device of their choice.
Real-time reports: Users can analyze their reports easily and get actionable insights as they are shown in the form of charts and graphs
Document digitization: Its Scan to Form feature helps the user to scan any paper document which is needed to be digitized, and import it
This tool has handwriting and form recognition capabilities which are implemented with the help of machine learning.
Microsoft Forms Alternative #12 : Zoho Forms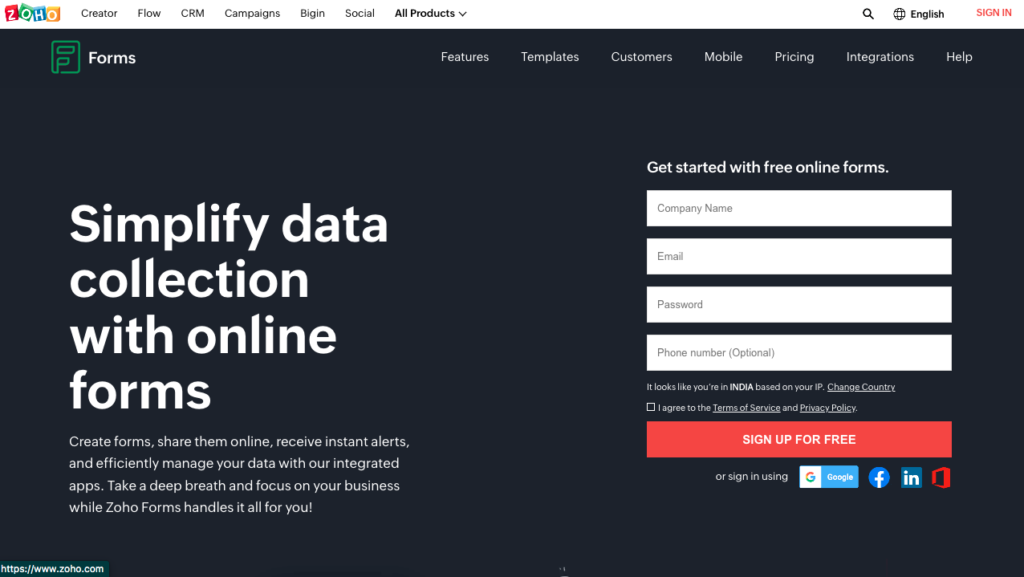 Zoho Forms helps users to easily collect and manage data efficiently. Its features can be utilized both offline and online in its app version. Some major features that make it a decent Microsoft Forms alternative are:
Collaboration on Microsoft Teams: Updates can be sent on Microsoft Teams channels. This helps teams to collaborate on form data.
No-code form builders: To use this software, users do not need to have prior knowledge of coding. They can simply select the most suited type from the 40+ available field types.
Easy integration: Its most appreciated feature is its easy integration with some of the commonly used apps. It integrates with Google Sheets, Zapier, Salesforce, WordPress, G-Suite, etc.
It provides users with a vast variety of customization options, supports task assignment, approval workflow and it is also responsive to mobile browsers.
Microsoft Forms Alternative #13 : Formstack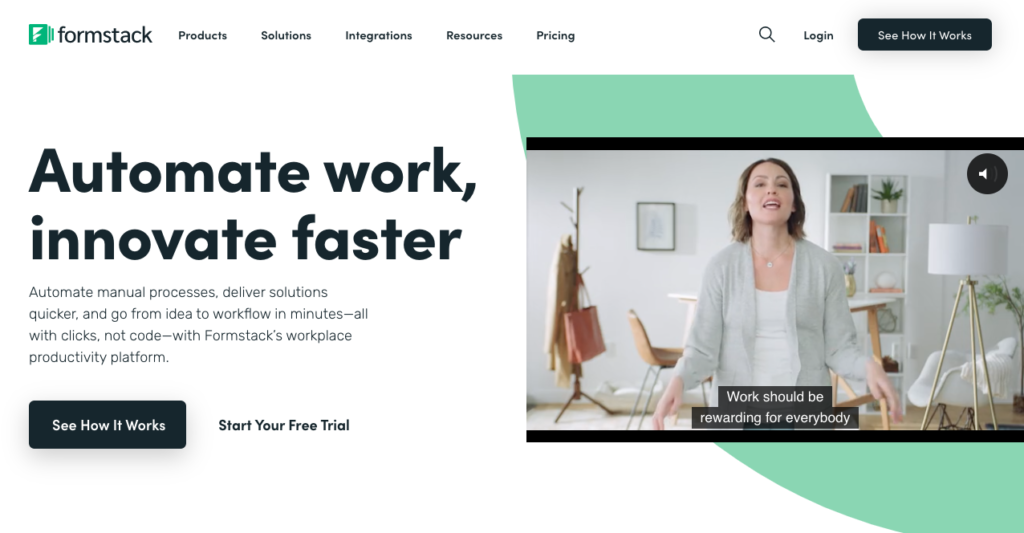 Formstack is an online survey builder that allows users to collect information through varieties of online forms including job applications, surveys, event registration, and payment forms. Some special features of this Microsoft Forms alternative are:
Conditional logic: It allows users to show only those questions which are relevant to their target audience based on their previous answers.
Section 508 Compliance: These forms meet the accessibility standards and are compliant with Section 508
Smart lists: Users can maintain a clean and concise list of field options across all of their forms
It analyses the data received and pulls out key insights for making better decisions in your organization.
You may be a current Formstack user looking for a change. If so, you may go through this list of the top Formstack Alternatives and choose from the best online survey tools available.
Microsoft Forms Alternative #14 : Cognito Forms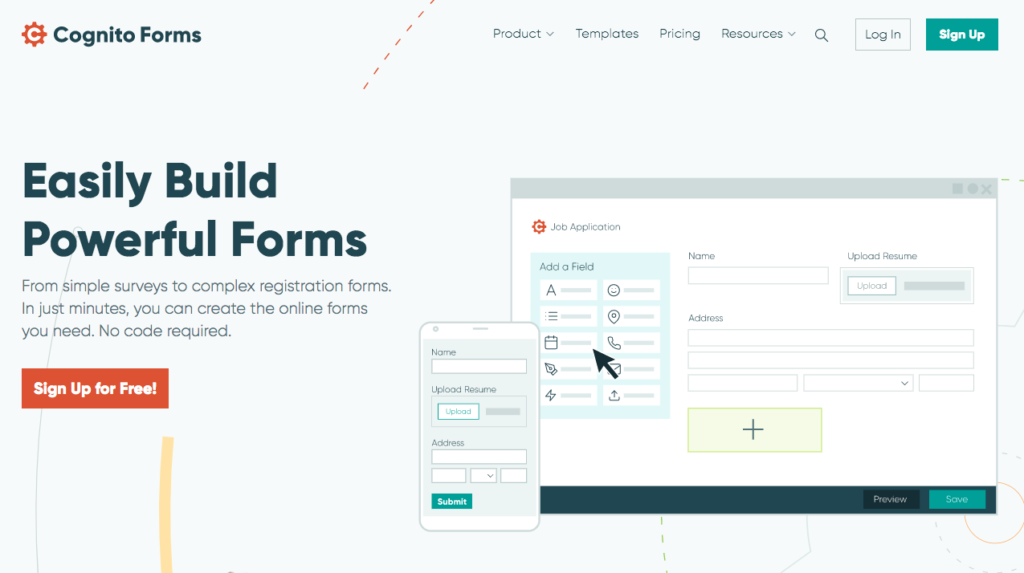 Cognito Forms provides an extremely easy-to-use interface with 100+ readymade templates. It boasts of an intuitive interface and provides the most robust set of features in the market. Some important features that make it a good Microsoft Forms alternative are as follows:
Free trial: The free trial feature of this particular online software helps you to test the functionalities out before investing in this online survey tool.
Integrations: It makes the collection of data easier because of its easy integration options with Microsoft Flow and Microsoft Sharepoint.
Highly customizable forms: Users can browse through the multiple customizable options of form structures offered by this online survey tool.
Microsoft Forms Alternative #15 : FormAssembly
FormAssembly offers high capability-mobile functions and powerful integrations for every industry. Their flexible features allow optimal data collection, reduce costs, and saves time substantially. Some of the key features of this Microsoft Forms alternative are:
Functional mobile app: Users can now collect data online and offline through mobile forms and sync it to their account when they regain internet access.
Salesforce integration: FormAssembly's Salesforce connector allows users to create and update records, send attachments, prefill forms, and much more.
Drag and drop form builder: Form fields can be easily added and rearranged with this feature
Also, all forms successfully meet the highest standards of compliance and security with PCI DSS Level 1 certification, encryption at rest, and more.
Microsoft Forms Alternative #16 : Paperform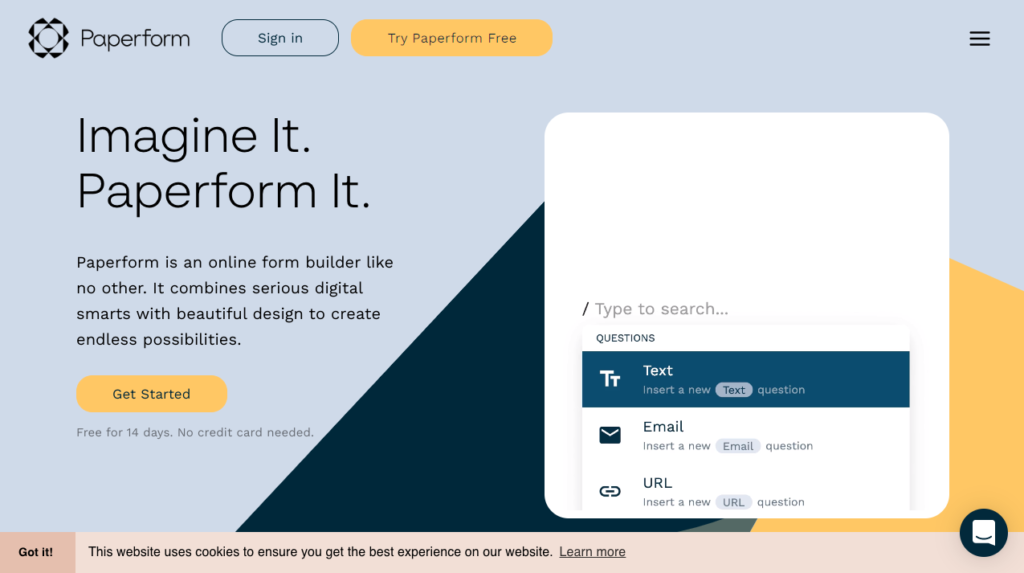 Anyone who wants to:
Draught ideas
Organise documents
Take notes
They will find Paperform to be a useful programme.
Additionally, it is ideal for the creation and management of:
Because the software is compatible with both Android and iOS devices, it's simple to bring your work everywhere you go.
It is offered for a broad variety of costs, ranging from $24 to $159 per month.
Paperform is an online platform that enables users to create online forms and product pages quickly and intuitively. They can also brand these forms and pages with the company's logo as required. This Microsoft Forms alternative's top features are:
Direct payment options: It makes the payment process easier with Stripe, Paypal Business, Braintree, and Square.
Easily share forms: Now forms can be easily embedded on websites or shared directly by custom URLs.
Direct Integration feature: This feature can be used to connect forms with popular apps using Zapier, Integromat, and webhooks
Appointments can also be scheduled using the "Bookings for Paperforms" feature effectively.
Microsoft Forms Alternative #17 : Google Forms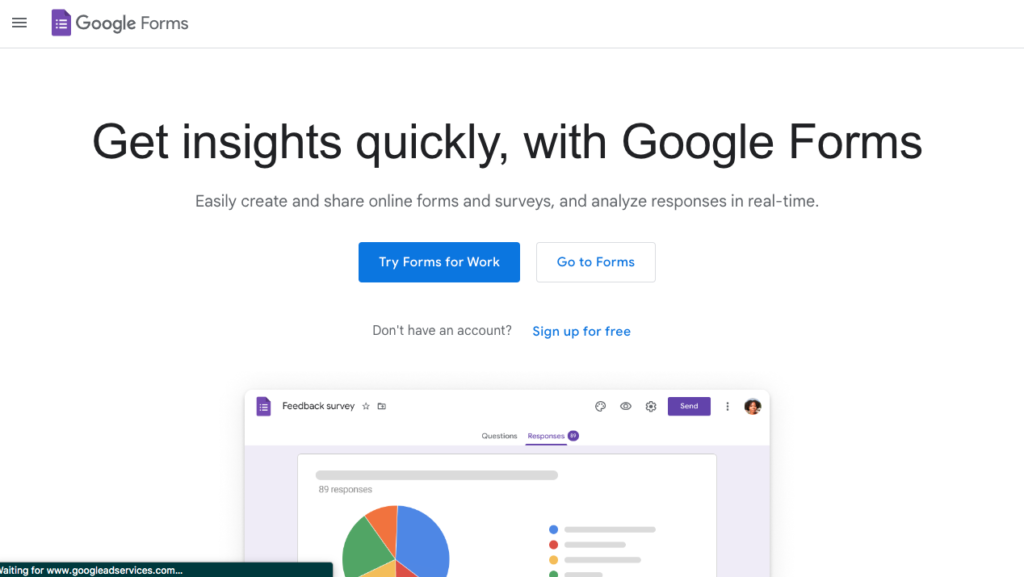 Use Google Forms to collect insightful comments from your customers and followers.
You may use:
You can use these to gather information on a variety of subjects or to get feedback from your followers on specific goods and services.
It is a totally free programme.
Additionally, sharing forms online is simple, allowing for universal participation!
Google Forms is one of the MS Word alternatives with which users can collect information with the help of surveys. They can also create quizzes, registration forms, or simple contact forms. These web-based forms can be shared with the target audience by simply sharing a link or sending it through the mail. Some features of Google Forms are:
Ease of use: It is probably one of the few online survey tools that can be used without any tutorials, or any basic knowledge about survey creation. It is extremely easy to use and is ideal for simple survey creation.
Free of cost: Google Forms is free of cost and though it doesn't provide any advanced features that are necessary for professional surveys, it is fine for people who circulate surveys for school or college research. Hence it is extremely popular among students.
Drag and drop question type: Making surveys become easier with this particular option which is not available for many survey software. Users can simply drag and drop a question to a particular place as per the required order.
If you are a current Google forms user looking for a more advanced survey creator with professional features, you can check these Google Forms alternatives and select the one which best suits your needs. Also, learn to create surveys using google forms here.
Conclusion
Although Microsoft Forms is a well-liked tool for data input and form processing, there are a number of other forms that could be more appropriate for your purposes.
You may make sure that your data inputs are precise and simple to use by thinking about the primary shortcomings of Microsoft forms and searching for form substitutes.
Check out our blog for additional details on the top Microsoft Forms alternatives that will be readily accessible in 2022!
Frequently Asked Questions
Does Microsoft have forms like google forms?
Yes, it is Microsoft Forms. It is very similar to Google Forms. It is Microsoft's answer to Google Forms.
Is Microsoft Forms free?
It is free to those having a Microsoft account. There is no specific cost associated with Microsoft forms. To gather a larger number of responses, access survey templates, and more you need to buy a premium plan of Microsoft 365.
Can you use Microsoft forms offline?
Microsoft claims that in certain situations, forms may be utilized offline. For instance, forms may be utilized if a user only sometimes has access to the Internet. When a user is not at all connected to the Internet, forms may still be utilized.
Can I use Microsoft forms without having Office 365?
You may use Microsoft forms without having Office 365. Forms must be stored in the same folder as the document that includes them, or else they will not function. It is possible to use forms that are kept in a Microsoft Office 365 folder.
Can Microsoft form be anonymous?