Fynzo® Form Creator gets you 4x more form submission!
Fynzo online form creator is cost-effective, easy-to-use, 100% secure with amazing personalization features and can integrate with all your favorite tools. Create professional forms for registrations, collecting contact details, or simply receiving feedback.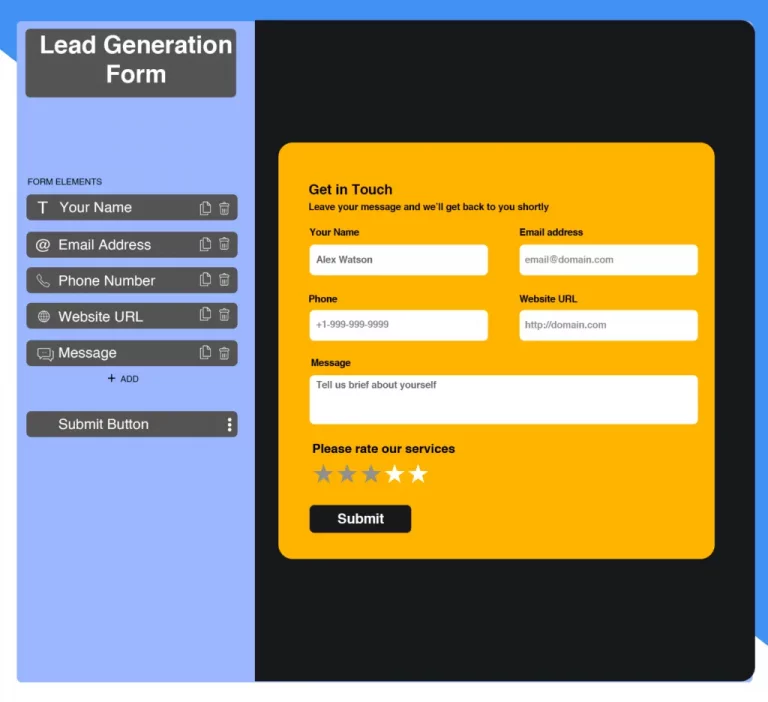 A Form Creator Trusted by over 100,000+ customers!
1 million+ forms submitted every month.
Wondering what online forms are, in the first place?
Forms are omnipresent. They are there – before, during or after all our experiences. They are trying hard to collect information from humans and convert them into valuable insights which ultimately lead to actions. Did you recently register for an event? You surely used a form there.
Use online forms to get quality responses
Have you ever been in a situation where you want to collect important information from someone? You simply ask them, right? But what if it's not a few people you want to ask the question to, but a 100 or 1000 people together. The task surely becomes a lot more difficult then. 
Using a form creator does seem to solve that problem but it needs to have that quality which gains the respondent's trust. So, your forms need to have a conversation with the people whose feedback or information you wish to collect. 
This is where Fynzo® online form creator is happy to help! We can guide you through a few ways for collecting information with the help of a conversation. Better conversation surely leads to better engagement and better engagement will help you receive more information. Interested to find out more about the same? 
Read on or take a peek at our 500+ form templates!
How to ask questions in the form of a conversation?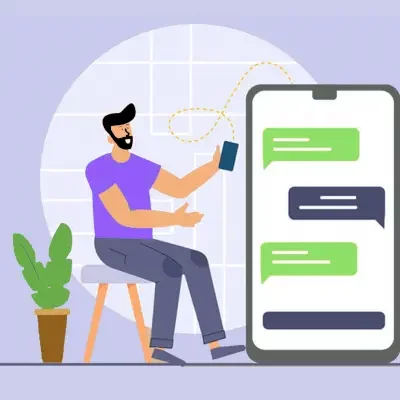 Suppose you want to acquire the contact information of a particular person. You cannot simply start your form with direct fields such as Name, Email, Contact no., Address, etc. If you want your contact form to be more engaging, you need your questions to give off a friendly vibe to your respondents. If you can add a personality to your questions, then your respondents will feel a lot more comfortable while giving their personal information.
We have some suggestions which may help you get started with the form creator:
For getting the Name: Hey there! Can we get your name?
For collecting the Contact Number: Could you please provide your number? We would use it to get back to you!
Exciting features of Fynzo free form creator
Enhance your quiz designing experience with Fynzo Survey's unique offerings. There are loads of features to make form creation as easy as it can get.
What type of form do you want to create?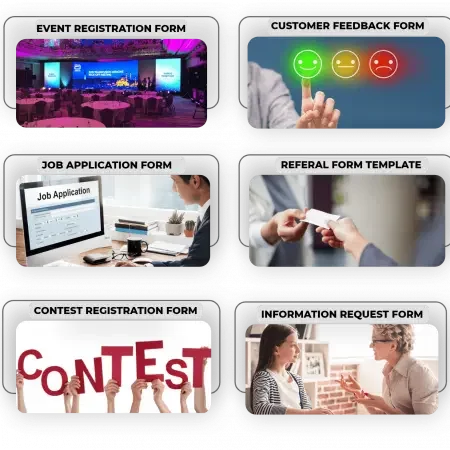 Before actually building a form with the help of this online form creator, you need to be clear about what information you want to collect. Online forms differ in length, designs and overall outlook based on what purpose you use it for. To get a basic idea on what we mean, check out Fynzo's top varieties of readymade Form Templates:
1. Event registration form template:
This form is required for collecting basic information for registration purposes. It has a professional outlook with a sleek design.
2. Customer feedback form template:
With this engaging feedback form you can derive actionable insights about your products or services from your potential and present customers.
3. Job Application form template:
This template is an ideal example for a neat job application form. It can contain everything an employer needs to know about its potential employees.
4. Referral form template:
You can use this readymade referral form template for referring to anyone who you think is suitable for a job.
5. Contest registration form template:
Give exciting offers to your customers when they need to contact your support team
6. Information request form template:
With this engaging template, you can turn your request for information into a pleasant experience.
How to build an online form that can establish trust?
To create an online form that can build trust, it requires a lot of advanced coding, and friendly product designs – resources you may not have. So Fynzo's online form builder does the work for you!
So, you will be having the complete freedom to implement your own content in your forms along with your personalized designs and structure.
What you require in the end is simply an honest conversation with your respondents. Here are a few Fynzo online form builder features which may help you have that:
1. Implement the rules of a real conversation:
We are never quite fond of having a long list of questions staring at us wanting answers. So, it is mandatory to make your feedback form engaging and well-segmented. Forms must be built in such a way that it interests the respondent to carry on filling it out. Hence Fynzo forms are designed such that it interests your respondents to complete filling up the form and not leave it halfway. Read this content to understand how to write form questions.
2. Jump, skip and change the course of your conversation as you go:
Use Fynzo's logic jump feature to steer the flow of your questions based on your respondent's answer. Your respondent's previous replies would determine which questions are relevant to them and which all can be skipped. Adapting to your respondent will help you carry out an engaging conversation.
3. Use rating scales for minimizing your respondent's efforts:
Want to know exactly how your respondents feel about the particular aspects of your products, or services without asking them to type out long paragraphs? People generally prefer to answer rating scales and smiley-type ratings rather than typing long paragraphs. Use the metrics offered by Fynzo online form builder software including NPS, Likert scales, CSAT, and CES for improving your customer service massively and by measuring customer and employee loyalty.
4. Use piping for more personalized conversations:
Want to make your respondents more comfortable in answering your questions? Let them feel that you remembered their name using Fynzo's piping feature. This would make your forms a lot more conversational.
5. Design your forms and make them more appealing to the eye with the online form builder:
When it comes to designing your forms there is really no reason to be dull. You can add the background of your choice, choose your company's branding logo if you want to or simply choose from the different attractive templates. With Fynzo online form builder your respondents will never have a dull moment.
6. Ask for documents that can be uploaded with one click:
Select the File upload field for allowing your respondents to attach documents, videos, or music audios within 25 mb. This feature in Fynzo free form builder gives you a lot of freedom so utilize it to collect valuable data.
7. Leave a long-lasting impression:
Your forms must have the minimum social etiquette of thanking your respondents – for taking out their time to fill up your form. So how do you think an attractive thank you note at the end would look? With Fynzo online form builder end screen feature, you can easily type out a "Thank you" note for leaving a good impression on your respondents. The form builder software allows you to add greeting messages in surveys.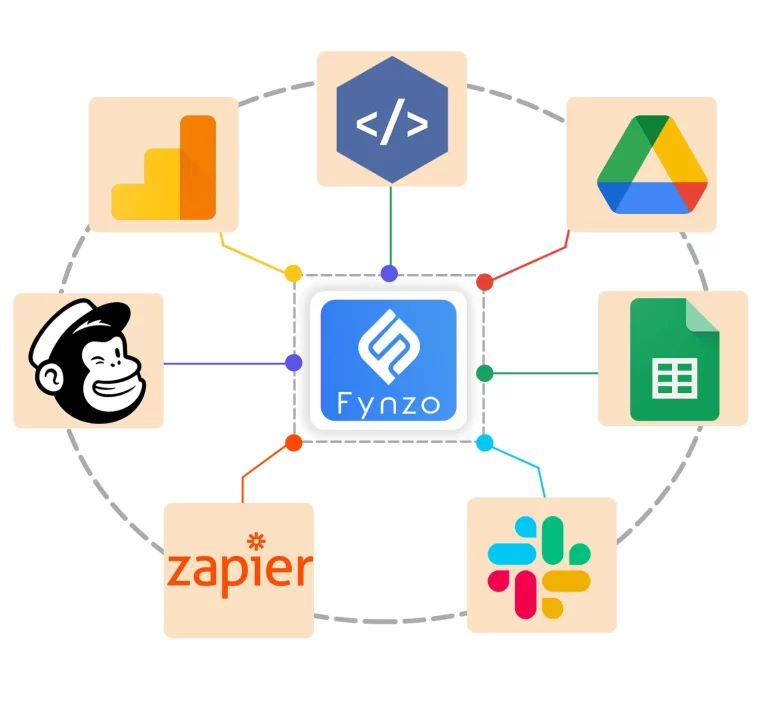 The form builder allows easy flow of data to your favorite apps with seamless integrations
Why stop after simply collecting data with the help of forms? Integrate with the apps of your choice including Zapier, Google Analytics, Spreadsheets, Excel, Slack, Pixel and many more to automate your workflow with the form builder. If you want some variation to simple forms, you can check out our polls and quizzes features too.
Why choose Fynzo Form Builder?
Surveys are everywhere, and whenever we think of setting up a company, we need people's constant feedback to improve ourselves. It is an important necessity, but it is tough to design a survey on our own. So, it is always better to look out for effective survey software or a form builder to help you make the job easier. 
Fynzo online form builder also serves you well as a NPS software & survey maker.
Fynzo free form builder is trusted by over 100,000+ customers over 70 countries because of its unique survey offerings and moreover, a price that no one can match.
Yes, the form builder is cost effective and provides tons of advanced features along with a free trial. So why get left behind when you can get so much at a reasonable price?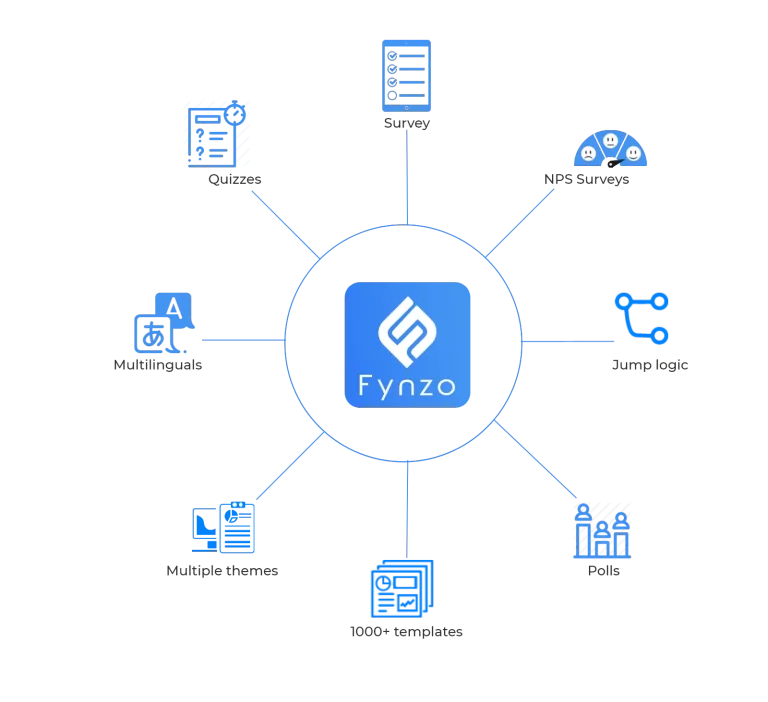 Frequently Asked Questions on Form Creator