We are all aware that the Internet has brought light to every dark part of the planet. This also implies to the business sector as it also benefits from the improved web accessibility. For example, market research data gathering and analysis are now done entirely online. So, do you know which is the best online form creators available in the market? Or, have you ever filled out an online form? Well, your answer must be yes! Am I Right?
You have almost certainly been requested to fill out an online form at some point in your life, whether it is for a job application, an event registration, or a subscription.
Isn't it quite common? Because we all know data gathering is something very necessary for business.
An online form can be used to collect a wide range of data for a variety of purposes; they are a necessity!
A form could be used to gather data from clients for account creation or for a personal application. Online forms are a quick and secure approach to collect data on a consistent and automatic basis. You can rapidly create completely responsive forms that take and save data with the right online form design tool.
But how to build an online form? There is a variety of online form creators available in the market. So if you are looking for the best online form builder for your business then this post is for you!
Table of Contents
What Are Online Form Creators and Why Should You Use Them?
It's self-evident that how much traffic you bring to your site doesn't matter if you don't convert it into clients or critical leads.
To do so, you'll need high-converting online forms strategically positioned within your site's most important locations to capture leads, improve sign-ups, encourage free trials, gather survey feedback, and grow your email lists – whatever your transition goals may be.
Because the efficiency of your web forms is so crucial, I'm certain you won't just dump any old HTML design on your website and hope for a miracle. To ensure that you're receiving enough conversion of the right quality, you'll want to design a series of high-converting forms, test them, and improve them.
As a result, the use of Online Form Builders becomes necessary.
Online Form Builders(or form creators) are web-based applications that help you create highly customizable, job-specific forms.
They can be used to record real-time user responses, save crucial data via quizzes, and process payments, among other things.
Customers can create online forms free that include features such as drag-and-drop functionality. They're versatile tools that can create a variety of fillable forms, such as surveys, polls, and questionnaires. Clients can acquire replies by disseminating or embedding these forms on their sites, and the data is obtained and stored in the software.
What Makes a Great Online Form Builder or Form Creator?
You should be aware that Form builder tools work in a fairly easy manner. It is just you define labels and questions for the data you want to gather, and respondents can fill in the blanks with freeform text boxes, dropdown menus, radio buttons, and other options.
To have additional control over the data you gather, you can also make specific fields essential or optional, and limit the types of responses you receive.
Although creating forms and receiving responses is a simple procedure, form apps come in a variety of sizes and designs. Simple standalone form apps, form builders that are part of a larger productivity suite, and complex data processing solutions including a form builder are all available.
So, what distinguishes the best free online form creator software? We sought out tools that are:
Coding isn't necessary: One of the biggest benefits of using an online form builder is that it removes the requirement for coding expertise. Of course, you can create a form online using HTML coding. Form creation with HTML, on the other hand, demands a working knowledge of HTML. Online form builders are a good choice for folks who don't know how to code. As a result, you save money because you aren't paying for specialised services.
Bounce rate is dropped: The bounce rate increases when users stay on your site for a brief time before leaving. Your visitors' interest will wane if you don't have a suitable contact form on your website because they won't have anything else to do. Using an online form builder's feature, you can determine how to route your consumers when they submit a form. As a result, your form will be more fascinating and productive. You also have more command over your customers, which leads to increased sales.
Simple To Use: This could mean having an easy-to-use form builder that allows you to create a form in under five minutes, a large number of templates that have already done the legwork for you, or, ideally, both.
Customizable: Since your company's forms are an extension of your brand, being able to modify the colours, logo, and style of your form is critical to establishing a strong first impression.
Easy To Distribute: You need to get your form in front of as many people as possible, and the more tools you have to do it in the way that your customers want, the better.
Other tools: Without the tools to examine the data you acquire, it's useless. Apps that made it simple to evaluate or export data were given special consideration.
Best online Form Creators
Fynzo Form Builder (Android, iOS, Web): Best easy-to-use online form builder
Fynzo online form builder lets you create survey forms and collect accurate data. The online form builder has transformed the data gathering experience for over 15000 customers throughout the world, including Fortune 500 companies.
On your Android smartphone, tablet, or web dashboard, you can create survey forms in a variety of ways, including multiple-choice, plain text, quantitative data, image, audio, and geolocation.
Exciting Features
Data collection on the go
The Fynzo Survey app is also available offline, allowing you to collect data in locations where there is no access to the internet or energy.
In the web dashboard, capture data with real-time locations and check all pieces of information on the map.
Data collection in the field
With Fynzo Survey you may collect data in the field without any effort. From the web dashboard, generate a surveyor ID and deploy as many surveyors as you wish.
Pre-existing survey templates can help you save time by reducing the amount of typing you have to do. There are over 100 survey forms to choose from, and some of them are free.
---
Read More: 7 Best Online Survey Tools: Create Awesome Surveys For Free
---
Hubspot Form Builder : Best online form builder for getting leads into their CRM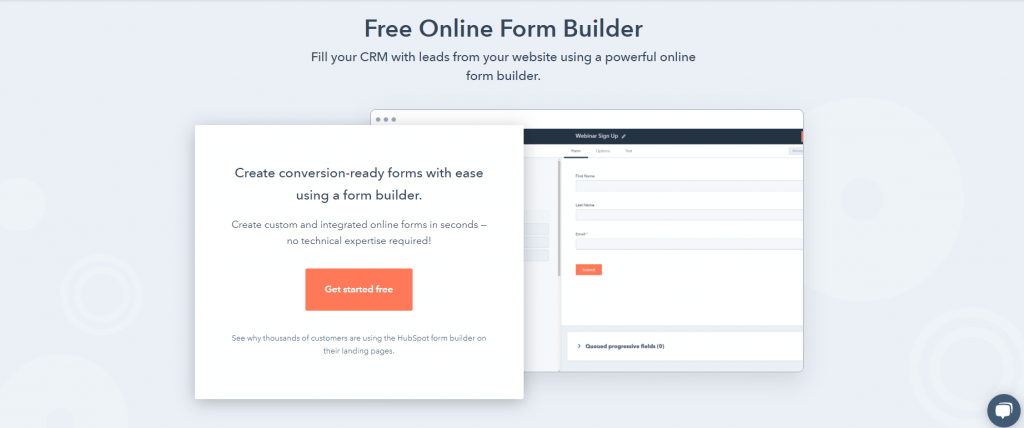 The HubSpot form builder is one of the quickest to use, although it is restricted due to its specific marketing focus. Thanks to its free plan, HubSpot is a good, risk-free option if you're looking for a platform that allows you to develop step-by-step forms and helps you manage your client lists.
HubSpot's online form builder is available for free as part of the company's all-in-one inbound promotional tool, which also includes customer relationship management (CRM), email marketing, live chat, and marketing reporting. HubSpot is aimed at lead generation, so if you're wanting to expand your company, it could be a good fit.
Exciting Features
Support for a variety of languages
HubSpot offers a translation feature that supports English, Spanish, French, German, and Chinese, as well as additional languages under beta.
HubSpot will provide you with a free HubSpot plugin that enables for seamless connection with your website, allowing you to easily add forms to your sites.
You can use the Pop-Up Forms functionality to expand your email list. These are basically for joining up for various types of email updates.
WPforms(Web) : Best online form creator for creating forms on wordPress website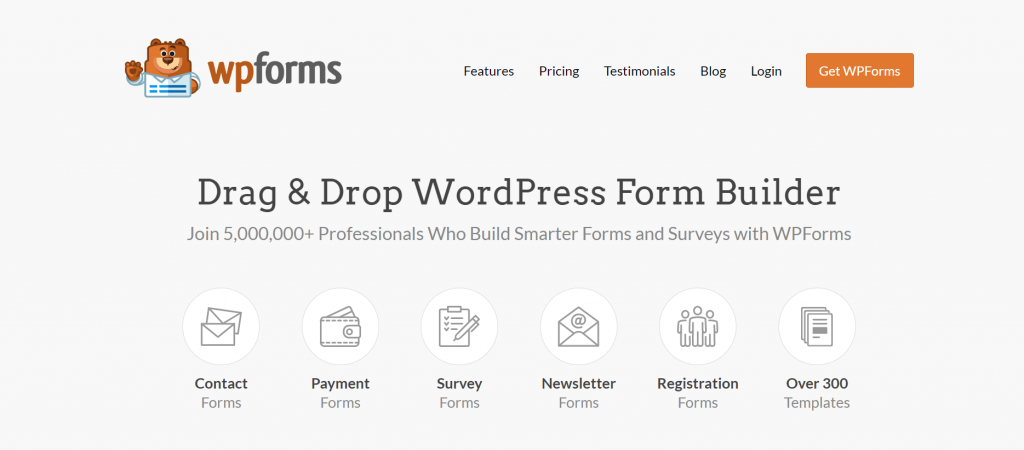 WPForms is among the most popular WordPress contact form plugins. WPForms is the best WordPress plugin for creating and managing contact forms on your site.
There are several great choices for making your forms more powerful, such as polls, conversational forms, and much more.
Exciting Features
WPForms offers a drag-and-drop visual builder that is simple to use. This provides you ultimate command over what each field of your form can do, allowing you to create absolutely fantastic WordPress contact forms.
Integrate with payment providers
WPForms has a number of payment provider connectors to help you get started accepting payments online.
Gravity Forms (Web) : Powerful online form creator for wordpress websites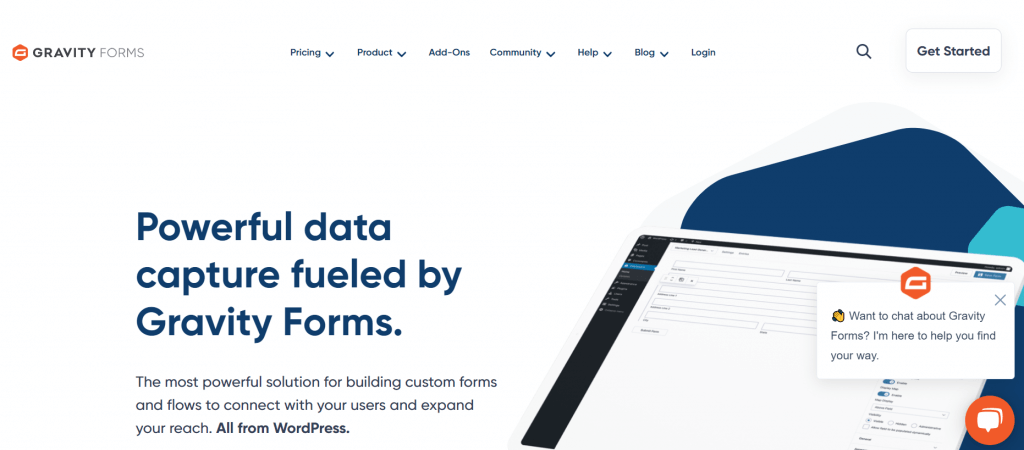 You can develop and deploy any type of form on your WordPress website with our simple visual form builder.
In a couple of minutes, you can create advanced contact forms, newsletters, registration forms, polls, quizzes, check-out forms, and much more.
Exciting Features
Conditional logic features
One of the most revolutionary features of gravity forms is this. You can use conditional logic to show/hide sections of your form based on what data the user-supplied in the preceding field.
Gravity form email notification is incredibly adaptable. With conditional logic, you may set up several email alerts for form submissions.
Jotform(Web, Android, iOS) : Online form creator software that runs on literally any device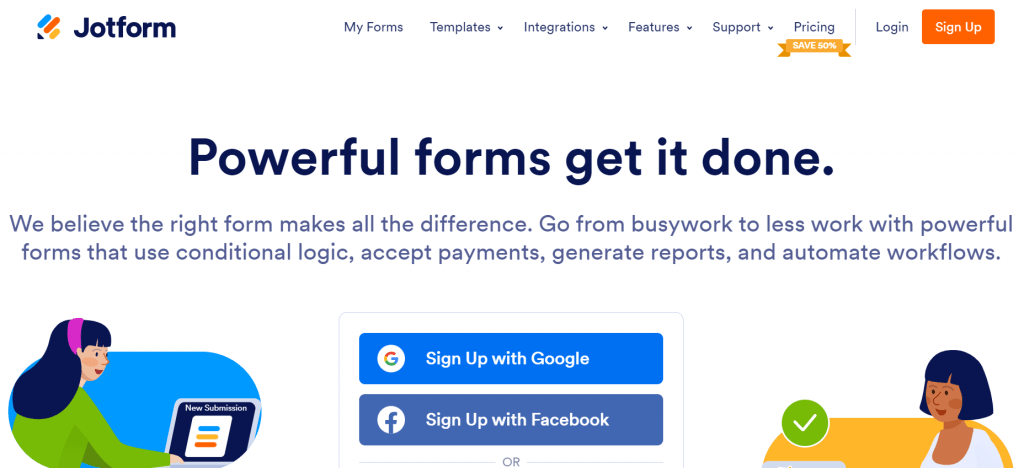 The form builder on Jotform makes it simple to design and upload online forms from any device. It is the top online form builder for companies all over the world, with 10,000+ ready-made form themes, 100+ integrations with third-party apps, and advanced design capabilities.
Payment forms, lead generating forms, registration forms, contact forms, online applications, and more are all common uses for it.
Exciting Features
Kiosk mode allows numerous individuals to fill out a form on a single device multiple times. To collect vital information during trade exhibitions or conferences, use the kiosk mode.
Form fields with advanced functionality
To gather more full data for your business, use sophisticated form fields like geolocation, audio recording, and e-signatures.
Pabbly Form builder (Web) : An online form builder that doesn't restrict you on features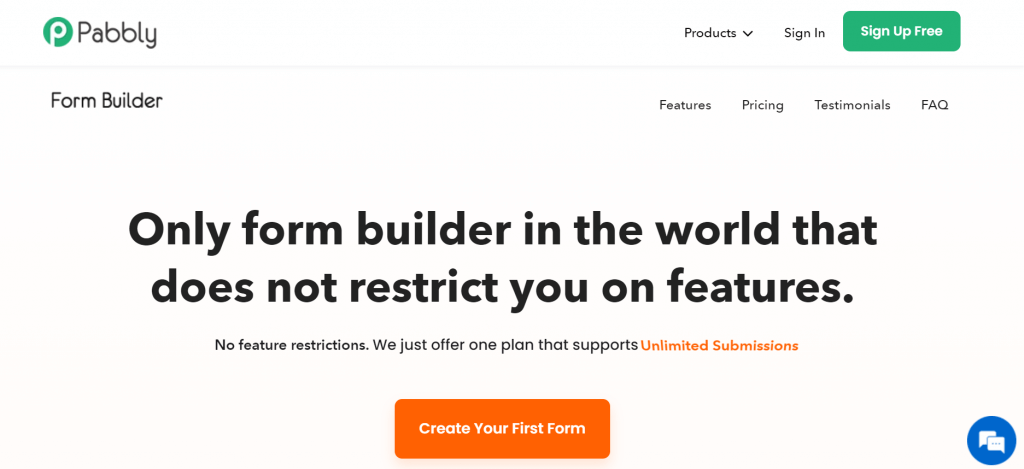 With its endless capabilities, Pabbly Forms is meant to provide its users with an excellent form-building experience. With its drag and drop element, which does not necessitate coding and gets the form ready in only a few clicks, this online form builder aids in speedier form creation.
Because of the infinite safe money collection integration, Pabbly Form Builder can also be an excellent solution for product sale. It can be used for anything, from lead generation to sharing forms.
Exciting Features
With its drag-and-drop feature, which does not demand coding and allows you to create a form in just a few taps, this online form builder lets you create forms faster.
Because of the infinite safe money collection integration, Pabbly Form Builder can also be an excellent solution for product sale.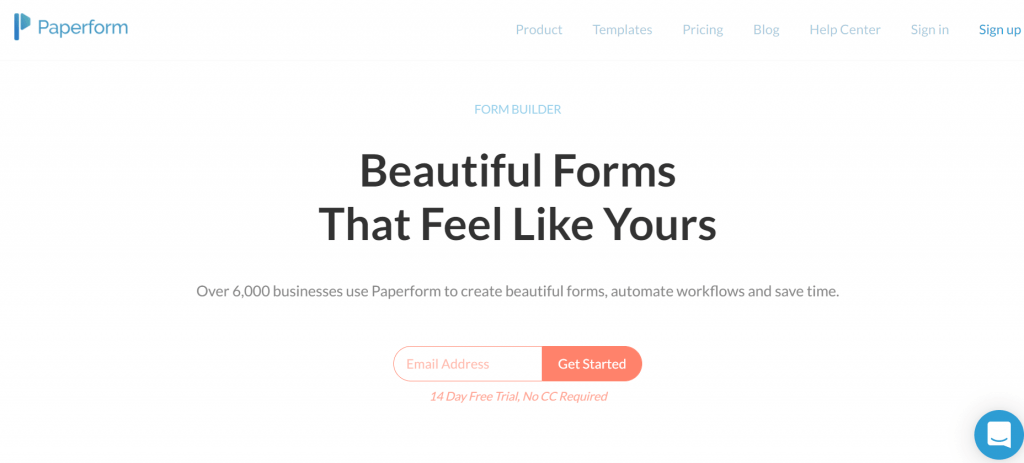 Paperform is a lot more than a form creator. Paperform makes it simple to design beautiful forms, payment webpages, and product pages that are true to your brand.
Paperform is an online form creation tool that lets users add text, videos, photos, and personalised branding to customized forms, product sites, and payment pages. Conditional logic, various question types, URL modification, and other form features are available on the platform.
Exciting Features
A wide range of templates are available
Appointment scheduling, evaluations, mentorship programme applications, comments, donations, lead generation, client onboarding, and many other circumstances are covered in the template gallery.
Users can examine results immediately in Paperform or export CSV files for external reporting.
Forminator(Web) : Best free online form creator wordPress plugin
The most consumer-friendly drag-and-drop WordPress form builder is Forminator. Turn your website to life with dynamic quizzes, polls, and forms.
Forminator is a WordPress form builder plugin that is fully free and extendable. It's the simplest method to make any type of form, including contact forms, review forms for gathering interactive polls, quizzes, service estimators, and registration forms with PayPal and Stripe payment choices.
Exciting Features
Spam prevention is provided using reCAPTCHA or honeypot fields, or the form can only be submitted by authorised users.
Forminator interacts with a variety of third-party services, like Google Sheets, Zapier, and others, allowing you to obtain information, messages, and practically any other type of information you can think of.
Google Forms(Web) : Best free online form builder to build simple yet powerful forms easily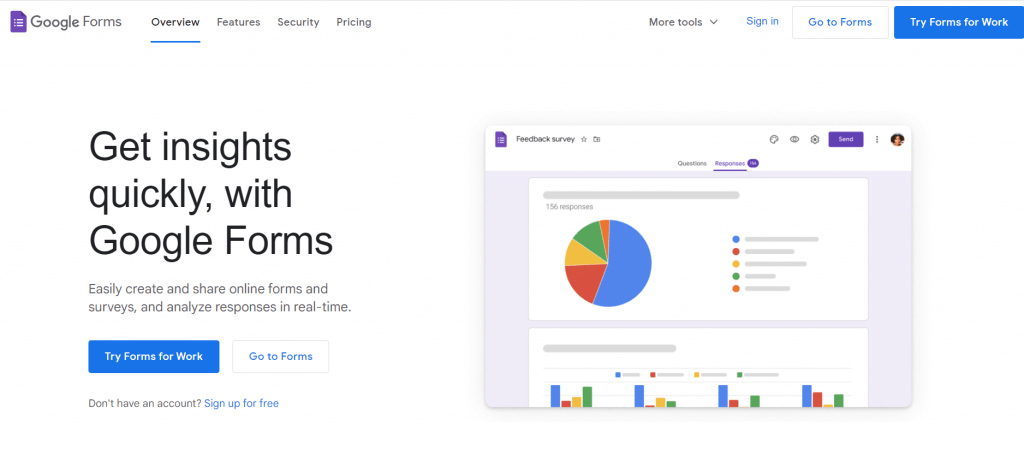 Google Forms is a free web form builder that lets users create simple or complex surveys and quizzes for data collection and organisation.
Forms can be used to arrange events, handle registrations, make polls, collect contact information, and create pop quizzes, among other things.
Exciting Features
Responses on a real-time basis
Create a survey, send it to customers, and follow as the responses are entered into a spreadsheet in real time.
All Google forms are responsive, which means they can be created, edited, and responded to on any device, including a smartphone, tablet, or desktop computer.
TypeForm(Web) : Best online form builder for creating beautiful forms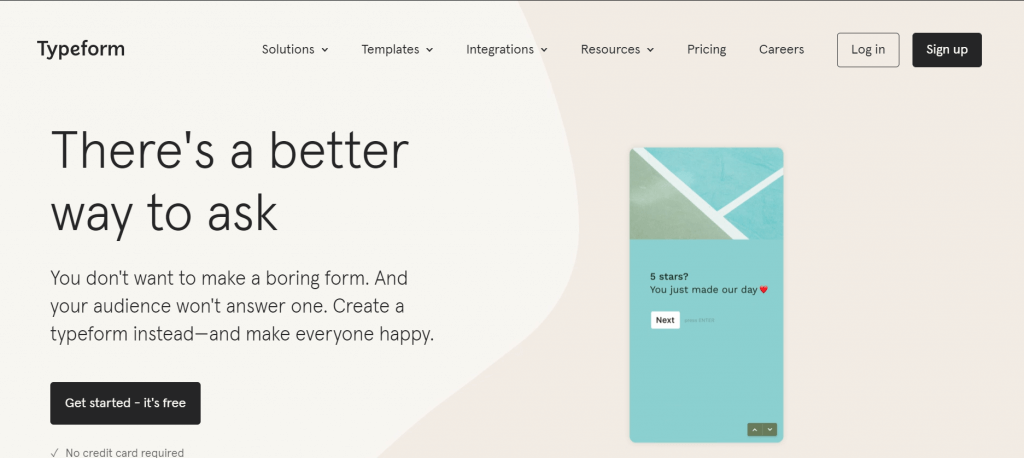 Typeform is a flexible data collecting tool that makes proposing and answering questions simple and enjoyable, whether it's through forms, quizzes, surveys, or something altogether different.
The online form builder is compatible with a variety of devices and has a range of advanced and unique features that are sure to pique an audience's interest.
Exciting Features
It allows for the gathering of payments through gateways to make things easier for users, as well as the computation feature.
Multiple choice questions, photos to choose from, rating scales, and opinion scales are examples of question styles that allow you to adapt to your target audience's diverse interests.
Microsoft Forms(Web) : Microsoft answer to google forms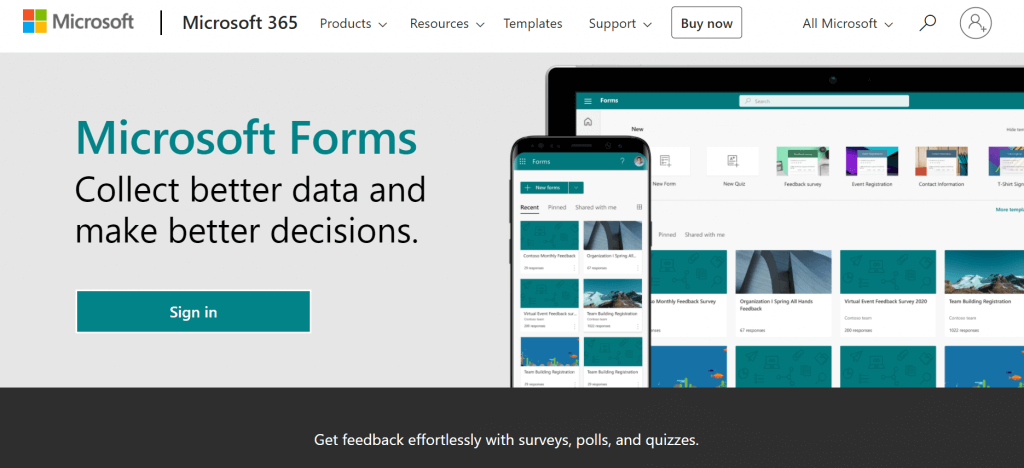 Microsoft Forms is a simple, lightweight online form builder that allows you to quickly create a form, gather responses in real-time, and visualise your data using automatic charts. You can create a form in minutes with no prior experience, and respondents can fill it out on any browser without needing to download an app.
Exciting Features
The option to make Forms available to users outside of Office 365 is the first nice concept.
Users of Office 365 can use built-in analytics to assess responses as they are submitted. Quiz results, for example, can be simply exported to Excel for further analysis or grading.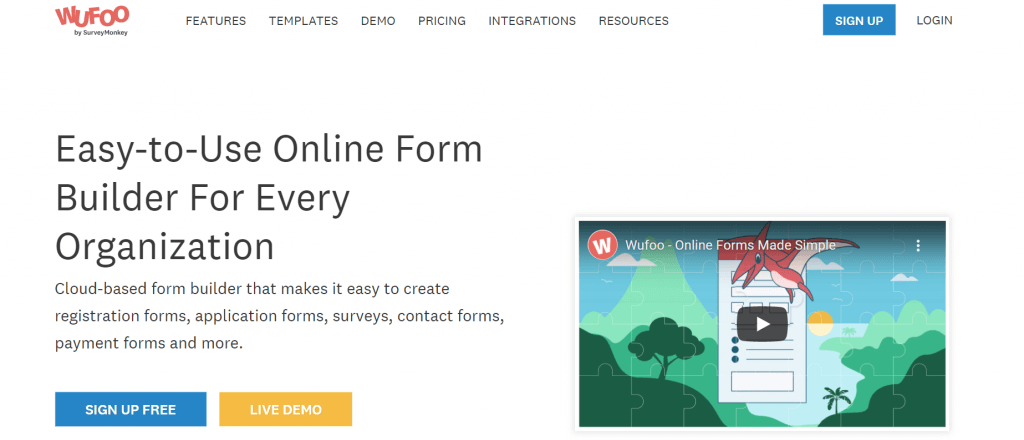 Wufoo is a website that allows anyone to create stunning online forms. Wufoo builds the database, backend, and scripts you'll need to gather and evaluate your data instantly and effortlessly when you create a form.
Exciting Features
Form submissions can be simply exported to CSV or Excel files. You can quickly and automatically export your responses into Google Sheets or wherever else you choose if you use a solution like Zapier.
Customization on a grand scale
With the app's theme designer, you can construct customisable and beautiful forms on the web, insert your own colours and logo, or select from the app's professionally-designed colour palette.
Ninja Forms (Web): Best Drag-n-Drop form builder for wordpress website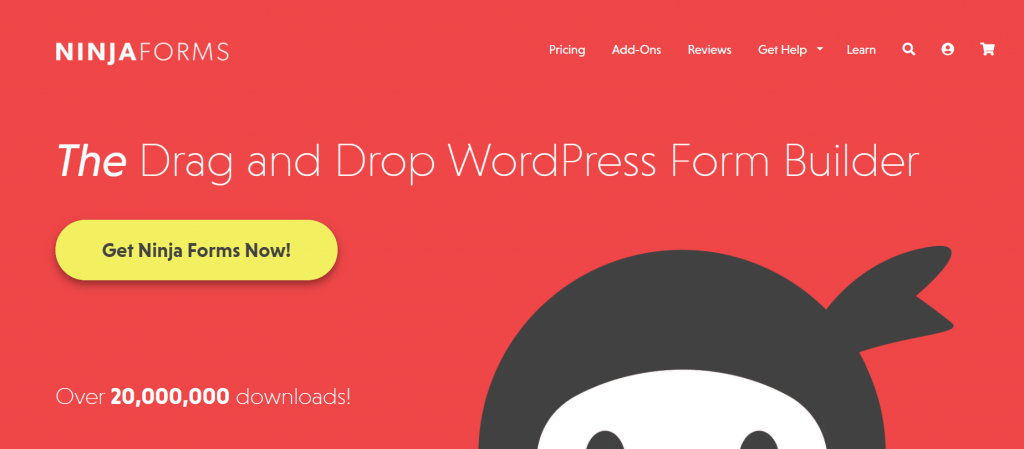 Design exquisite, user-friendly WordPress forms with Ninja Forms, and you'll feel like a master web developer. You don't need to be a designer to make forms that look fantastic on your WordPress site.
Exciting Features
Ninja Forms integrates with payment systems like PayPal and Stripe, allowing you to utilise the plugin to collect money for your project.
Modify any form to become an upload form to enable users to upload files. Sending or exporting submittals as PDFs, Microsoft Excel files, or even Google Sheets is possible.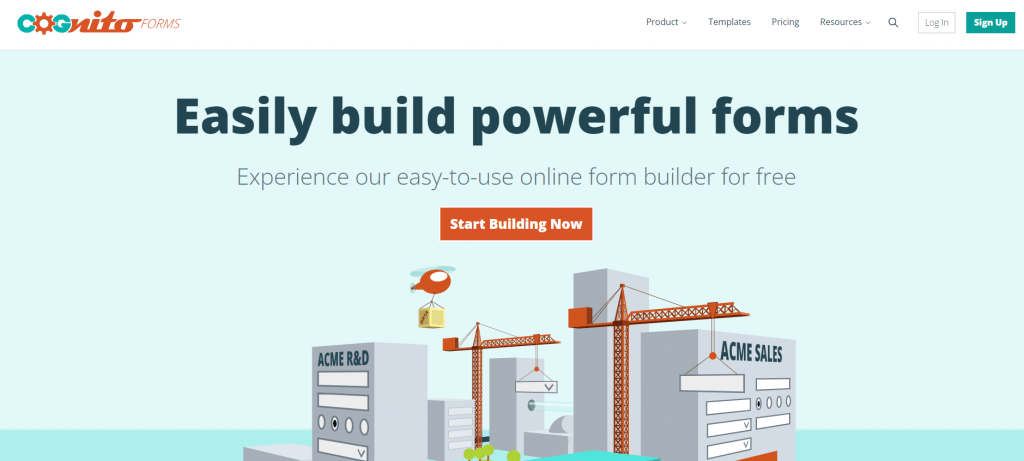 Cognito Forms is a sophisticated online form builder with a user-friendly interface and a long list of capabilities.
Forms may be swiftly developed using drag-and-drop capabilities and then published as a link or incorporated into websites using automatically generated code.
Exciting Features
Create as much as you please
Cognito Form is a drag-and-drop form builder that allows you to construct endless forms with the layout and flexibility you need.
Its features, such as analytics and monitoring, form import, file merging, entry distribution, conditional logic, data encryption, and electronic signatures, allow you to save time and effort.
---
Read More: 7 Best NPS Software To Track Customer Satisfaction
---
Clearbit Forms(Web): Best online form builder for gathering leads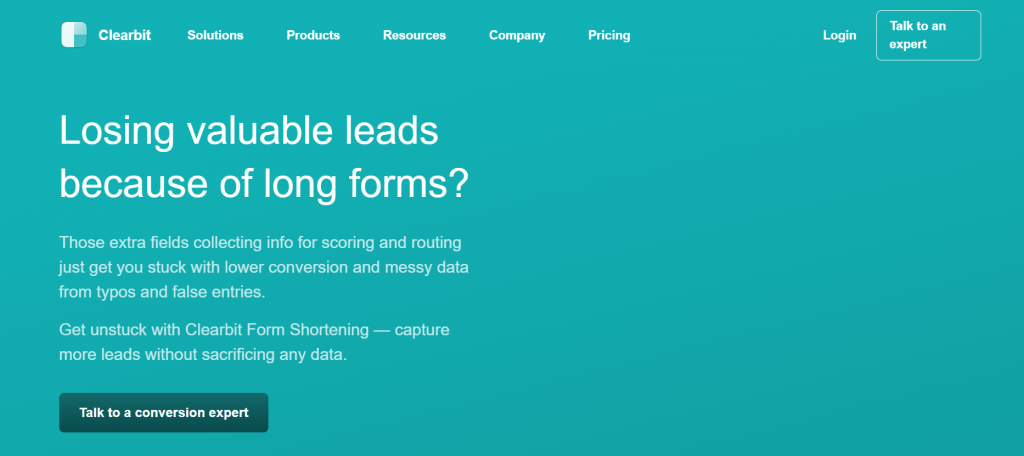 Clearbit Forms allows you to shorten your forms and gather more leads without compromising the information you need.
Clearbit gets to work as soon as a person inputs their email address, pulling information such as job title, business name, location, and much more. With Clearbit, you can autofill data in form fields and conceal fields to make your forms shorter and more user-friendly.
Exciting Features
This form builder enables data to be auto-filled into fields, making tasks easier.
For the ease, it allows connectivity with apps such as Salesforce, Marketo, HubSpot, and Zapier.
Why Choose Fynzo?
Surveys are ubiquitous, and if we consider starting a business, we need continual input from others in order to progress. It is a crucial requirement, but designing a survey on our own is difficult. As a result, it's always a good idea to keep an eye out for survey software or a form generator that might make your job easier. Fynzo is the best free online form builder software.
With its distinctive survey offerings and, more importantly, a pricing that no one can beat, Fynzo free form builder has over 100,000+ clients in 70 countries.
Yes, the form generator is affordable and comes with a trial version and a plethora of sophisticated features. So why risk being left behind when you can get so much for so little?
As a result of all of these facts and reasoning, the most logical form builder selection you can make for your business is Fynzo form builder, as it is the simplest form builder available.
Conclusion:
You must now realise the significance of an online form builder. There are numerous form builders on the market, making it tough to select the best online form builder for your company. I hope that this article has assisted you in making the best decision possible.