In today's day and age, where almost every work is possible through online applications and software, it is evident that people are going to turn to online methods to solve a problem. To help with accurate data collection you can choose a field data collection tool out of numerous tools available.

Field data collection software help you to collect surveys and research data in a systematized, easily presentable, and accurate manner. Using the right platform is very crucial for this. There are some data collection platforms mentioned here that make your work easier :

Data Collection Tool #1: Fynzo Survey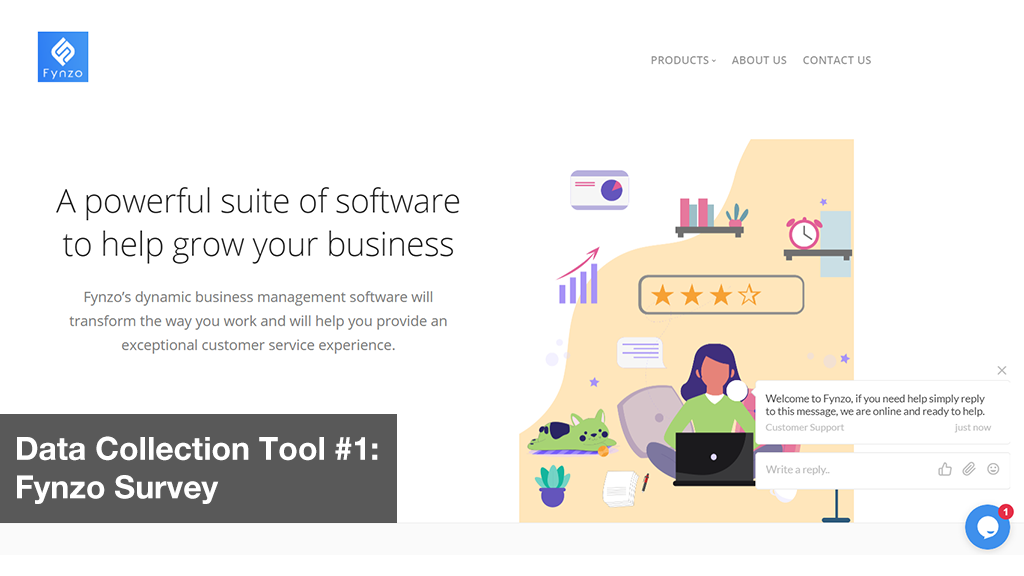 Fynzo provides a powerful and advanced suite of software that fulfills your different business needs. Their support team is available around the clock for hearing out to their customers and helping them utilize the software to the fullest.
Fynzo offers a robust offline data collection tool– Fynzo Survey, which comes with modern features and multiple customization options. Given below are the key features of the Fynzo Survey:
Comes with an easy survey builder interface.
Create multiple question types including NPS, Likert scales, smiley, star ratings, and many more.
Implement advanced survey features like jump logic, piping, custom variables, and many more.
Share surveys on different social media platforms, send them via email, embed on your website, or circulate them with the help of QR codes, etc.
Analyze the reports received in different formats including cross-tabulation, trend report, and many more.
The data collected can also be verified using quality control features.
Schedule reports on multiple emails.
Collaborate with your team members while creating surveys, analyzing reports, etc.
Personalize your surveys by adding your organization's logo, background, theme color, etc.
Download the data received in Excel, CSV, SPSS, pdf, and many other formats or export to Google Sheet.
Integrate with the apps you love including Zapier, Google Analytics, Slack, Facebook Pixel, and many more.
Fynzo Survey comes with an Android, and iOS app. The mobile app lets the surveyor collect the data in the field even when they are offline.
Grab geolocation while taking the surveys in the field with mobile App.
On top of all these amazing features, Fynzo Survey pricing starts at only $17 a month
While many applications struggle to collect data in offline mode, Fynzo Survey offline data collection platform makes it easier than ever before. It has a feature that lets users collect and store data when they are offline and later it is uploaded when the device gets network connectivity. Data collected in Fynzo online survey app can be downloaded in different formats and integrated with Google Sheets. This field data collection software helps you to represent data in a well-arranged format so that it becomes easy for you to interpret it and create reports for your survey. It is available on both Android and iOS platforms.

Data Collection Tool #2: Open Data Kit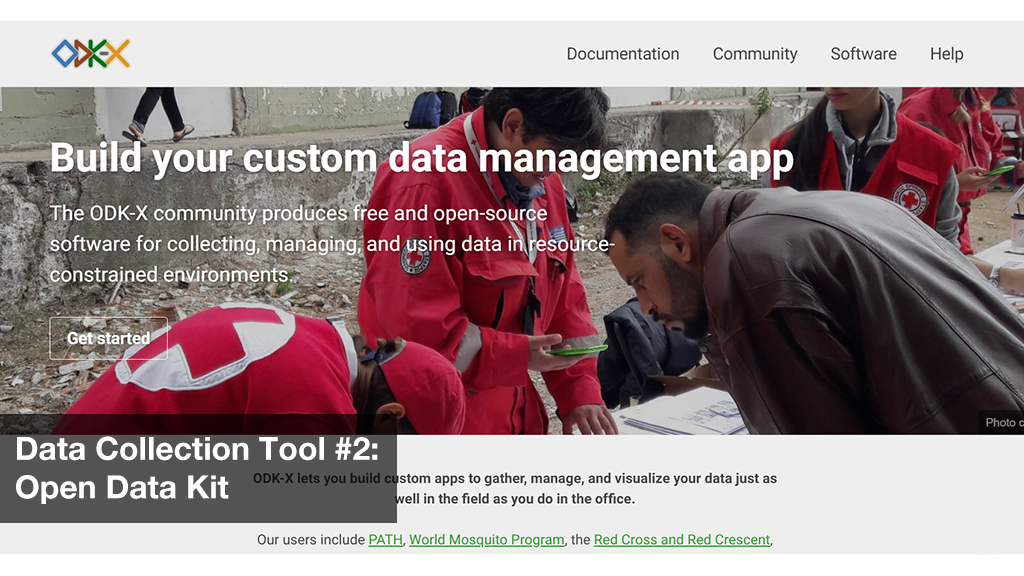 Open data kit field data collection app has two kinds of software. One is ODK and the other is ODK-X. ODK offers the main basic features which a field data collection software normally consists of. ODK-X is more suitable for complex work techniques and is easily manageable. It is free to use the app and is available for Android devices. It also allows offline working on data.

Data Collection Tool #3: Jotform mobile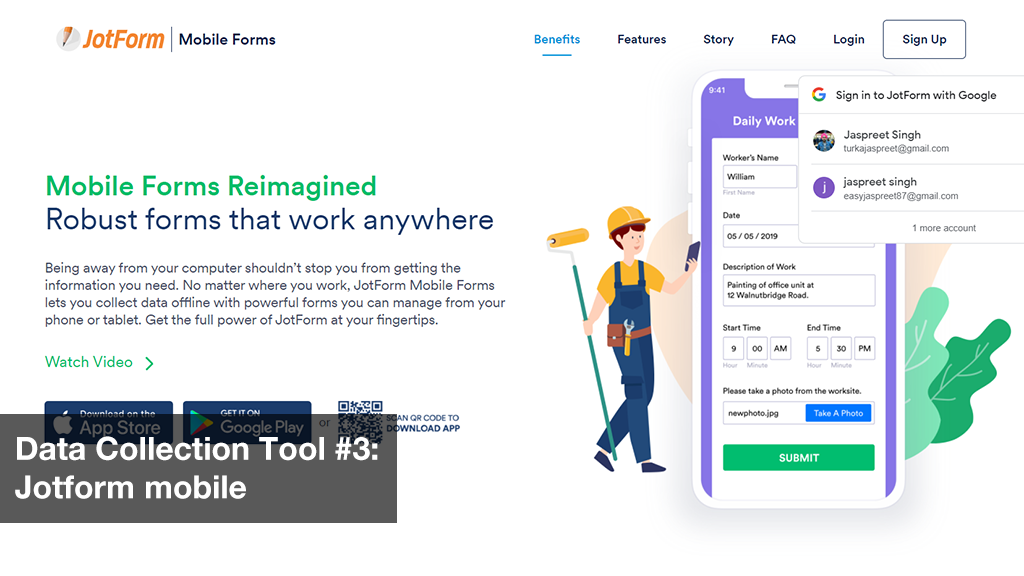 One of the unique features available on this field data collector app is that it collects data through voice recordings, bar codes, and other modes alongside the traditional way of typing out the answers to the questionnaires.
With the help of this mobile data collection app, you can also switch to a mode where it lets you enable a single survey where the respondents can fill out only the specific survey for that time. It lets you collect data through multiple surveys and also by enabling a single one. This helps you to not get confused with the surveys and the data of the respondents. The basic features of this app are available for free but to get exclusive benefits, some need to be purchased.

Data Collection Tool #4: Zoho forms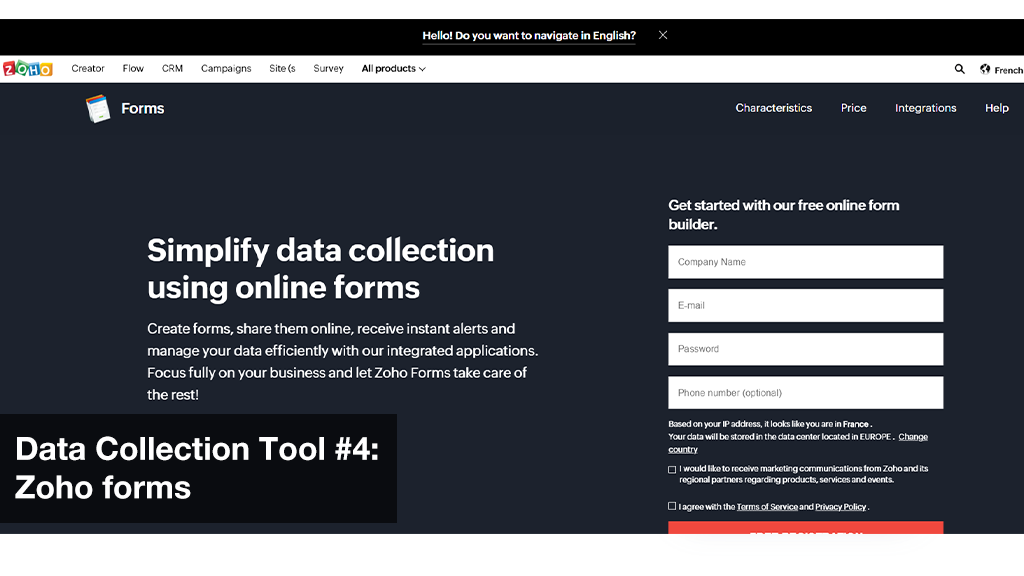 Zoho forms allow users to create absolutely new forms or use readily available templates designed for taking surveys. You can manage and edit questions suitable to your objective and topic. You can also enable the location to understand from where a form is being filled which helps in data classification. In order to use Zoho field data collection app to its full potential and get maximum benefits, it is favorable to use the paid content as it will let you create and distribute more surveys to more individuals and help in faster and more effective data analysis.
Data Collection Tool #5: Smartsheet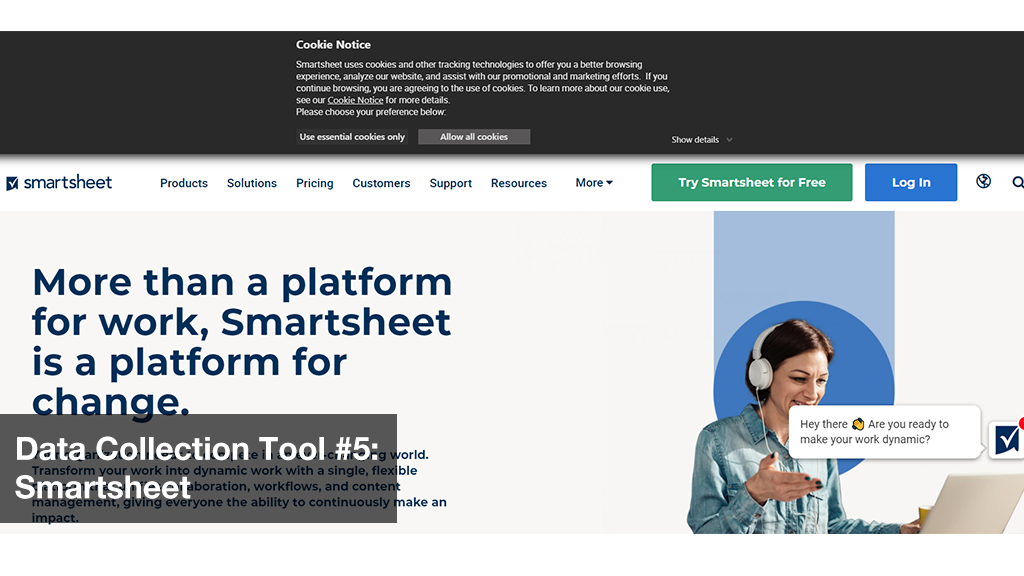 Smartsheet field data collection platform has an innovative method of collecting data. The survey forms are attached to a sheet where the data is tabulated upon filing up the form. It makes it easier for users to control and access multiple data and sources.
Respondents can answer or share information in the surveys by attaching files and scanning bar codes. You can try the platform for free for a fixed amount of days and then the subscription can be purchased if you want to store the data and continue using its features for the survey.

Data Collection Tool #6: Device magic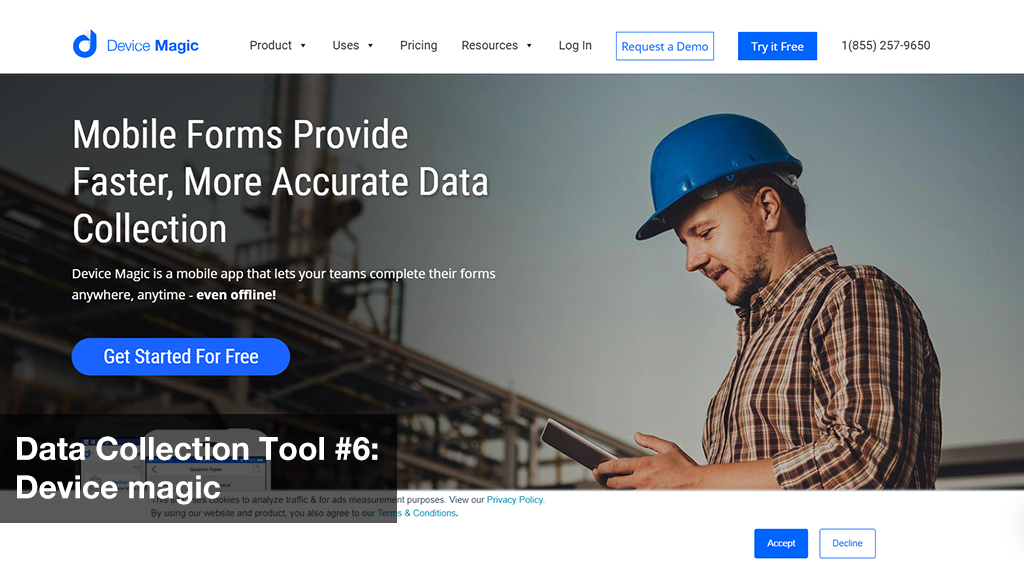 Device Magic ensures that the user does not need to type long and unnecessary texts. It has a characteristic feature where it can automatically fill in basic information to spare the user of unnecessarily typing them again and again.
You can enter the answers to the questions that may be possible to fill up automatically. Your work can be easily integrated with Zapier which helps you record who has accessed and responded to the survey sheet. You can try it out for a trial of 14 days and then go for a long-term subscription. It is available on Android, iOS, and web.

Exploring data collection tools? Download Fynzo Survey app and start collecting data even in offline mode.
Data Collection Tool #7: Magpi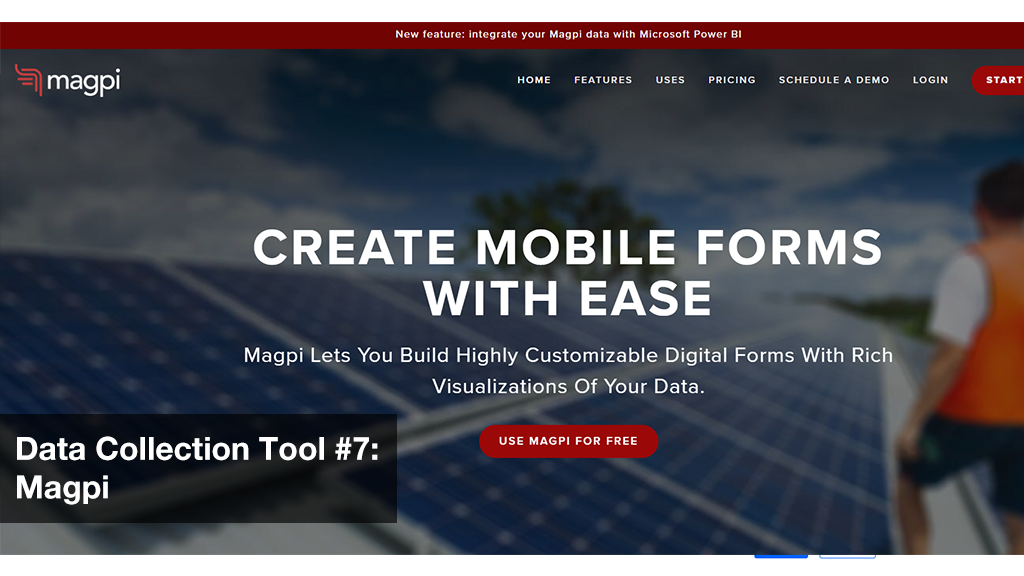 Magpi field data collection app has served different types of organizations, welfare ones that include the World Bank, UNICEF, and many more. The survey sheets can be accessed on mobile devices but the forms need to be created on a desktop before it is distributed.
Respondents can also add their signature at the end of the survey by drawing it on their mobile phones digitally. The data collection platform also has the ability to store data in the devices when there is poor or no network connection at all and then later can be uploaded when once the device comes in contact with a stable network. Data can also be input by QR codes and scanning of bar codes in addition to the traditional way of typing out the data.

Data Collection Tool #8: Axonator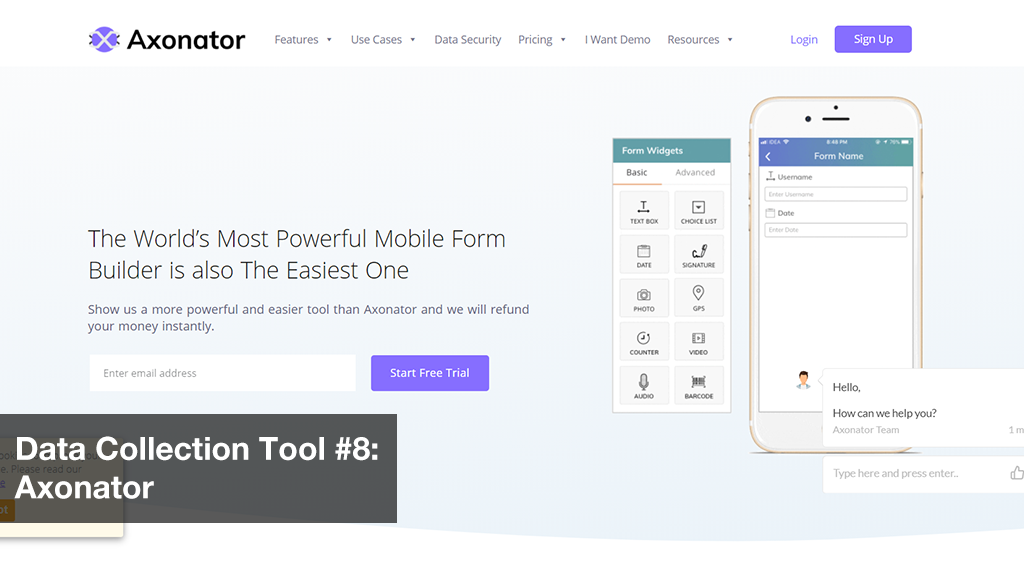 Complex data collection forms and surveys can be built and managed effectively and easily to make the data collection process easy in this field data collection platform, Axonator. This data collection tool also provides scope for integrating your work with numerous other platforms to arrange your data better on your mobile device. Axonator also has all other facilities that these types of platforms generally have like offline data collection, designed templates, and integration options.

Conclusion:
With growing advancements and the need to make every work mobile, there has been the growth of more and more platforms and dependency on them has increased as well. So, there are many field data collection tools and platforms that can be easily accessed through mobile devices. Thus, fully functional apps that are no less than how they would be on a desktop are very useful. These apps provide all comfort that working on a desktop would provide equipped with the best features to ease out the work.