NPS is a metric through which you can measure how much a customer is willing to recommend your product or services to the people he knows like friends and family members. It is a measure to see how well you are doing with your business and how much your customers are satisfied. You know that you are in the right direction when your Net Promoter score is higher than that of your competitors or is higher than your previous one. The best way to create and run a Net Promoter Score survey is to use NPS software. The software will help you create, share, analyze, and calculate NPS.
The best NPS software today
Getting NPS has become crucial for all businesses to do a better job in serving the customers and to measure competition. So, a software with user friendly features to measure NPS is very important for a company. Some of the best NPS software are: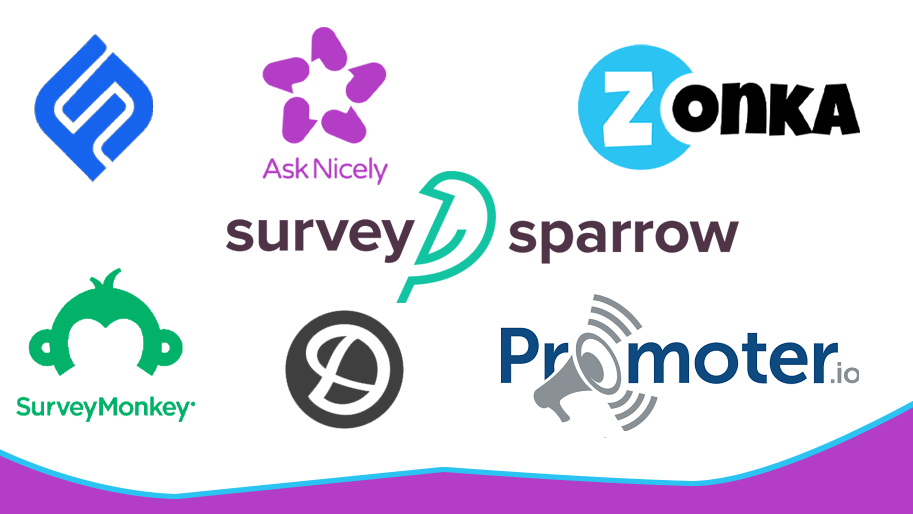 Fynzo Survey
AskNicely
Zonka Feedback
SurveySparrow
SurveyMonkey
Delighted
Promoter.io
Best NPS software #1 : Fynzo Survey
Fynzo provides a powerful and advanced suite of software that fulfills your different business needs. Their support team is available around the clock for hearing out their customers and helping them utilize the software to the fullest.
Fynzo offers an NPS Survey tool – Fynzo Survey, which comes with modern features and multiple customization options. Given below are the key features of the Fynzo Survey:
Comes with an easy survey builder interface.
Create multiple question types including NPS, Likert scales, and smiley, star ratings, and many more.
Implement advanced survey features like jump logic, piping, and custom variables, and many more.
Share surveys on different social media platforms, send them via email, embed on your website, or circulate them with the help of QR codes, etc.
Analyze the reports received in different formats including cross-tabulation, trend report, and many more.
Schedule reports on multiple emails.
Collaborate with your team members while creating surveys, analyzing reports, etc.
Personalize your surveys by adding your organization's logo, background, theme color, etc.
Download the data received in Excel, CSV, SPSS, pdf, and many other formats or export to Google Sheet.
Integrate with the apps you love including Zapier, Google Analytics, Slack, Facebook Pixel, and many more.
Fynzo Survey comes with an online survey app that supports on Android, iOS devices. You can create surveys, share them, and view/download the results with the mobile app too.
Grab geolocation while taking the surveys in the field with mobile App.
On top of all these amazing features, Fynzo Survey pricing starts at only $17 a month
These advanced features of this survey software along with its pocket friendly pricing plans make it #1 NPS builder.
Best NPS software #2 : AskNicely
With AskNicely, you get to add logic-based questions for your survey. The software makes your analysis better and easier with the help of individual divisions like channels, products, and many more. It gives scope for sharing the surveys by embedding the link in websites, email, and text messages. The surveys can be integrated with Intercom, Hubspot, Zapier, and others. It has a number of support networks as well making it a place in one of the best NPS software. If you want, you can also have a look at AskNicely alternatives here.
Best NPS software #3 : Zonka Feedback
Zonka Feedback is an interactive survey option between the business and the customers. The questions are so framed that the respondents need to give a reason behind their chosen option. This feature helps you to learn about customer satisfaction in a more detailed manner. Sharing surveys is easy as it has multiple channels like QR code, embedded links, and other networking solutions. It is not free to use software though you can opt for a free trial period of 15 days.
Best NPS software #4 : SurveySparrow
Surveys conducted under SurveySparrow can be integrated with any Google applications. It provides scope for multiple access to the surveys. Questions framed for the survey can be divided or branched questions in this software. Data analysis is viewed in an easily understandable method to get better results and better development. Survey Sparrow is also very affordable with a number of features that are beneficial and that one of the best NPS software offers.
Best NPS software #5 :SurveyMonkey
SurveyMonkey is also amongst the best NPS software that many businesses prefer using. It has more than 100 question templates that fit your requirements in any scenario. Surveys can be integrated with Microsoft Teams, Zapier, and almost every other platform. Through its subscription price is a bit in the higher range, it has still managed to give customers what they wanted. You can choose SurveyMonkey if you want your surveys to be efficient and engaging to your customers. If you are currently using SurveyMonkey and would like to make a switch, we have collected a few SurveyMonkey alternatives here.
Best NPS software #6 : Delighted
Delighted comes under the list of best NPS software because it is extremely easy to use for everyone. Delighted has the feature of filtering responses and thus helps to accurately analyze the information collected whatever is necessary to the business. These surveys can also be integrated almost with every platform like Zapier, Salesforce, Intercom, and many more.
Best NPS software #7 : Promoter.Io
As the name suggests, it is a great way for your products and services. You can use your logo in the survey and customize it as you require. Promoter.Io is also on the pricier side. Surveys can be shared through SMS, emails, and website and its integration options are favorable by many as well. Help and support are available via SMS, emails, and chat.
Conclusion :
You can choose any of the software from this list of best NPS software as all of them are very user friendly and have great reviews. It has to be kept in mind that a low Net Promoter score like 1 to 5 in a total of 10 can hamper your reviews and sales. So, you need to be careful that your customers are not so much dissatisfied that you get more of these low ratings. Whereas scores like 8 to 10 out of 10 is a pretty impressive score and do a great deal in uplifting the business image. So, the target should always be to achieve high ratings so that your overall score is satisfactory and more than the competitors.