We have compiled a list of the top 10 Medallia competitors to aid in your search.
There are too many systems available that have distinctive survey capabilities. As a result, finding the best platform becomes challenging and complex as a result.
There are several solutions that will suit your demands, regardless of whether your top priorities are usability, cost, survey features, or other capabilities.
First, let's learn more about Medallia before we start our list.
What exactly is Medallia?
A customer feedback software for newcomers to the business is called Medallia. It is a simple-to-use tool with a variety of options to help you create the ideal survey for your requirements.
Many fundamental survey features are included in Medallia, including 40+ question types, surveys in many languages, logic, and personalization. You may also use images, videos, and music to add some fun to your surveys for the responders.
Medallia has a lot of fantastic features to offer. But it's possible that this program isn't ideal for you. There might be various causes, some of which are listed in the following section.
Why should you seek out Medallia competitors?
We've included a summary of several reasons why you may want to consider Medallia competitors.
1. A challenging interface
The interface of the Medallia program is intricate and could take some getting used to. One of the deciding considerations is simplicity of usage. Check out our selection if you're looking for a tool with an intuitive user interface.
2. Survey design possibilities are limited
In terms of design and aesthetics, Medallia is an old-fashioned platform. It offers simple and constrained design components. Other software is available that offers superior design features at affordable prices.
3. Expensive packaging
Charges in Medallia apply to both "units" and "users." In surveys, "units" are just identified participants without log-in rights. Due to the increased expenses as a result, most firms cannot afford it.
Who are the top 10 Medallia competitors?
Let's examine the top 10 Medallia competitors now that we have described what Medallia is and why you should think about browsing through its competitors.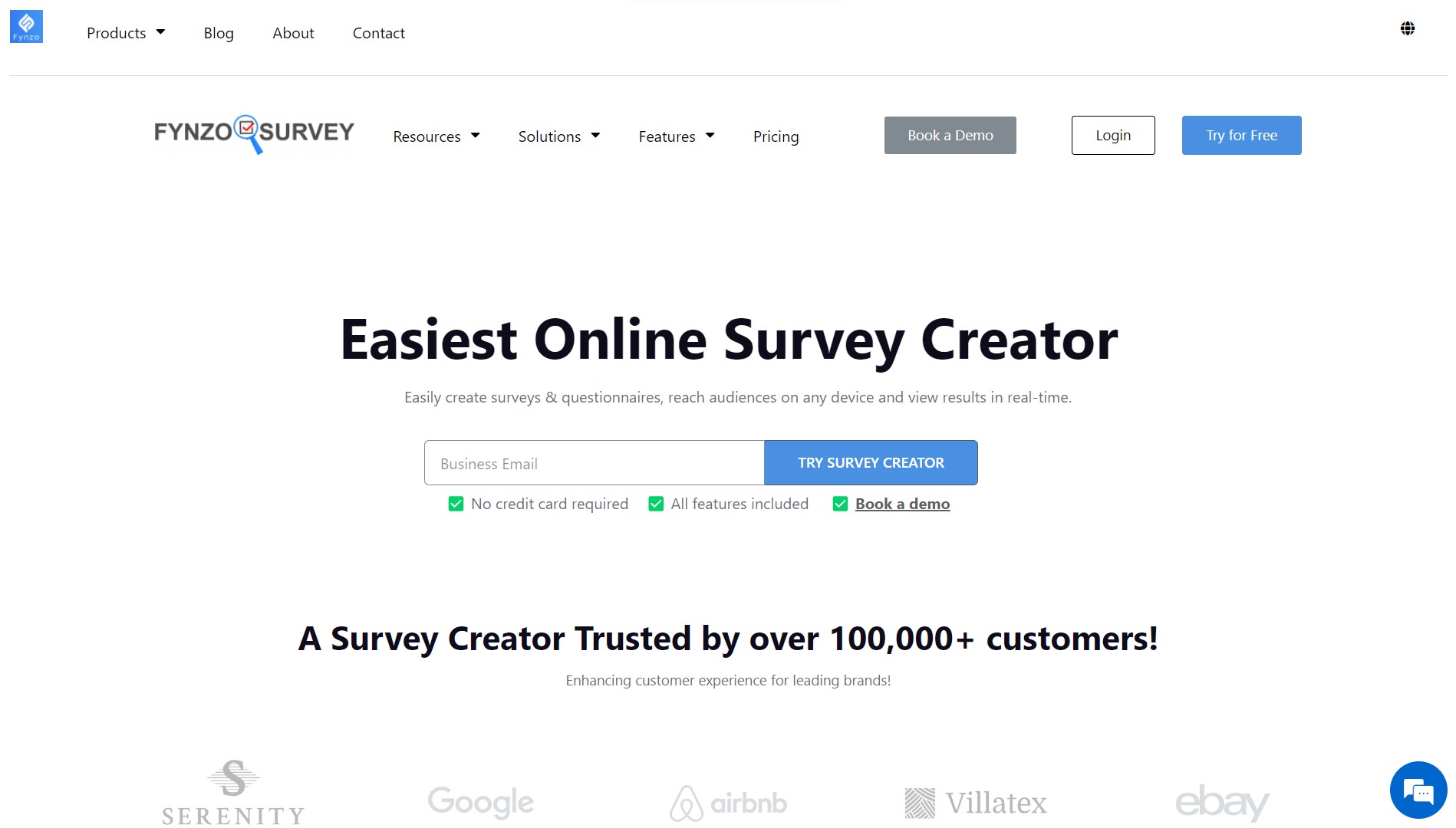 Fynzo survey is among the leading Medallia competitors. With the use of pop-up surveys, you may use this survey tool to collect objective, sincere, and in-depth responses without interfering with their experience.
You may get contextual responses from the appropriate individuals at the appropriate moment. With its assistance, on-site, in-app, and prototype surveys that are 10X more effective than email surveys can be deployed.
Key Features
You may create surveys using NPS, Likert scales, smileys, star ratings, and other formats.
You may, for instance, utilize QR codes, your website, or a variety of social media sites to distribute surveys.
Examine trend reports, cross-tabulation reports, and other reports you've received in different formats.

A variety of formats, including Excel, CSV, SPSS, and PDF, as well as Google Sheets, may be used to get the data.

Popular programs like Slack, Google Analytics, Facebook Pixel, Zapier, and more may be connected to.

iPhone and Android users may download the Fynzo Survey app. Create surveys, distribute them, and see or download the results using the smartphone app.
Pricing
All of these incredible capabilities are available with Fynzo Survey for as low as $17 per month. Fynzo Survey is the greatest Medallia comptitor because of its cutting-edge features and flexible pricing options.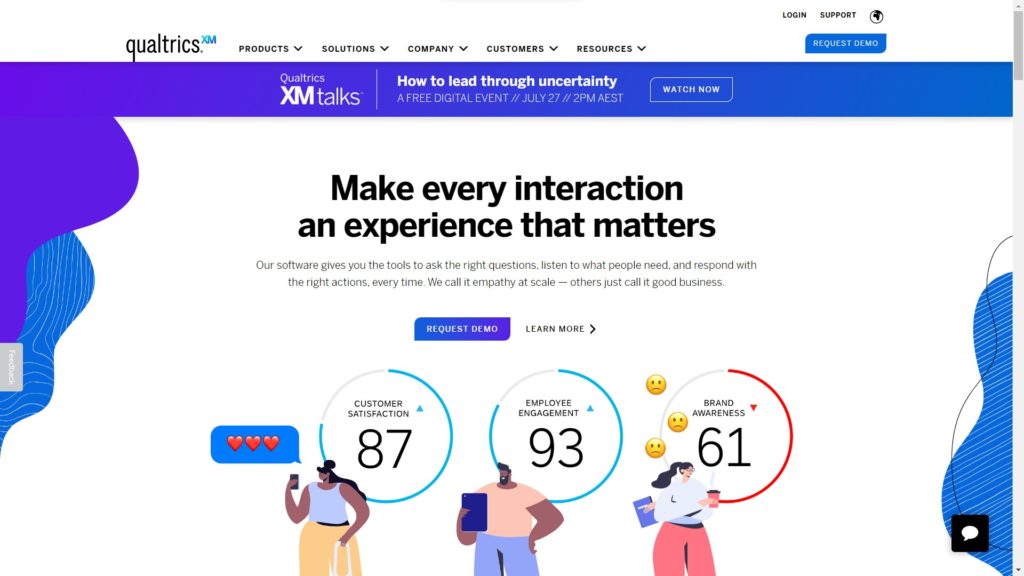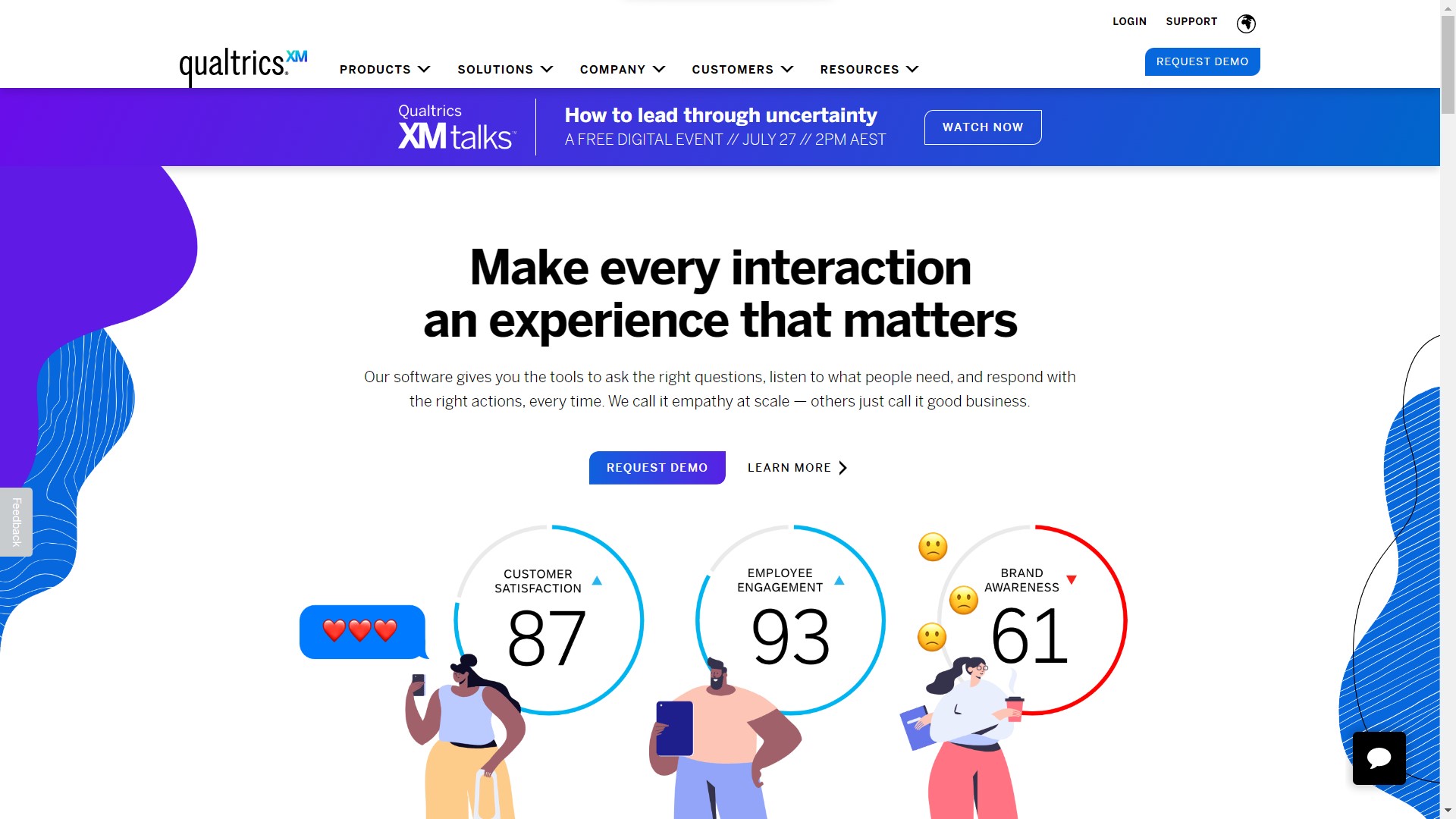 Qualtrics is one of the numerous Medallia competitors. It is a comprehensive feedback platform, with many of the features and functionalities you liked about Medallia. For instance, it offers a drag-and-drop editor that makes it simple to build surveys.
Key Features
Has a predictive intelligence function that aids in the analysis of feedback data reports and the acquisition of useful insights.

Assists in data collection from many channels, including websites, mobile applications, chatbots, and more.

Provides a variety of question kinds and pre-built templates to aid in the rapid and efficient building of surveys.

Create various surveys with a variety of question types, such as NPS, CSAT, CES, and exit-intent surveys.

Includes an Expert Review function that evaluates different survey questions and provides real-time survey design advice.
Pricing
There is a free plan offered. Plans with premium extras cost between $1,500 and $5,000 a year.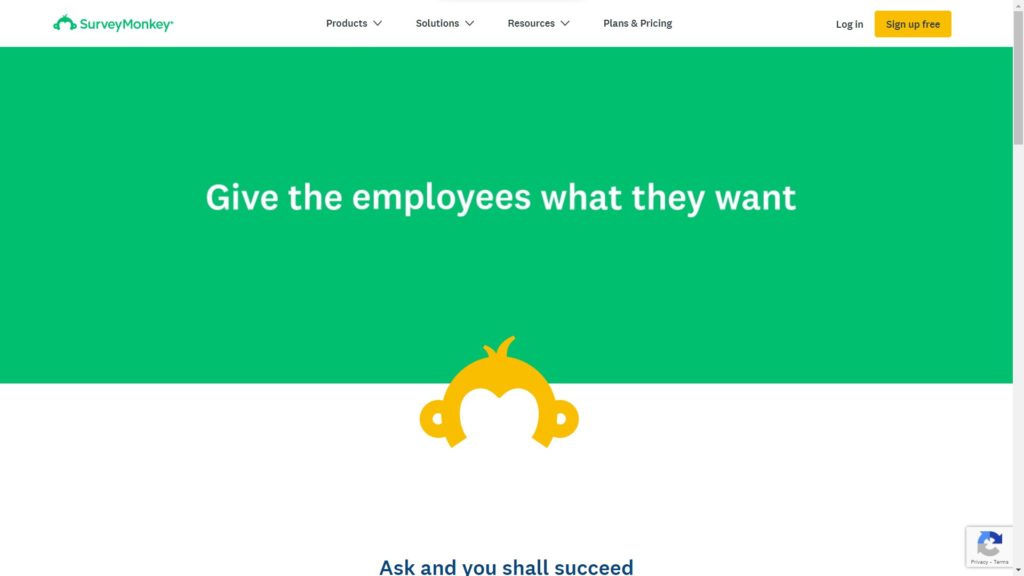 Medallia is comparable to the well-known survey feedback program SurveyMonkey. Effectively gathering both employee and consumer feedback is made possible by the platform. You can do market and user research with it without having to know how to code.
Key Features
Allows you to use different response categories, branching and skip logic, and other features to design unique surveys.

Helps a larger audience by translating the survey into their language.

Has an AI-based Genius engine that automatically calculates the completion rate and determines how successful the surveys are.

Provides tools for word clouds and sentiment analysis to get contextual input.

Supports Salesforce, HubSpot, Automate.io, and more integrations.
Pricing
Pricing might range from $25 to $75 per user per month depending on the package you choose, but generally, it's a good investment.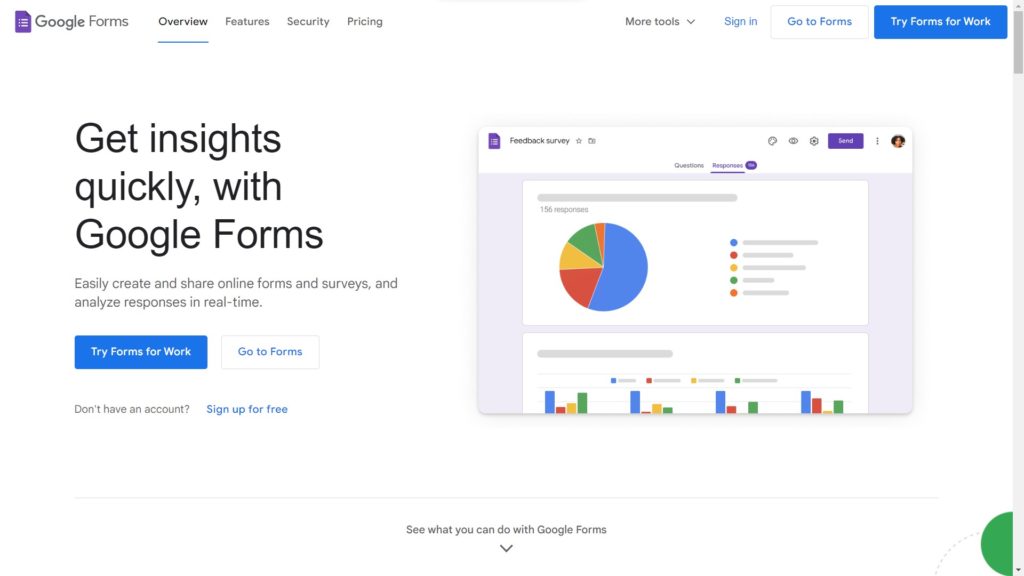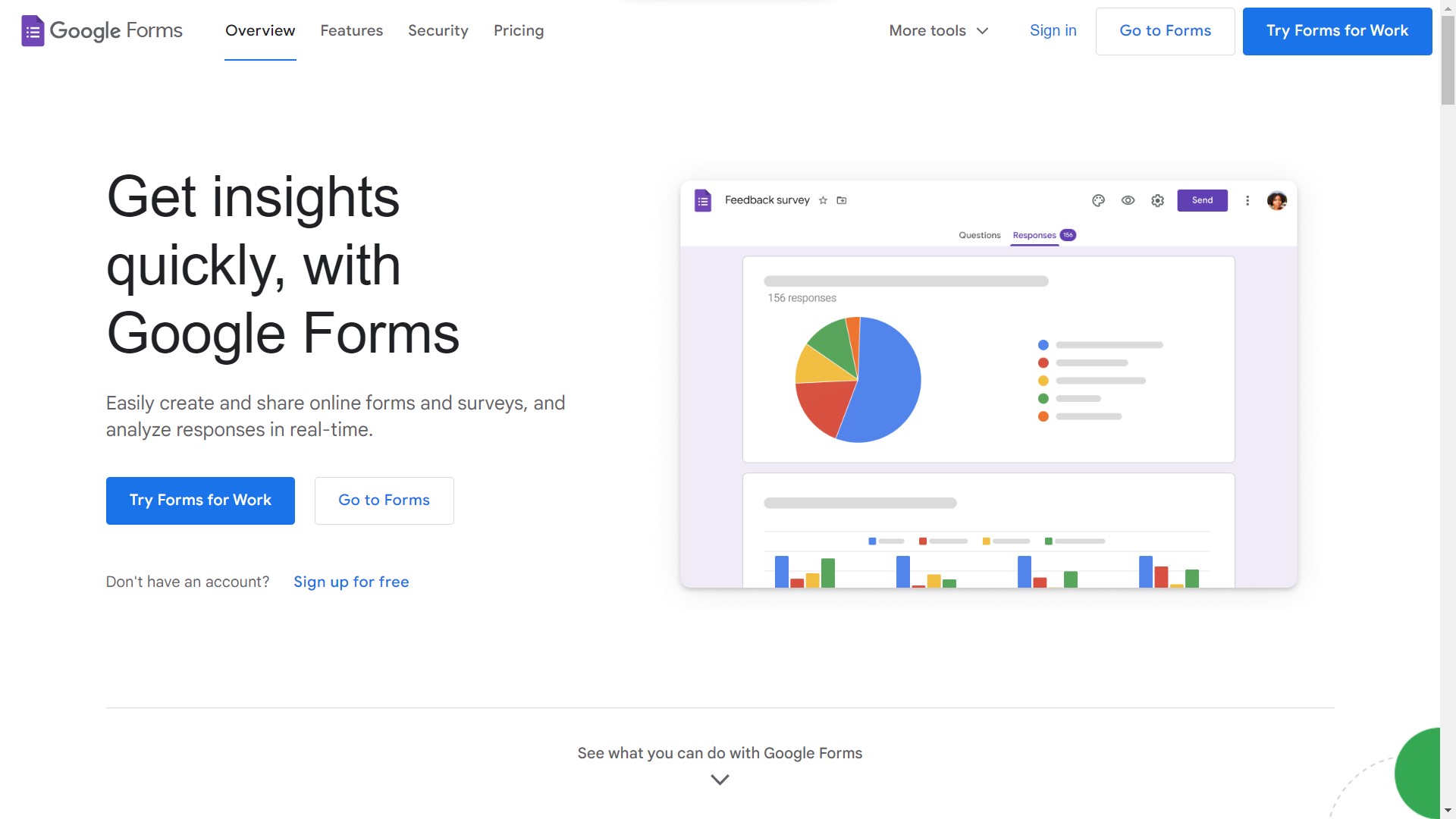 Google Forms, a service included in the Google Tool Suite that provides other Google capabilities to efficiently gather consumer input, is another Medallia competitor. Sharing online links for forms and surveys is a terrific way to collect the input you need to enhance your procedures. You don't have to commit to any tool since it's a great free Medallia competitor.
Key Features
Provides intelligent data validation that allows correct email and data formatting to enable precise response segmentation.

Allows you to control who may see or change the forms and to maintain them in a private environment.

Offers editable, responsive forms.

Create a unique survey from scratch and distribute it across various channels to get replies.

Real-time replies are recorded.
Pricing
Google Forms offers all these features for free.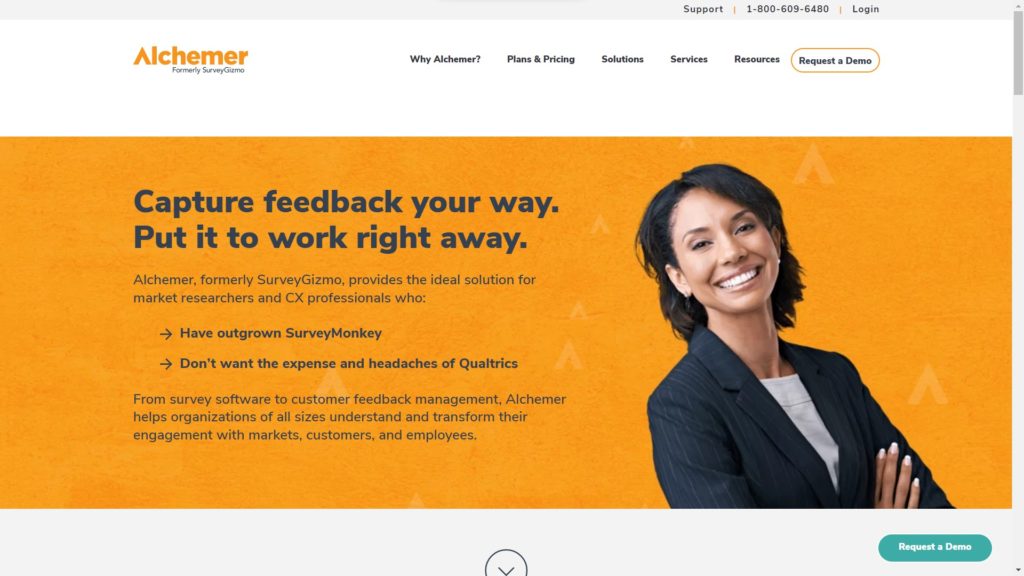 You probably knew this program as SurveyGizmo, but this Medallia competitor has now changed its name to Alchemer. Given that this application has several capabilities that are comparable to those of Medallia, you should test it out.
Compared to its rivals, this Medallia competitor offers a large variety of question types. Also, installing it doesn't require the assistance of a developer.
Key Features
Creates surveys that are bilingual and multi-media.

Allows for branding, branching and skip logic, and mobile in-app surveys to be customized.

Companies may ask for feedback in the proper manner to get reliable data by using a variety of questions.

Has a reporting and analysis capability that aids in analyzing the key input that has been gathered.

Supports connectivity with BI tools, Webhooks, Salesforce, and other third-party applications.
Pricing
The price might vary from $49 to $249 per person and per month, depending on the package you choose.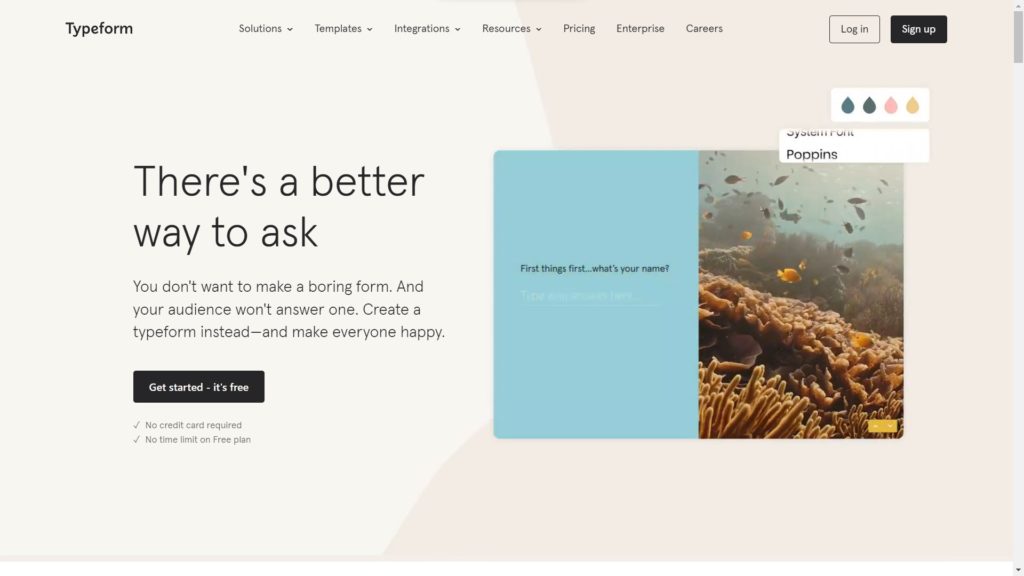 One of the many excellent Medallia competitors that has fantastic functionality is Typeform. You may create surveys for websites and mobile applications with this tool. They concentrate on offering fun survey forms that consumers will eagerly complete.
Key Features
Channels for collecting comprehensive customer feedback and making data-driven business choices.

Encourages the delivery of surveys by email in order to increase survey response rates.

Helps feedback management so that data from consumer feedback may move easily across various channels.

Provides real-time result monitoring, enabling swift choices based on accurate information.

Includes features like poll administration, skip and branching logic, and online polls.
Pricing
If you want to evaluate the program before making a purchase, you may use the free trial version of it. Prices per user and each month might vary from $25 to $83.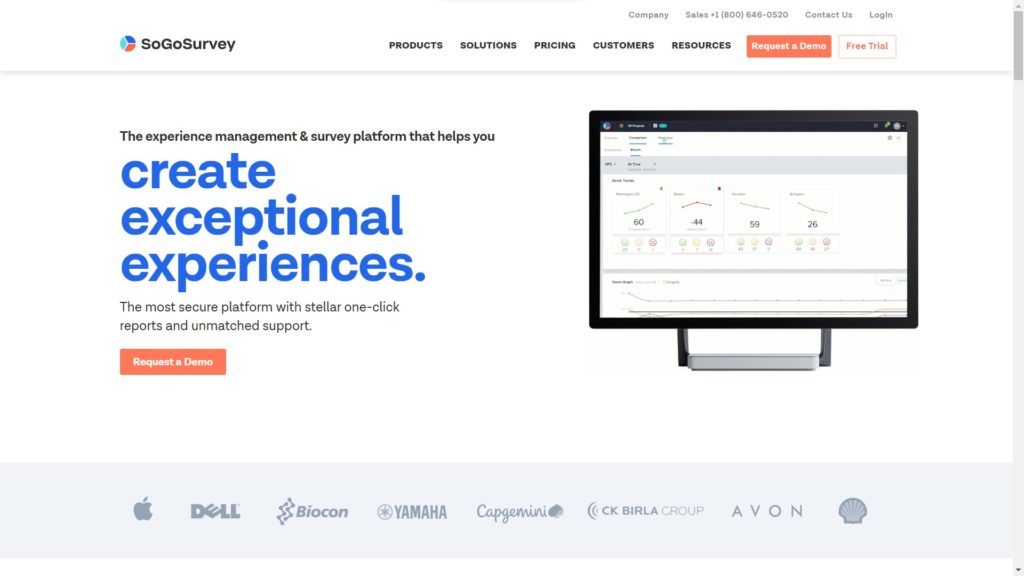 SoGoSurvey is a capable Medallia competitor in the market. It's a tool used by companies to get truthful client feedback. The features provided by this experience management software may be used for a variety of tasks.
Key Features
Include SoGoCX and SoGoEX to boost customer interaction and enhance the customer experience, respectively.

Encourages the automated collection and analysis of data through APIs.

Features a drag-and-drop interface for building surveys and questions.

Has an easy-to-use user interface.

Supports both branching and skipping logic.
Pricing
It is offered at a broad variety of prices, ranging from $25 to $99 per month.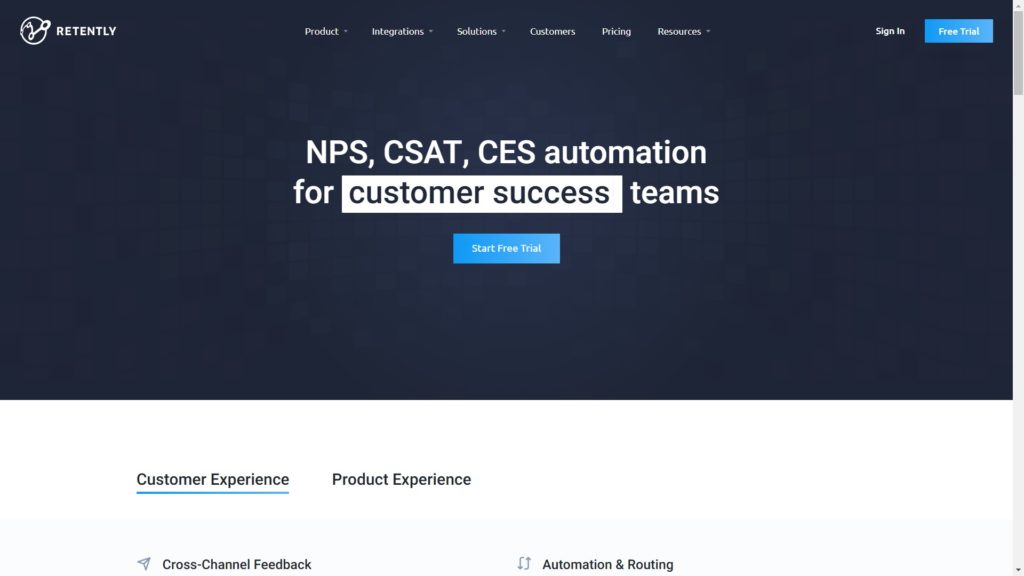 Retently, another Medallia competitor, is most known for its NPS surveys, which help gauge customer happiness and enhance the customer experience. It features a special campaign function that enables you to create ongoing and one-time initiatives. A group of clients may get surveys that have already been created.
Customers' insights may be gathered by businesses, who can then use the data to create reports and make educated choices.
Key Features
Has cloud-based features that allow the tool to securely store NPS data.

Allows you to expand your surveys with additional questions.

Offers branching logic to expand surveys with additional questions and gain contextual knowledge.

Provides surveys in several languages with negative feedback handling.

Enables you to distribute surveys using a variety of media, including emails.
Pricing
Retently offers three price tiers, ranging from $59 to $599. View the various price versions and choose the one whose features fit your requirements and budget.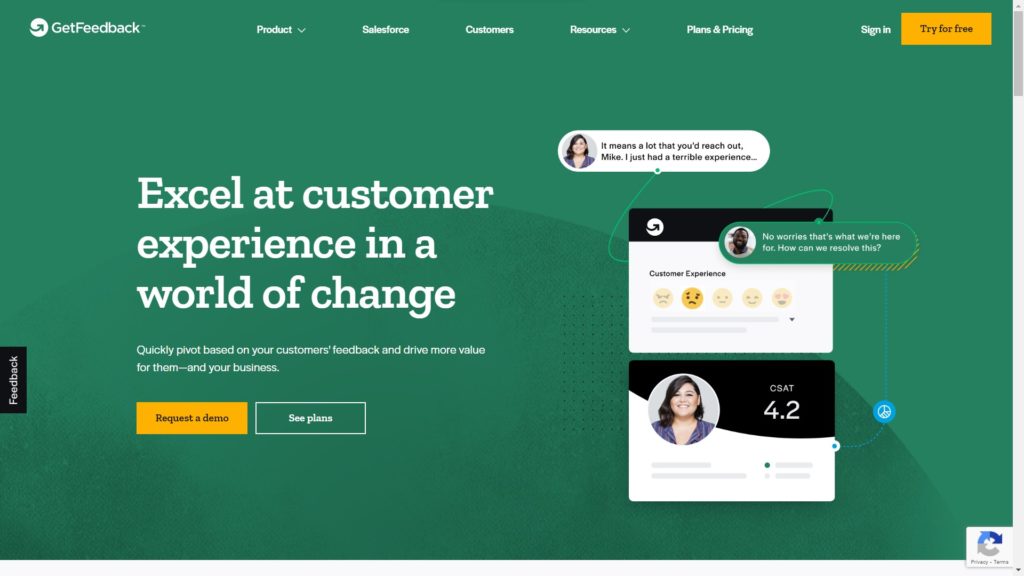 GetFeedback is one of the  effective Medallia alternatives. Users of the feedback survey platform may create effective surveys using the drag and drop editor.
It encourages survey modification to meet various demands. GetFeedback is quite flexible when it comes to survey distribution methods.
Key Features
Makes feedback handling easier with its customizable questionnaires.

Has a useful reporting dashboard that displays data reports and makes them easier to analyze for comprehensive feedback.

Supports data collection, data gathering, and multi-channel communication creation.

Offers predictive analysis that aids businesses in making wise judgments.

Supports integration with programs like, but not limited to, Jira, Salesforce, Zendesk, and Slack.
Pricing
Depending on your chosen plan, pricing can be expensive, but overall, it's worth the investment. The basic plans start at $50/month.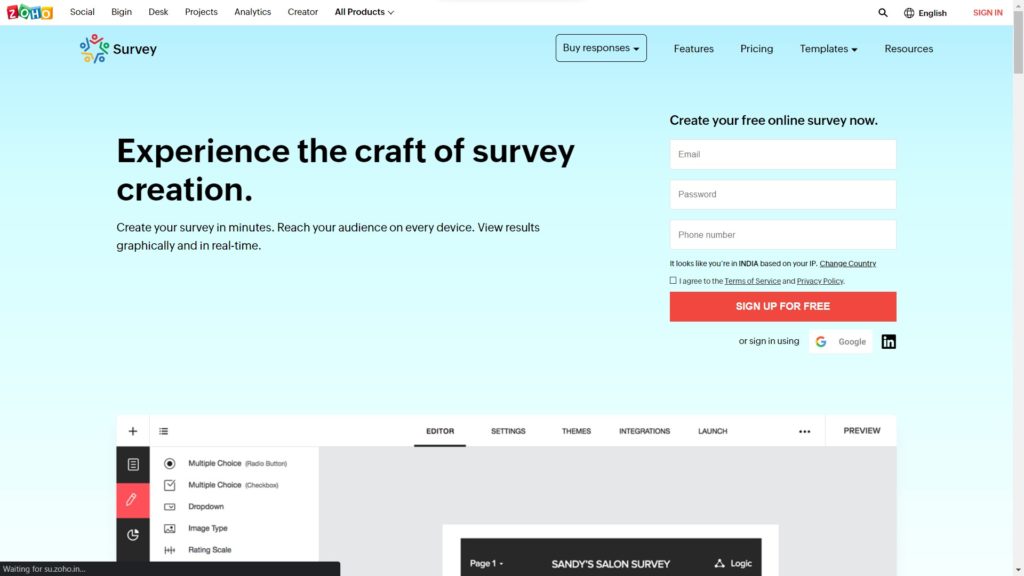 With the help of the online data collection tool Zoho Survey, you can enter the acquired information into the Zoho CRM. It is a user-friendly piece of software with more features than a free utility like Google Forms.
With Zoho Survey's drag-and-drop interface and 25+ question categories, novices may more easily construct interesting surveys.
Key Features
Channels for distributing survey links include websites, emails, social media, QR codes, personalized domain links, and private group access.

To build branded surveys, use personalization and white labelling.

The Zoho Survey app is integrated with the Zoho Analytics and Zoho CRM programs.

Enables integration with widgets that encourage users to complete surveys for Google feedback.

Supports sharing reports and role-based access constraints.
Pricing
If you want to try out this Medallia alternative before making a purchase, you may use the free trial version of it. The cost of the application's premium subscription ranges from $7/month to $73/month.
Conclusion
The Medallia platform is pricey in this cutthroat industry. Medallia lacks its application front, especially when competing firms update their functionality. It's critical to seek out a platform that offers good value when looking for survey software.
Consider Google Forms, for instance, if you're looking for a free software with simple features.
With Fynzo survey, you have a viable Medallia competitor if you want to build robust and comprehensive surveys with the help of advanced analytics and real-time reporting.
Frequently Asked Questions on Medallia Competitors
Q1. How do I create a survey in Medallia?
The procedures below must be followed in order to construct a survey: 
Click Survey Builder on the Settings page. 

The screen for the survey builder displays. 

Click launch a new survey.
Q2. What is the Medallia app?
With Medallia App, you may increase the number of active users in your consumer listening program.