Introduction
We all know that online surveys are the most convenient way to conduct any kind of research for better understanding. But do you know that there are a few disadvantages of online surveys as well? Or, do you have any idea what are the advantages of online surveys?
Well, if you're not aware of these things, don't panic! Take a deep breath and read this post. In this blog, you'll read about the pros and cons of online surveys.
So, what is an online survey? In simple words, it is the deliberate collection of information from the customers by the greeting of the respondents and the finish of the poll over the World Wide Web.
Earlier, the majority of these surveys were conducted via mail or telephone. But now, with the growing popularity of the internet, online surveys are conducted digitally. Conducting online surveys is comparatively cheaper than other mediums.
The online survey is one of the most popular and favorable ways of collecting data, where a list of questionnaires is sent out to the target audience and people from anywhere in the world can answer these questions. Various mediums like social media, emails, etc are used to conduct these surveys.
Online surveys are implemented to collect customer feedback, gain product innovating ideas, marketing strategies, improvement of existing product features, etc.
With the advancement made by the web, an ever-increasing number of associations rely upon the information obtained and broken down from online surveys to roll out indispensable improvements in their working.
For proficient information assortment, associations should pick a high-level and productive internet-based overview stage.
Studies offer scientists quantitative and subjective information that can be examined and dissected, and give organizations understanding into different parts of their business.
Thus, let's first investigate the advantages of online surveys. After that, we'll look at the disadvantages of online surveys.
Table of Contents
Advantages of Online Surveys
As mentioned above, there are a lot many advantages of online surveys. So let's have a look at the most significant features of online surveys.
A Quick Way to Approach Targeted Crowd
The online survey is an extremely fast and easy technique to collect feedback from respondents, in comparison to other techniques. As it is web-based and automatic, so there is no need to wait for the questionnaire or compile feedback- it is instant. It is one of the primary advantages of online surveys.
Yes! These are economical. And this is also one of the main advantages of online surveys. Online surveys eliminate the cost of the interviewer, telephone surveys, print of feedback, or cost of other materials that are needed during surveys done on other mediums. This not only minimizes research costs but also allows you to access results anytime, anywhere.
In the wake of gathering data, the examination is a significant stage for scientists to make brief moves. With online study programming accessible, specialists can dissect gathered information continuously from a focal dashboard.
Easy to Use for the Audience
In today's busy world nobody likes one-one interviews, unsolicited emails, and phone calls. An online survey is a great option because respondents have to choose to respond according to their time and interest. Also, if they don't like or find any irrelevant quiet they can simply reject or skip it. These features are greatly beneficial for both ends.
Can Be Styled With Minimum Effort
Complex sorts of overviews can be handily directed through the Internet. The survey might incorporate more than one sort of reaction design so that the respondents would not get deterred from the progressions in the way they answer the inquiries.
A web-based study is a chance to engrave your brand's image in the client's mind and help them to remember the advantages your brand gives. A web review can be styled to coordinate with your business site with modified foundations, pictures, logo, textual styles, last redirect page, and surprisingly the URL of your overview.
The mistake misinterpretation of responses by the interviewer is eliminated in web-based surveys. Since it is web-based and automatic the possibilities of errors are greatly reduced. In pen-paper mode surveys, the interviewer has to understand respondents' answers and write in words.
So there is a great chance of human errors. But, online surveys allow users to put their answers by themselves which makes them more accurate and error-free.
Online surveys have an amazing feature called "answer anonymously". This feature helps respondents to answer honestly without any hesitation or fear of identification.
Easy Data Input and Handling
The Internet automatically corrects and saves the responses in the database given by the respondents to the questionnaires enabling easy management of the huge number of responses in no time with fewer data errors. This is among the main advantages of surveys.
User-Friendly for Researchers
Online overviews rush to arrange and send and because of the simplicity, they will generally save analysts' time. Information is in a flash accessible and can undoubtedly be moved into specific factual programming or bookkeeping pages when a more definite examination is required.
A Large Number of Responses
With web-based studying, a great many members are reachable, permitting you to extend your example size to separate information that coordinates with the properties of the bigger populace, getting you more indisputable outcomes.
Till now you must have noticed that there are a lot many advantages of online surveys. Now let's have a look at the disadvantages of online surveys.
---
Read More: How to Create Online Surveys?
---
Disadvantages of Online Surveys
There are a few disadvantages of online surveys. Well, you must be thinking what are those? So without any further delay, let's have a look at the drawbacks.
With online contemplating, a considerable number of individuals are reachable, allowing you to stretch out your model size to isolate data that directions with the properties of the greater people, getting you more undeniable results. It is one of the important disadvantages of online surveys.
Respondents Unlikely to Cooperate
Normally, people tend to receive a huge number of emails from different brands including offers, contests, surveys, etc. Customers may overlook important survey mails. This is among the main disadvantages of surveys.
There are segments of an objective populace that might not approach the internet. As a rule, input from such people might end up being successful for research.
For instance, assuming an NGO is leading examinations to find out information related to donations in less privileged areas, it is exceptionally impossible that they approach online reviews which makes it hard for specialists to gather information.
So yes these are the disadvantages of online surveys.
---
Read More: 7 Best Online Survey Tools: Create Awesome Surveys For Free
---
Characteristics of Online Surveys
Now that you know what all are the advantages and disadvantages of surveys. Let's scroll down to know 4 different characteristics that define Online surveys.
The Motive of Online Surveys:
Scientists ought to choose the goal of directing an internet-based overview so the measured outcomes can be utilized to upgrade items/administration, customer satisfaction, or some other pre-chosen objective.
Well Structured Survey Questions:
A scientist will want to accumulate viable data from online reviews just when the reason for the overview is supported with the sort of study questions.
Open-end questions and closed-end questions should be balanced properly throughout the surveys.
Several question types can serve the purpose of questions. Some of them are – MCQs ( multiple – choice- questions), Matrix questions, Likert Scale Questions, and Dichotomous Questions.
Analysts ought to comprehend the reason for an internet-based study to guarantee that the study questions are very much organized to earn pivotal subtleties.
Perform Exhaustive Research:
To get proficient outcomes from the study, you should do exhaustive exploration before planning a review. You should keep an eye out how you will gather data from the crowd and assess the accumulated data. You can choose the kind of exploration plan according to the issues you may be confronting. In like manner, you can plan the overview.
Accurate Analysis of Survey Responses
The study results will give you useful outcomes provided that you are breaking down the outcomes well for your association's general advantage. You can keep an eye out for the outcomes for the vital measurements of a review through showcasing mechanization programming that will assist you with making a study and assessing the reactions report.
You should be aware that making online surveys is not a difficult task anymore. Yes, because there are a lot many online survey makers out there which can help businesses to create surveys in a short amount of time.
---
Read More: How To Increase Your Survey Response Rates; The Tips and Tricks!
---
Online Survey Examples
#1. Customer Satisfaction Survey
If you are in a food delivery service, it becomes a basic request to ask for customer feedback to improve your services. One method to collect this relevant feedback information is through online surveys.
You can ask for a rating for your services on their mobile apps. Fynzo Survey App brings to you the advantage of taking online surveys and collecting data from a large part of the audience at the same time.
You can ask for ratings for different services, like how fast the food is delivered, the behavior of the delivery boy, how the food tastes, etc.
You can ask the users instantly after the food is delivered so that they can give you the input in real-time and tell you what they liked about your services.
Although there are many customer feedback software available to take these feedbacks, still one can go with these online surveys to take clients' opinions.
#2. Employee Feedback Survey
The board execution overviews are led by the executives to ask the input from the representatives. The employees are the support and a vital piece of any association. The board should deal with their interests and stresses. It can request something similar through online reviews.
You will request your client input time, and again that implies ordinary stretches so you can know what they need and feel alright with the workplace's premises.
Ask the employees what should be changed and made do in the administration situations.
How to Create Online Surveys With FynzoSurvey?
You can create your first online survey by following these simple steps:
You can use it for free for 14 days.
On the right corner, you will find the "Create New Survey" in the dashboard. Click on it.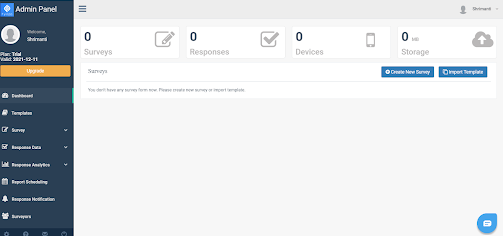 Enter any form name of your choice and submit.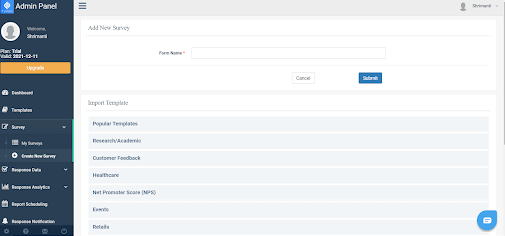 You can also import templates. There are 500+ templates available on fynzo. Select the template which best suits your need & complete your survey building process within a few minutes.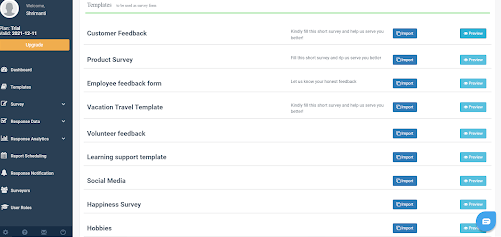 Click on add new questions to add questions to the survey.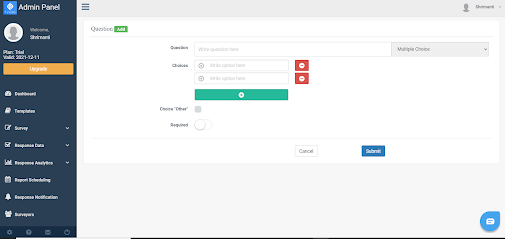 Mix and match the type of questions like MCQ, NPS ranking, text, etc according to your needs.
Flip over the "Required" button if the question is compulsory.
Submit your form to save the question.
Add more questions on the subsequent page.
After you are done with adding a sufficient number of questions, share your surveys on social media platforms, by SMS, emails, or QR codes.
Here are some essential tips that you might find beneficial while creating surveys:-
Keep it Short
Pay attention to the survey's design
Send notifications
Make it sound personal
Provide incentives
Offer a survey through multiple channels
Conclusion
By now you must have got that Online surveys hold a great importance when it comes to business. Also, there are several ways to conduct a survey; it's simply a matter of figuring out which one is best for you and which one will yield the most accurate results based on the questions you're asking.
Especially if you're looking for something easy-to-use software that provides excellent services at the same time, FynzoSurvey: Online Survey Maker is the ideal option available in front of you.
Yes, you heard it right! Fynzo provides you with the best experience in building for any business or individual.
There are a number of ways to conduct a survey, you just have to find out the perfect one that suits your choice. FynzoSurvey software is the best and stands apart from the crowd. Some of the features are mentioned:-
Easily create surveys
500+ readymade survey templates
Works offline
100% secure Data
Integration with other apps
Downloadable Survey Reports
Now that you know that by using online surveys you can make your business easy, what are you waiting for? Give online surveys a try and use online survey makers to create survey forms easily. Hope this post would have helped you in understanding the advantages and disadvantages of online surveys.