With the onset of COVID-19, workplaces have shifted to the online mode and to facilitate this transition, video conferencing apps, like Zoom or its alternatives, are the need of the hour. Professionals are mostly dependent on these apps for conducting daily meetings and projects.
In March 2020, the world experienced a 225% increase in Zoom usage in comparison to February, and net usage due to it increased to around 877%. So Zoom had become the most popular video conferencing platform right after the onset of the pandemic.
What is Zoom?
Zoom is basically a cloud-based, video conferencing app. In this, users can conduct video calls, share their screen, record lectures, and use annotations too. It provides satisfactory audio and video quality with advanced screen sharing options. Also, it is available on most of the platforms including Windows, Mac, Android, iOS, Linux, Blackberry, etc.
Why we need an alternative?
Recently many privacy and security issues have been noticed, after which many companies like Google, NASA, and SpaceX banned its usage. More than 1/3 of its user base is concerned with the data leaks on Zoom and is considering shifting to another platform.
So to make the process easier for you we have listed the top 10 Zoom alternatives that will help you address your video conferencing needs!
Best zoom alternative for video conferencing :
Zoom Alternative #1 : Google Meet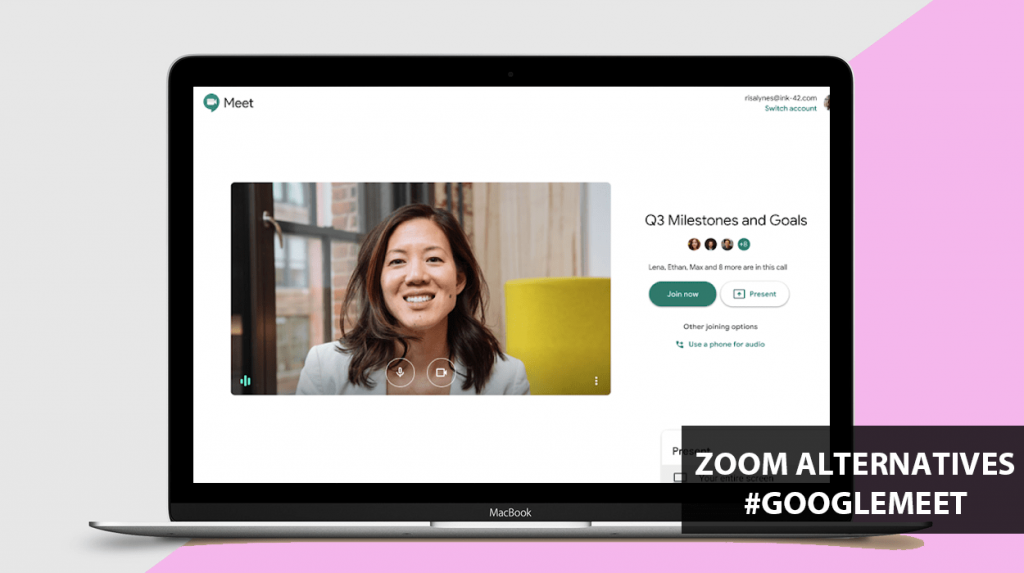 Google Meet is one of the most used free Zoom Alternatives that were previously available only to G-suite customers. During the pandemic, Google has made it free for all users. This app was mainly made for business conferencing purposes but nowadays it is also being used to host classes for both schools and colleges, and meetings between friends and family too.
Key features:
It allows up to 250 participants and around 30 participants are visible at the same time.
The most advantageous feature is its preview screen. Here you can check your video and audio settings before entering the meeting.
Participants can share screen with the rest of the people in the meeting.
It has live captioning options so that attendees can take notes during the meeting.
The host of the meeting can mute and remove its participants whenever required.
Its security features are extremely high like any other Google app. It also encrypts the data.
Recorded lectures can be stored directly in Google Drive.
Available on: Android and iOS UI and across browsers including Chrome, Edge, Firefox, and Safari.
Pricing: Free
Zoom Alternative #2 : Microsoft Teams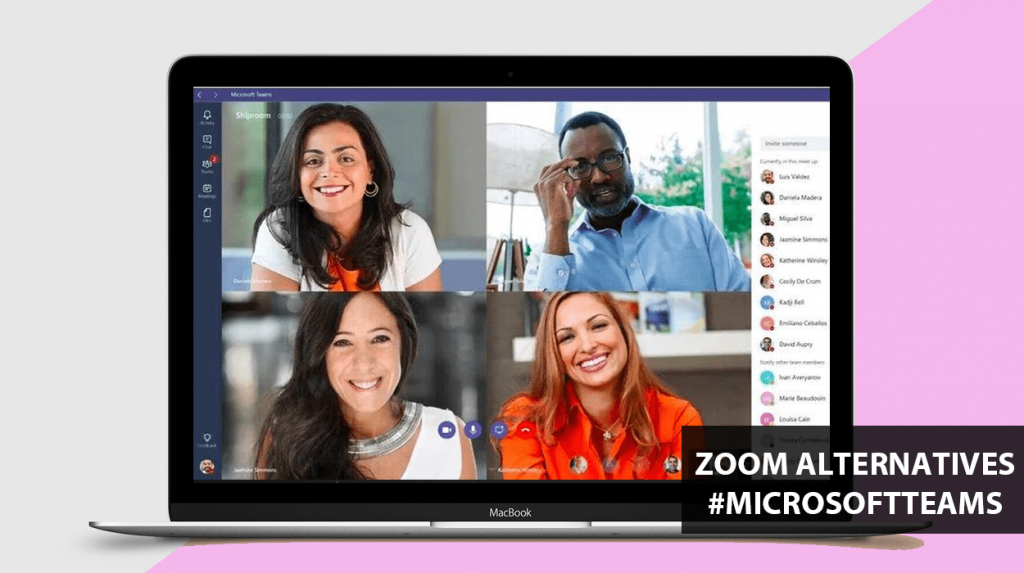 Microsoft Teams is a group voice conferencing app that is for Office 365 users. This Zoom alternative is used by most businesses to host a meeting, chat, and share documents with your team members. Unlike Skype, this platform offers necessary video conferencing features like screen sharing and recording options.
Key features:
There can be only 300 participants in a meeting at a particular time.
Attendees can share their screen and stream presentations with much ease.
Users won't have to download the app for attending a meeting.
Recording features available to record important portions of lectures.
Message channels help teams keep their conversations organized.
Available on: Android, iOS and desktop. It is also supported across browsers including Chrome, Edge, Safari and Firefox.
Pricing: It is offering a free 6 months trial, after which the plan started at $5/user per month.
Zoom Alternative #3 : Skype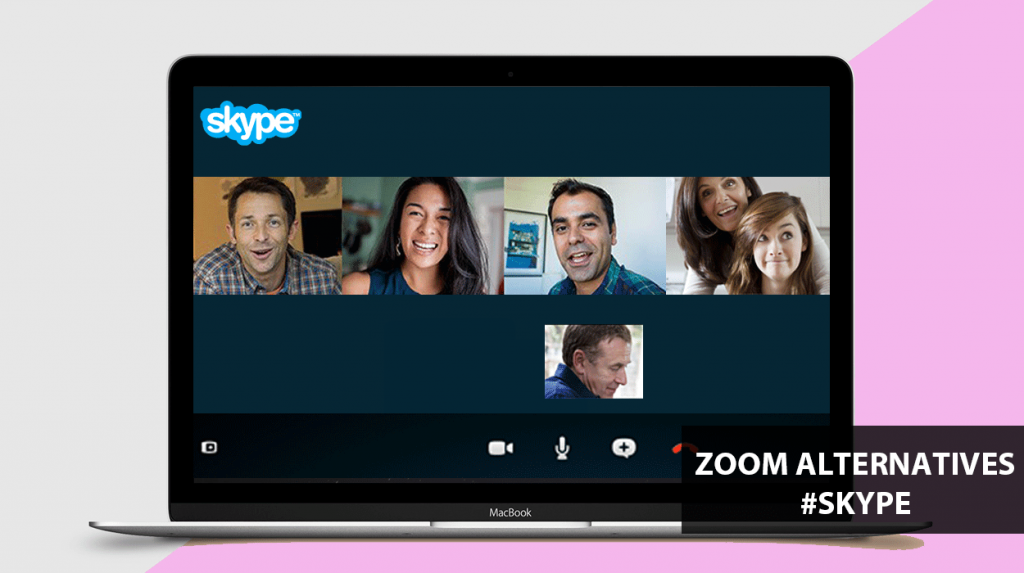 Initially, Skype was just a personal communication tool that had limited features but now with its Skype Meet Now features, users, can even host business conferences. Also, this Zoom substitute is one of the most easy-to-use video communication tools available in the market.
Key features:
The recording of the meeting can be done along with the auto-generated subtitles.
The background blur feature was recently added to the feature set of Skype Meet Now.
Smart messaging options enable users to react to messages with Emojis.
Screen sharing features available and can be done by any of the attendees.
The meetings are secure and end-to-end encrypted for increased security.
Available on: Android and iPhone.
Pricing: Free video conferencing with limited features. The paid plans start at $2.99 for calling within your country.
Create surveys with #1 Free Survey Maker : Fynzo Survey
Zoom Alternative #4 : Zoho Meeting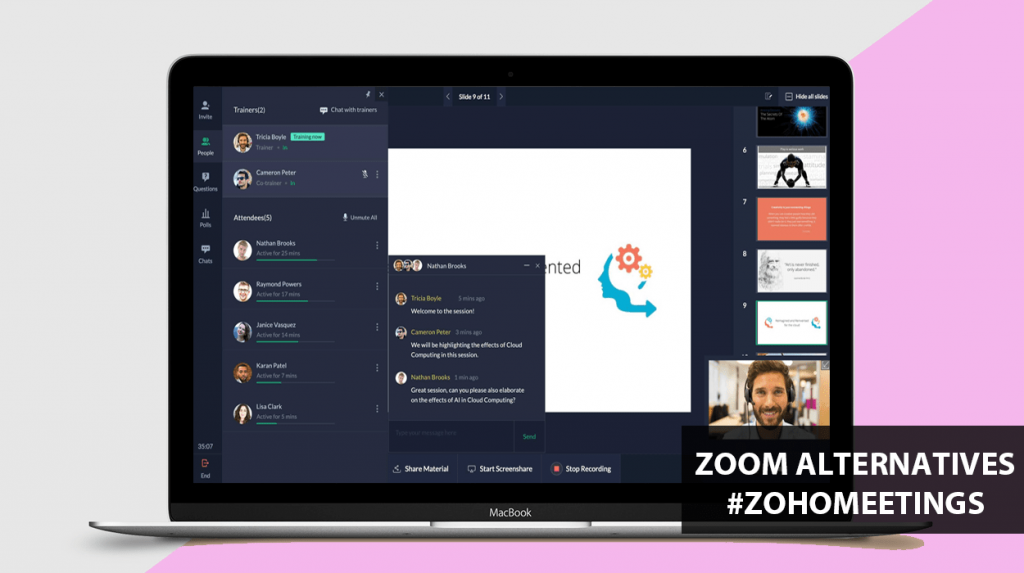 This Zoom Alternative is ideal for webinars, business meetings, and online training. Attendees can simply join in these webinars with a link. They will not have to sign up separately. Zoho Meeting also offers basic audio, video, calendar invites, and screen sharing features. For webinars, co-organizers can be assigned to take over if there is any problem with the net connection of the host.
Key features:
Online meetings can always be recorded so that they can be viewed multiple times for reference later.
The basic pricing plan allows up to only 100 participants in a meeting.
Meeting has "lock" features and hosts can mute participants to avoid distractions.
Users and download reports of a meeting including webinar attendees, the overall engagement, etc.
Strong security features with end-to-end encryption for protection against hackers.
Available on: Android, iOS and desktop.
Pricing: The basic plan starts from $8/host per month.
Zoom Alternative #5 : GoTo Meeting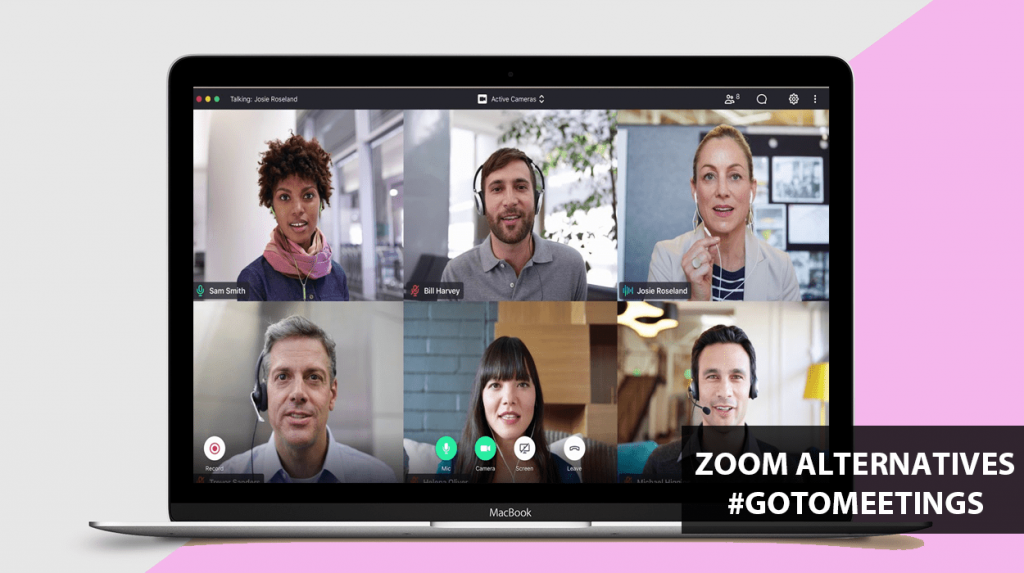 This Zoom alternative was one of the first video conferencing platforms available and is packed with multiple features. GoTo Meeting is most suited for corporate meetings. Also, there can be multiple meeting facilitators
Key features:
Recording features available to record the meeting and view them when required for reference
The special feature of this platform is the option of handing over the control of your keyboard and mouse to another attendee in the meeting.
Around 150 attendees can be present in a meeting at the same time and only 25 participants can be viewed on a single screen.
You can share files and collaborate the documents for more organized meetings
There can be more than one meeting facilitators which makes it easier to conduct prolonged webinar or training
Available on: Android, iOS, Mac, Windows, Linux, and other web browsers
Pricing: $12/host per month
Create Surveys with #1  Free Survey Builder : Fynzo Survey
Zoom Alternative #6 : Cisco Webex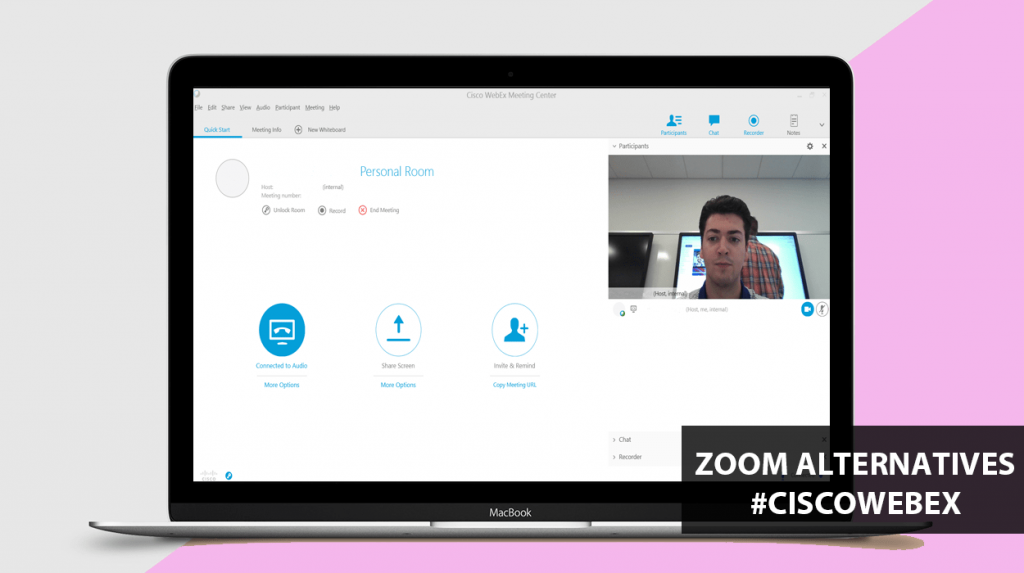 Cisco Webex is an extremely popular video conferencing platform. This Zoom Alternative has a lot of features to offer, unlike its competitors. It helps hosts organize meetings in HD quality along with the basic audio and screen sharing features. It is ideal for organizing large scale webinars or interactive events.
Key features:
It can only hold up to 100 participants at a particular time in the meeting for its free version.
The meetings don't have a time limit unlike Zoom and the meetings can continue for a prolonged period.
Screen sharing options available which are ideal for online training and tutoring classes.
Collaboration tools are available for hosting an event as a part of the team.
It offers unparalleled security with end-to-end data encryption and protects confidential information from hackers.
Available on: Desktop and mobile as the Webex application. It is also available on Windows and iOS UI.
Pricing: The basic paid plan starts at $13.50/host per month. The Business plan starts at $26.95/month and can hold up to 200 attendees.
Also Read : 7 Best NPS Software To Track Customer Satisfaction
Zoom Alternative #7 : Eyeson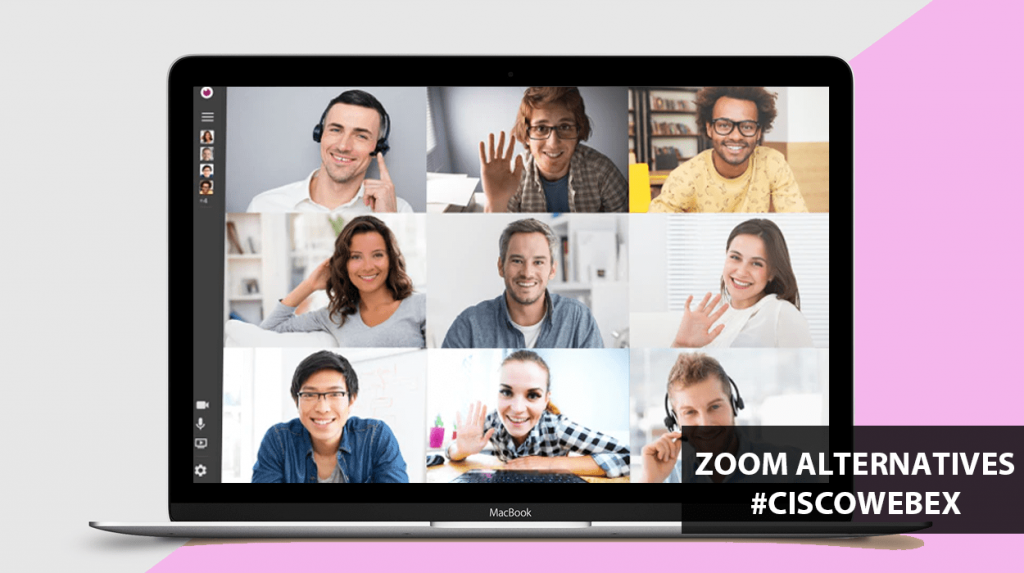 This cloud-based video conferencing Zoom Alternative can be used by all types of businesses and of all sizes. There is no requirement of downloading the app to attend the meeting. The call link needs to be circulated to your attendees and they can simply join the meeting by clicking on the link.
Key features:
Only 25 participants can be added to a particular meeting at a time.
File sharing is enabled during the meeting in PDF or JPG format.
Easy recording options for recording any meeting and viewing them later.
Bandwidth can be saved by enabling the ECO mode where only the audio will be connected.
Live streaming options allow you to stream the meeting on Facebook or YouTube in real-time
Available on: Any device and browser as it can be attended with just a call link
Pricing: SaaS Pricing starts with $9/host per month and API pricing starts with $189 per month with 4,000 minutes/month included.
Zoom Alternative #8 : Discord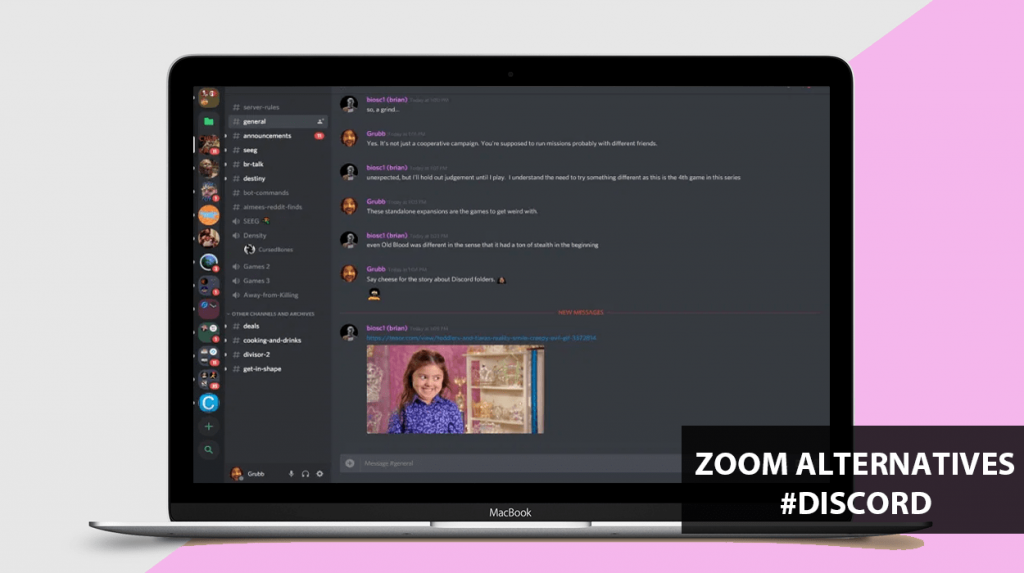 This communication app is completely free with no in-app purchases. Discord is mostly popular for gaming purposes but it has utilities as an official video conferencing app too. Also, it is secure and enables multiple user servers for video and voice calling.
Key features:
Set up servers that are dedicated for a particular purpose.
Like Slack, the servers contain rooms or channels that can used be for voice and chatting purposes. You can create different channels for different purposes.
These help to keep your documents organized in one place for particular events of your organization.
The Go-Live video calls were recently upgraded from 10 to 50 users.
More than 100 participants can join the voice channels.
Available on: Android, iOS, Windows, Mac, and Linux.
Pricing: It's absolutely free which makes it quite popular for multiple purposes.
Zoom Alternative #9 : Join.me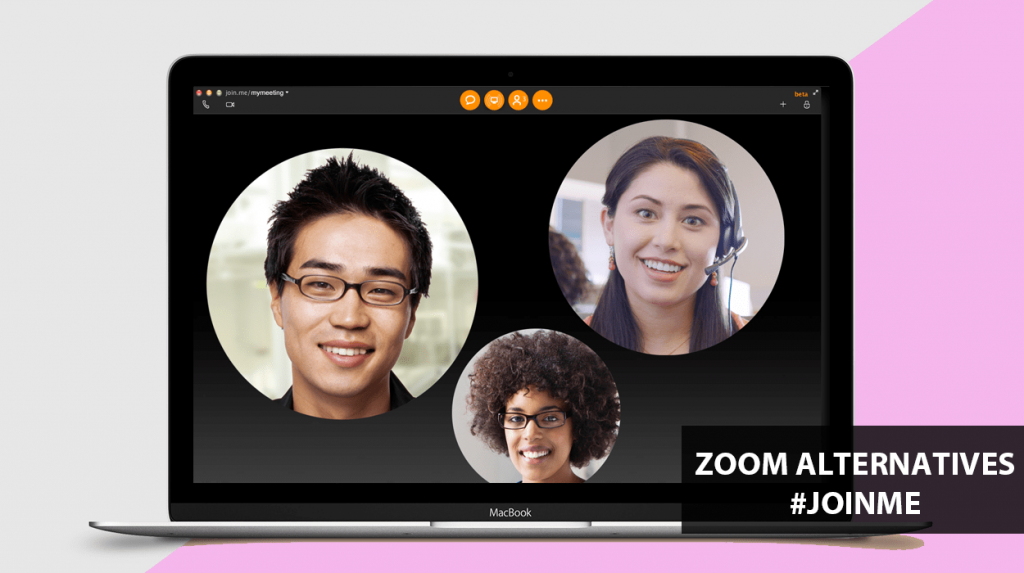 This Zoom Alternative is a member of the LogMeIn team. It is ideal for smaller businesses that have a tight budget. Its free version allows only up to three participants and if your team has a bigger size you need to pay to add more.
Key features:
Join.me doesn't facilitate video calling for the lower-priced plans and hence it falls back in comparison to its competitors.
The Pro plan allows up to 250 participants and offers 50GB of cloud storage as well.
It also offers 10 webcam streams, scheduling, and video recording options.
The Business plan comprises all the above mentioned features along with 1TB of additional cloud storage space.
It also offers integration with Salesforce along with enterprise authentication.
Available on: It is available across platforms since no app download is required. Simply sending an email or text invite allows users to join the meeting.
Pricing: Plan starts with $10-$20/host per month.
Zoom Alternative #10 : JitsiMeet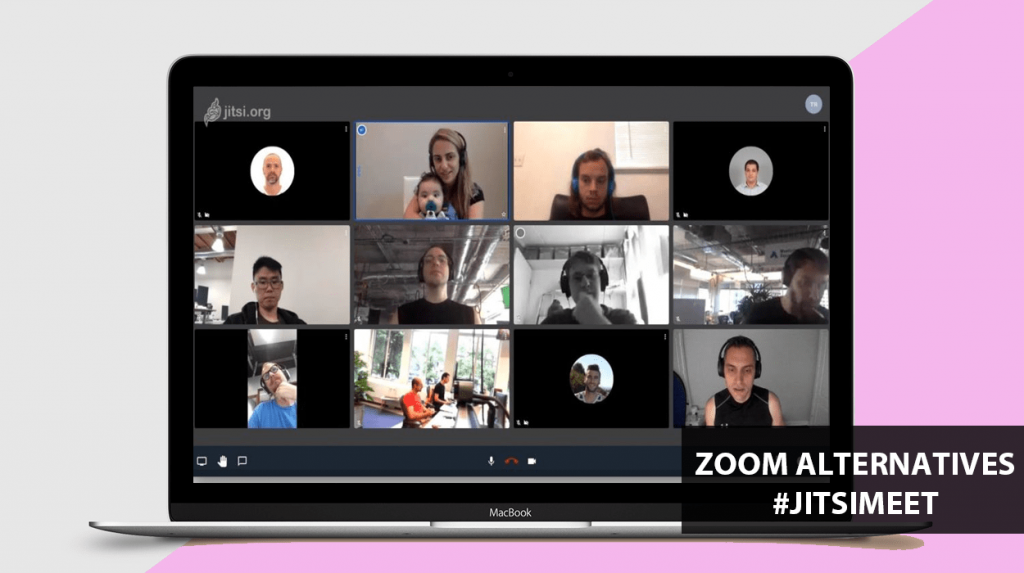 This Zoom Alternative is an open-source video calling platform that is available for free. Users do not have to create an account for attending meetings on JitsiMeet. It has a user-friendly interface and participants can simply join the meeting with an invitation link.
Key features:
Screen sharing features are available along with presentation live streaming for clearer explanations
It supports up to 50 attendees at a time.
Team members can collaborate on documents with the help of the Etherpad feature.
The chat app is available for this platform which allows users to access and start a meeting in a few seconds
The URLs are customizable for every meeting.
Available on: It is available on any platform of your choice.
Pricing: Completely free.
Podcasting via Zoom
Zoom has become a popular platform for podcasting too, but you'll want to optimize your settings to get higher-quality recordings. You can read this Zoom podcast guide to find out how and to learn what Zoom alternative is a better option for you.
Riverside: The Best Zoom Podcast Alternative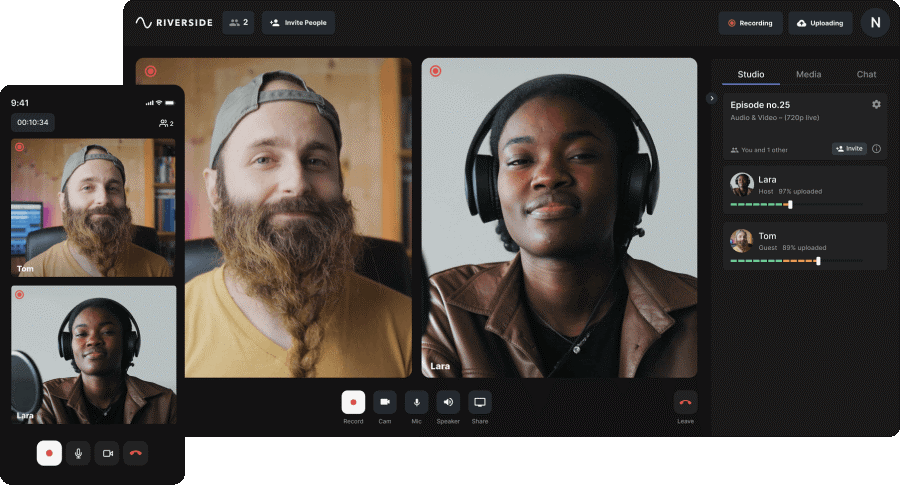 Riverside is a reliable Zoom alternative if you're looking to record high-quality content without worrying about your internet connection. Unlike Zoom, Riverside uses local recording so your files are recorded securely directly on your device. You can sign up for free and also make use of their editing tools among other great features such as separate tracks, a live media board, and more.
Key features:
Up to 8 remote participants in a recording session, and 1000 live audience members
High recording resolution with up to 4K video and 48kHz audio.
Local recordings ensure that your internet connection doesn't ruin your recording quality.
Separate audio and video tracks for each participant to give you more freedom with editing.
Automatic editing tools so you can customize and repurpose your recordings.
Available on: Chrome and Microsoft Edge online and iOS and Android mobile devices.
Pricing: Free plan, paid plans start at $15
Conclusion:
In the present situation having the right video conferencing tool is extremely essential for carrying on business communication. Zoom may be a good tool but there are so many other options out there for you to test and see for yourself.
You may be thinking about which one you should choose. Well, that completely depends on you and your business needs. You can try out some of these top 10 and select the one which best suits your requirements. If you are a podcaster via Zoom, we have an alternative for you to try out as well.
Now I want to hear from you!
Do you know about any other apps which would have fitted well as a Zoom Alternative? Do let us know by commenting below.