Microsoft Office is the best and most widely used software on both desktops and mobile devices to write, create presentations, and to tabulate data. Microsoft office is helpful in a lot of official works and is available pre-installed on many devices. Office has become a necessity. PowerPoint presentations are needed during pitching made to a company, while teaching through slideshows and presenting business statistics and growth. Word documents are used by students to make their assignments, to create notes, and to make any writing printable. Excel Sheets are used for accounting purposes, to create graphical representations of data, and to solve simple and complex mathematical problems. A Word document requires basic features such as changing of font style, color, indentation, inserting shapes, pictures, tables, and many more that help you with making all those things that can be found in books and magazines. While an Excel Sheet requires autosum and all methods of calculation, create graphs and pie charts mainly used for keeping accounts. A PowerPoint presentation requires the insertion of audio, shapes, videos, pictures, and more to visually represent data from documents and sheets. Thus, to efficiently carry on with all these functions, powerful tools are required as Microsoft Office alternatives.
Best alternatives to Microsoft Office

There are many software that aims to provide efficiency like Microsoft office. Here are some of the best alternatives mentioned.
Microsoft Office Alternative #1 : WPS Office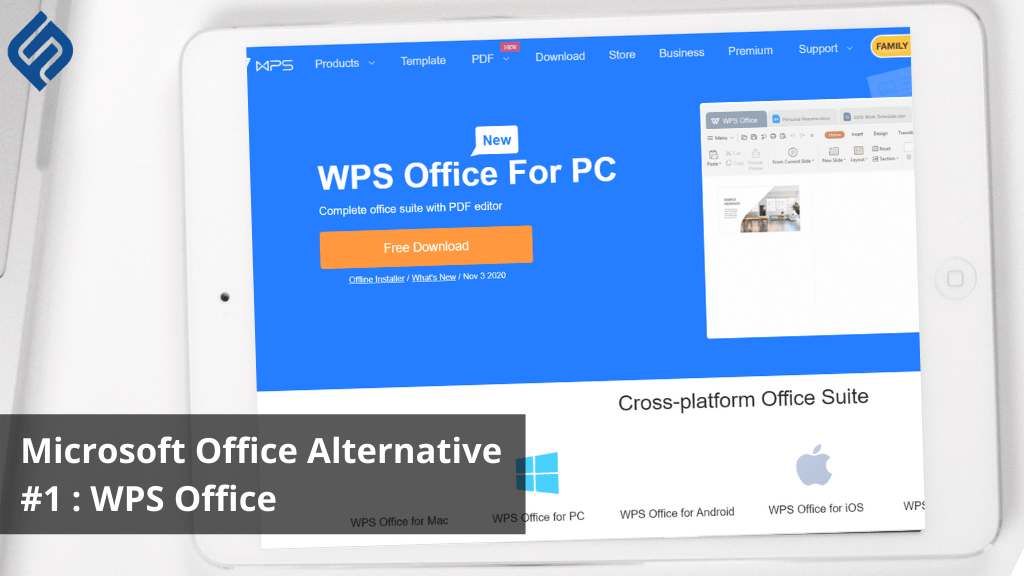 WPS Office developed by Kingsoft is quite similar to Microsoft Office and is suitable for all devices like Android, ios, Linux, and Windows. It comes with 1GB of free space to store all your spreadsheets, documents, and presentations. Languages that are compatible with WPS are English, French, Japanese, Spanish, Italian, German, Portuguese, Vietnamese, Polish, and Chinese. You can either opt for a free program or a subscription-based one. The free version provides all basic features but consists of ads before performing some actions. A purchased subscription relieves you of all those ads allowing you to perform your work at peace. The file formats available in WPS are doc, WPS, Docx, WPT, HTML, XML, et, Xls, xlsx, ppt, dpt, pptx, and more. It supports all file formats from Microsoft office as well. So, WPS office can come under Microsoft office alternatives.
Microsoft Office Alternative #2 : Google Workspace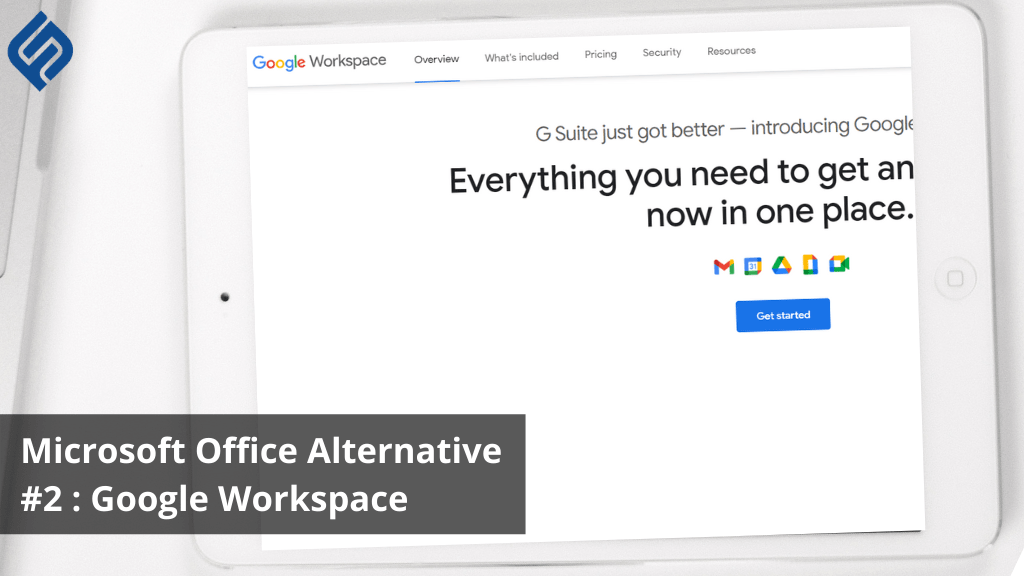 Google Workspace comes with the package of Google docs, Google Sheets, Google Slides, and other useful applications like Google Drive, Google Meet, Google Forms, Gmail, and the list goes on. It can be accessed on all systems that are available today like Windows, Linux, Mac operating system, and iOS. The Google Sheets, Google Docs, and Google Slides work similar to Microsoft Excel, Microsoft Word, and PowerPoint respectively. Thus, Google can be categorized under Microsoft Office alternatives and has a lot more exciting features to offer for official works. Google Drive provides 15GB of free storage with any Google account to store anything from documents to presentations. It mostly works while in online mode. The only disadvantage is that it cannot work offline. You can opt for a free trial for 14 days. Since the workspace is linked to your Gmail account, all security issues and notifications will reach your mail and the data cannot be accessed if you do not permit.
Microsoft Office Alternative #3 : Libre Office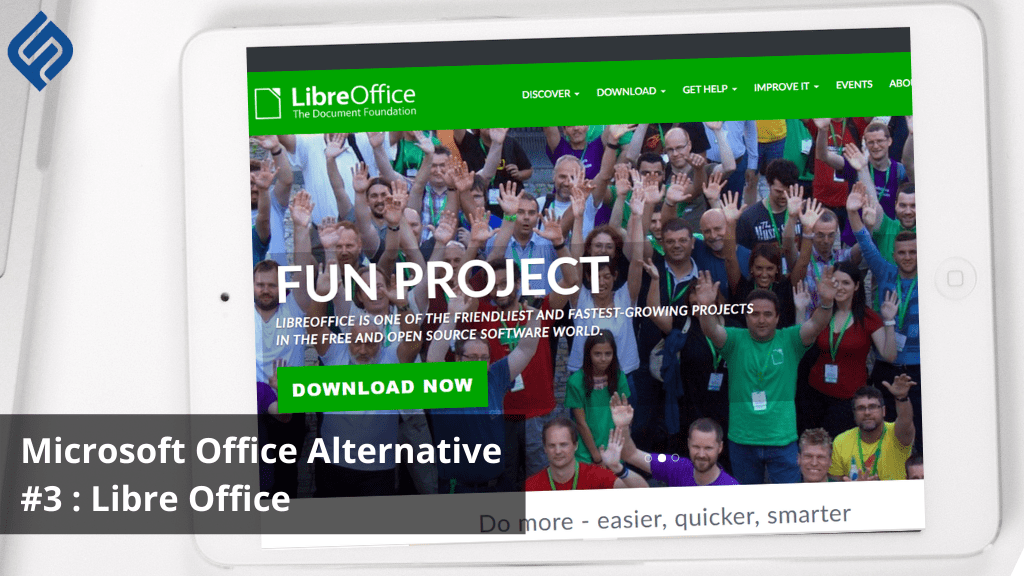 Libre Office has all the applications that are available in Microsoft office. It works with all modern-day operating systems like Windows, Linux, ios, Mac, and Android. It is one of the best Microsoft Office alternatives because it has all the amazing features in over a hundred languages including the ones which are not so popular. This makes it possible for people to work in their native language as well. Libre office is an advanced version of Star Office software. Libre is packed with tools like Writer, Impress, Calc, Draw, Base, and Math. The Writer is similar to Microsoft Word and helps you write and edit documents according to your needs. Impress is similar to PowerPoint, which lets you create slideshows. Calc is somewhat similar to Excel that helps you tabulate data and create spreadsheets. Draw is like a graphic designing software that lets you design pages and logos or create digital drawings. Math is used to make mathematical formulas that can be later used while working with Calc and Writer. Base is similar to the work done in Microsoft Access.
Microsoft Office Alternative #4 : Calligra
Calligra comes under the list of perfect Microsoft office alternatives because it does all the work that Microsoft offers but also has some unique features. The tool display bar is in the right of the workspace and not on the top where it appears usually on other Office software. It is compatible with any device Mac, Android, Windows, iO,S and Linux. Words in Calligra is similar to Word in Microsoft. Sheets is similar to Microsoft Excel and Stage resembles PowerPoint. Some other tools that are available in Calligra are Kexi, Braindump, Plan, Flow, Krita, Karbon, and Author. Author helps in developing ebooks, Karbon is an editor for graphic designs, Krita is used for making digital art, and Flow is used to create flowcharts. Kexi functions like Microsoft Access, Braindump is helpful for taking notes and planning while Kexi can be used for managing projects.
Microsoft Office Alternative #5 : Apple iWork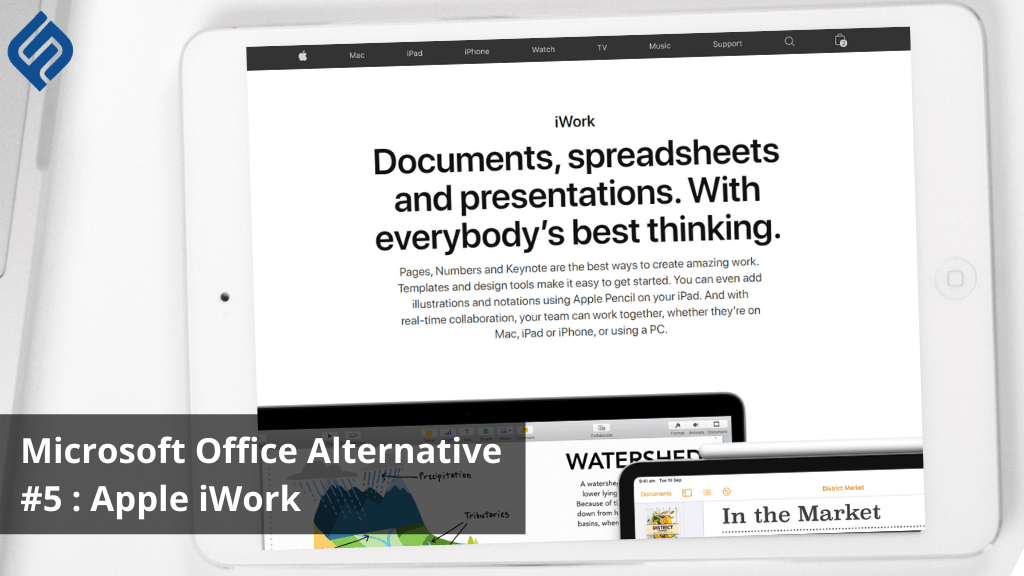 Apple iWork can truly be considered as one of the Microsoft Office alternatives. We know that Apple has always been a competition for Microsoft. Numbers is the application that helps in creating and editing spreadsheets. Pages helps to create word documents and the Keynote lets the user make slideshows and presentations. The advantage of using Apple iWork is that it can access files that are created in Microsoft but Microsoft users cannot access iWork files and documents. The extensions for Apple iWork documents are [.pages], [.numbers] and [.key.] This software is only available for iOS devices and not Android or Windows. iCloud is the storage option for Apple iWork users. It is multilingual and has a variety of features that can make you work efficient as well as impressive.
Microsoft Office Alternative #6 : Softmaker Free Office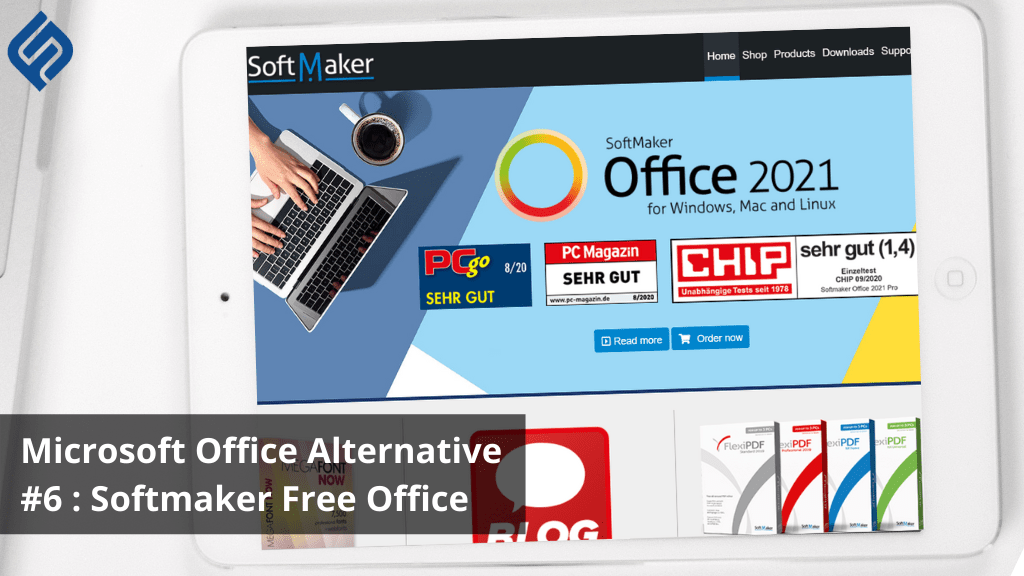 Softmaker is a great option to come under Microsoft Office alternatives. It has similar functionalities to Microsoft Office. It is compatible with advanced versions of all operating systems like Linux, Android 4.0 and higher, Windows 7 and above, Mac and Windows mobile. The best part of Softmaker is that it is free to use that includes all its features. In Softmaker Free Office the word processing application is called Textmaker, Planmaker creates spreadsheets and Softmaker Presentations that helps in making slideshows. It allows multiple languages and has a translation dictionary for English, French, Spanish, Italian, and German. It offers all those tools that are available in Microsoft office. Softmaker gives you a great experience in carrying out official tasks.

Microsoft Office Alternative #7 : Apache OpenOffice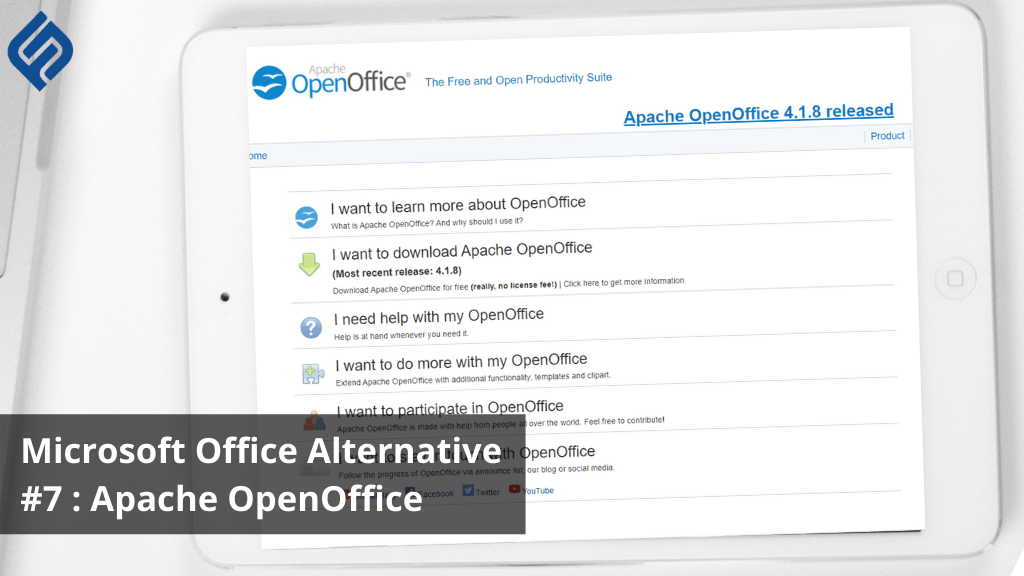 Apache OpenOffice has a lot of similarities with Libre office. The names of the word processor, presentation application, and spreadsheet maker are called Writer, Impress, and Calc respectively which are the same as what these are named in Libre Office. Even Base, Draw and Math are also identical like that in Libre Office. You can access many types of file formats from different software over here. This is what gives it a place amongst the top Microsoft Office alternatives. Apache Office also is available in all types of operating software mainly for Linux and Windows. The most recently developed version of it has high-security measures as it has been developed over the years. You get to use some great and unique formats from here in your texts as well. The interface might not look too advanced but gives full functionality for the user.

Microsoft Office Alternative #8 : Neo Office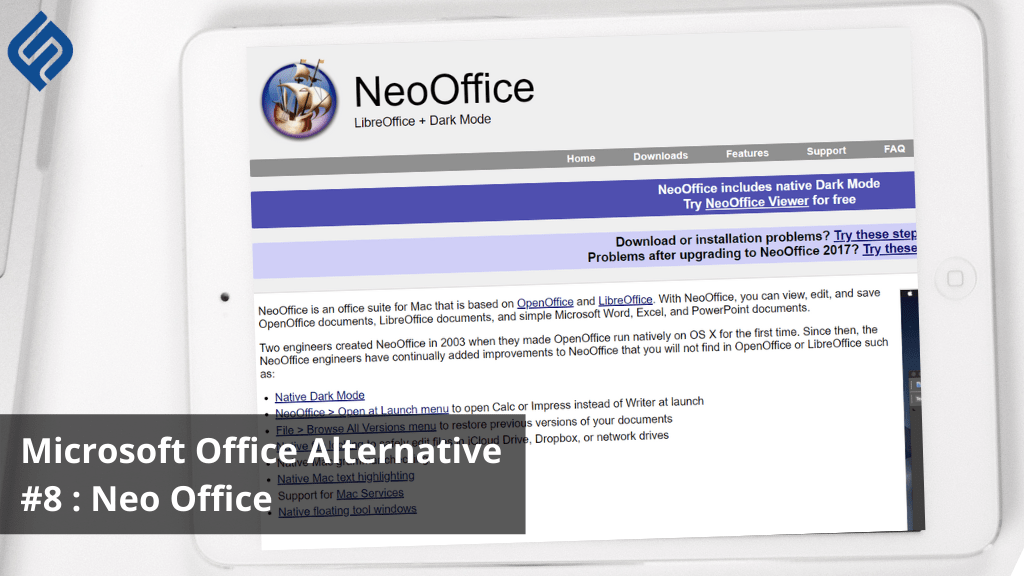 As the name suggests, it gives a new touch and feel to Office activities. The only downside for Neo Office is that it is designed only for the Mac operating system and is not compatible with other operating systems. Still, this does not stop it from getting a mention amongst Microsoft office alternatives since it offers many more features than many other Office software cannot provide. It supports all file formats from Microsoft Word, Excel, and PowerPoint. A lot of its features and interface is based on Libre Office. Also, it provides users with free of cost and efficient services that lets it gain more users who are users of Mac.
Conclusion:
Microsoft Office is a well trusted and powerful Office software. A lot of people would prefer Microsoft above any other. But it mainly depends on the user which he prefers and is comfortable to work with. All the Microsoft Office alternatives are easy to work with and deliver great results. Some are priced and some offer free services. All of these have the basic tools which are mainly a word processor, a spreadsheet application, and a presentation maker. So, a user must carefully choose software which at the least provides these basic tools.

Nowadays, the usage of such applications have increased and have proved to be very useful. So, it has become very important for all of these software to be compatible with mobile devices, Android, and iOS. This is because with mobile devices becoming so convenient it is always handy to have the Office tools in mobile devices.