The human resources department of any business be it small or big is responsible for many functions relating to the employees of the business. Top human resource software need to be able to carry out many activities effectively.
The activities include:
The HR department needs a system for managing the input of information and storing that information on a large number of employees of the business.
Human resources also need to control and manage the payroll and bonus for each and every employee.
Recruiting new employees is also a major function. The business needs top human resource software to control recruiting activities like advertising for vacancies and storing of curriculum vitae of the applicants.
A business also requires performance analysis and tools that can track employee performance and growth.

With tools that ease out all these activities, the business can experience stable growth and also provide rewards and concessions to its employees. This helps boost up the performance of the employees and also keeps them happy and eager to serve the business.
Top 11 Human Resource software to accelerate businesses
You can find many online top hr tools which help you manage your human resources efficiently.
HRMS Software #1 : Freshworks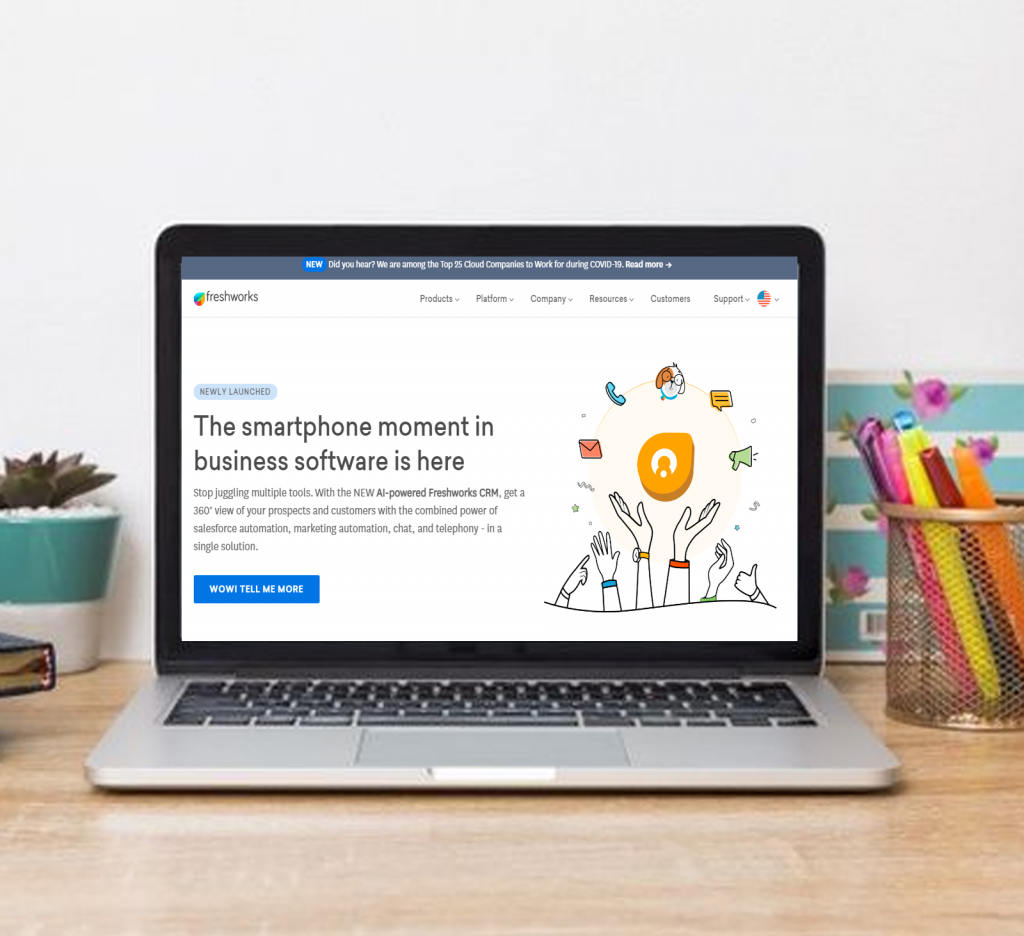 This Human resource information system is widely used by top companies both big and small. As a top HRMS tool, it offers numerous professional aid such as those mentioned. Freshteams is the human resource management software in Freshworks.
Freshworks HRIS system reduces all the cumbersome time-consuming efforts that you may give while using a spreadsheet. You no longer need to use excel.
It Reduces the chance of making mistakes because you do not need to input data like in a spreadsheet.
Schedule meetings and interviews according to your own convenience.
You do not have to go through loads and loads of files and paperwork to see data on an employee. Simple automation system helps you overcome the tedious search process.
You can store employee information in an individual employee profile. Thus, you do not need to search everywhere for those data.
Get an idea of how much time an employment procedure takes and who hires best.
Price: Basic plan for $50 and other plans for $100 and $200. You also get a free trial.
HRMS Software #2 : factoHR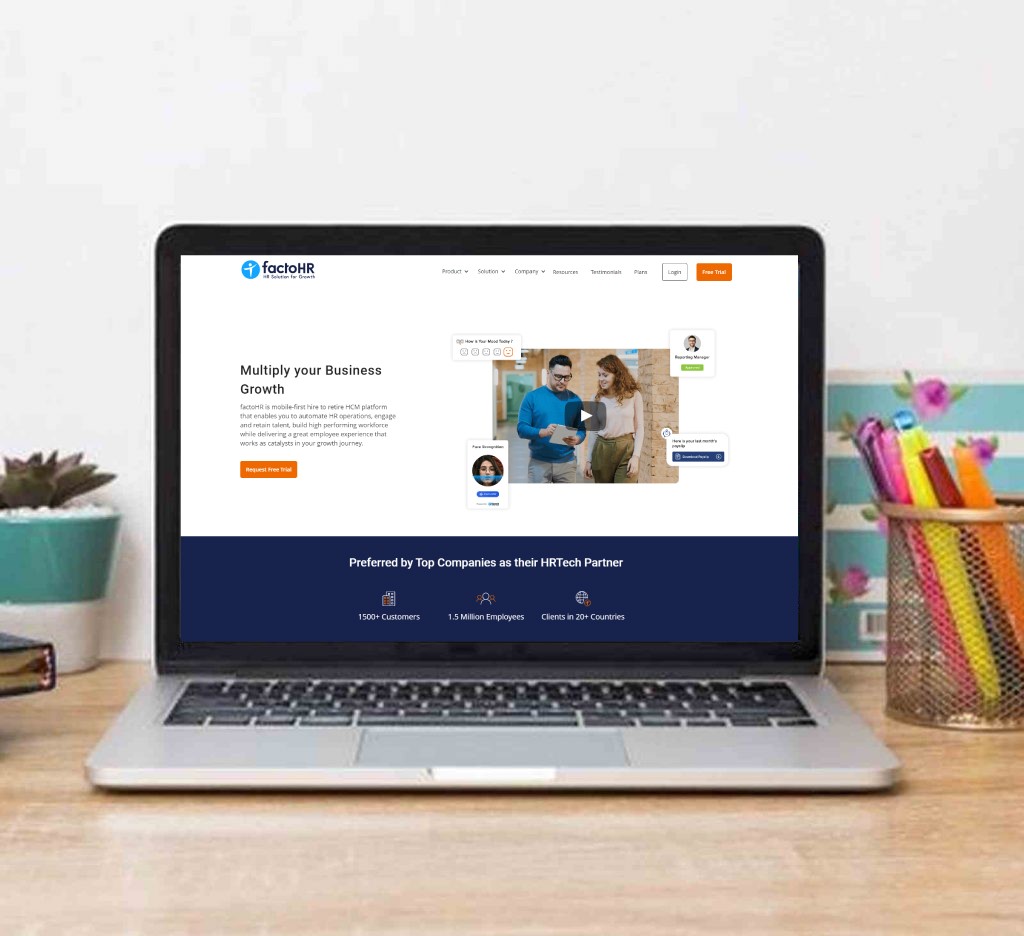 factoHR is a prominent software among businesses that helps to streamline all sized businesses' HR functions. It handles employee records, payroll, attendance data, and performance evaluations – all at the same place and keeps everything organized.
It manages employee information in a centralized database which is also accessible to employees.
The software allows managers to handle multiple shifts, and they can set rotational shifts also. Additionally, they can keep the attendance records in a secured place and calculate employee work hours are calculated automatically.
Managers can easily add goals and OKRs into the system and track the progress. They can also evaluate the employees' performances and give feedback.
Performance and attendance data are imported into the payroll module to generate salaries according to the employee's regularization and efforts.
Employee self-service lets the staff gets important updates from key persons, and they can also add their daily moods to the system.
Price: You need to contact the company's sales team for pricing information according to your needs.
HRMS Software #3 : Deputy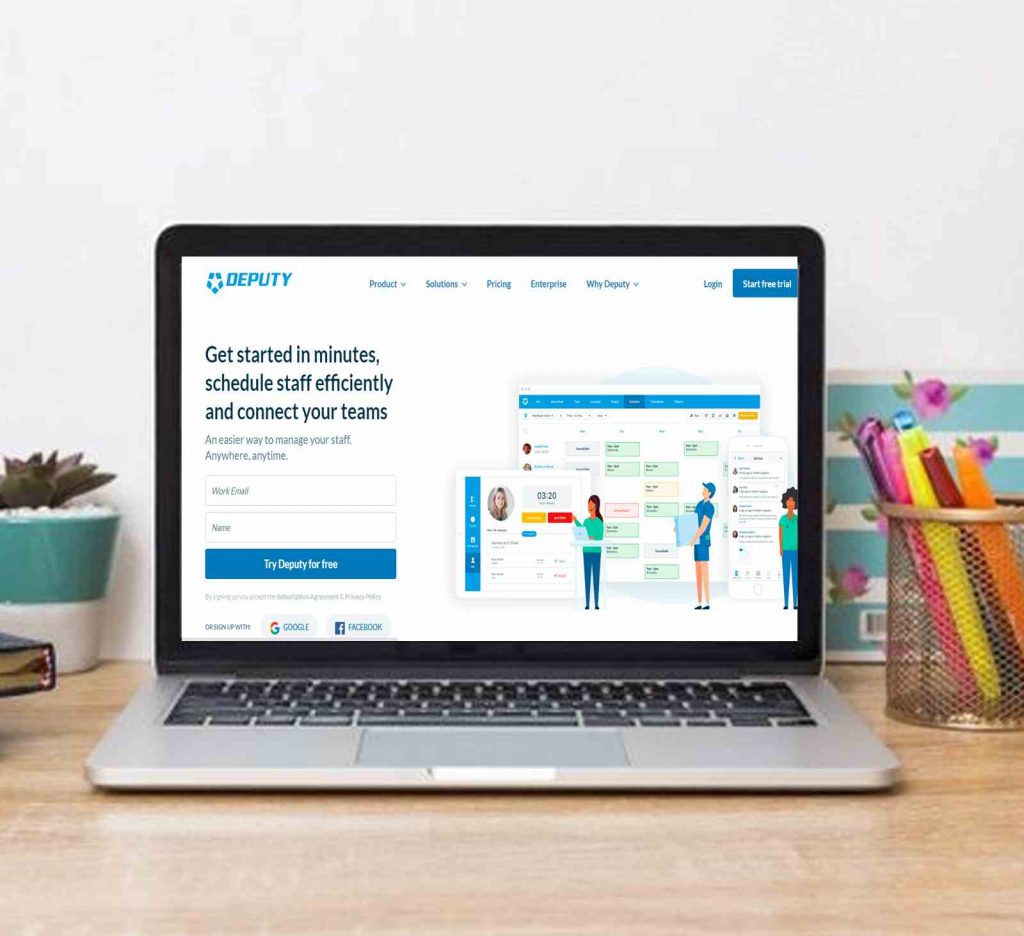 Deputy is the one-stop solution to all your management tasks. It is ranked as a top HR software as it provides all advantages like scheduling, planning, keeping records, and many more.
Record the attendance of employees in real-time. You can know who is currently working, who is on leave and their timings and everything too.
With just a few simple steps, you can make schedules for meetings and events.
Finding employees to give backup becomes easier. You can find out anyone in no time who is willing to work in place of someone if any problem shows up as well.
Different styles of functioning are available for different types of businesses.
In addition to these features, help, and support along with a guide book is always available for every user.
Price: $2.50 dollars are charged for a single user for a month with free trial period.
HRMS Software #4 : Bamboo HR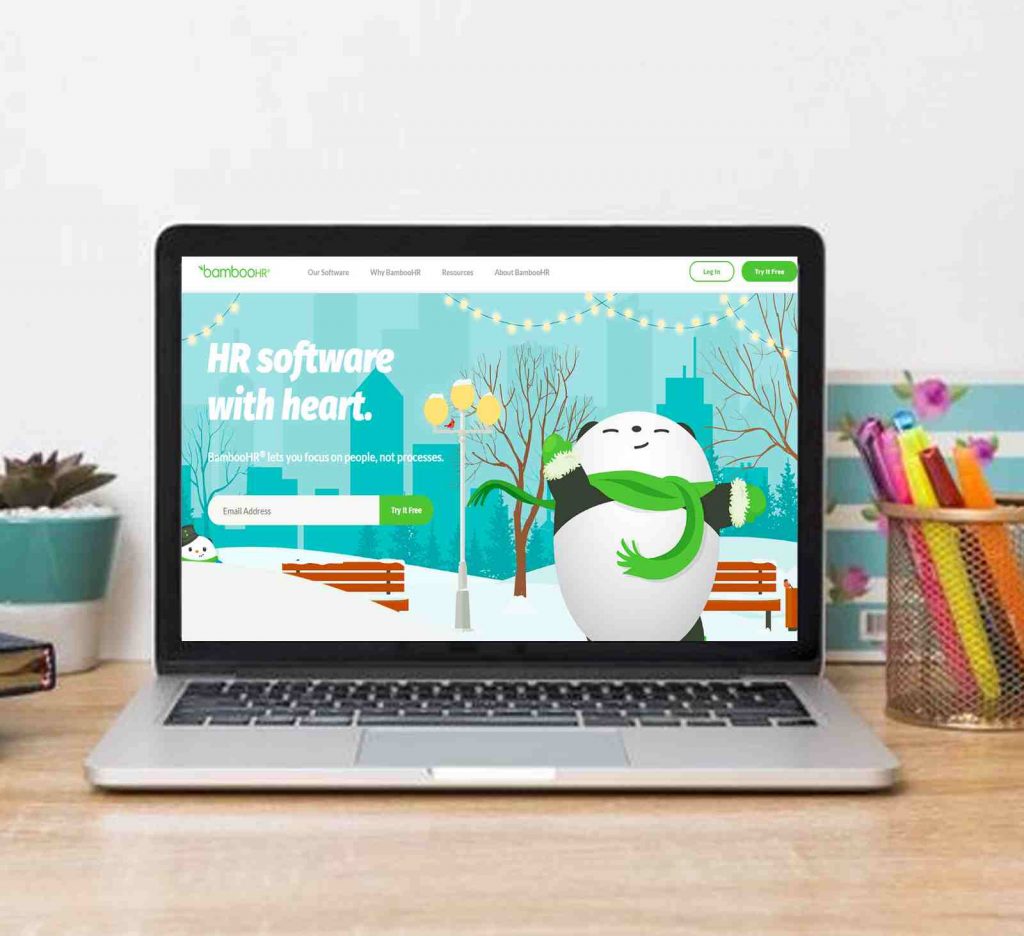 Bamboo HR is the best choice of top Human Resource software for new businesses and also those which are developing. It helps you get valuable insights on employee satisfaction and their activities.
Track and hire people who are perfect for the business. You can also track their records and evaluate their efficiency.
It does not offer payroll managing features but can integrate with software that do so.
Get to know about when employees enter and end their works as they enter the data. The hours of work done by each one is also available for viewing by the user.
It completely digitalizes your HR work processes storage system and digital signatures.
Price: There are two types of plans one that costs $4.95 per month for each employee and the other for $8.25 per month per employee.
HRMS Software #5 : HR One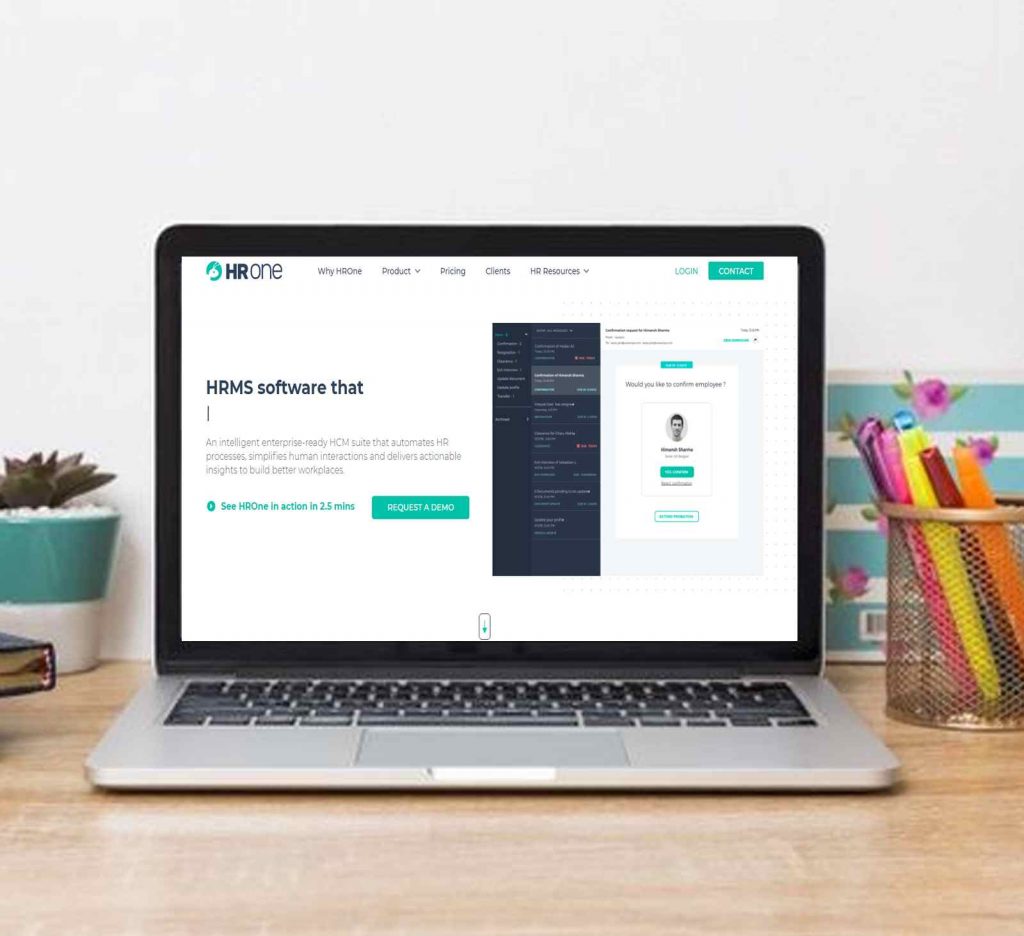 HR one is the absolute self-sufficient top HR tool with all those features that make a Human resource information system efficient. The exciting features offered are as follows.
You do not need another software for controlling payroll functions. HR one makes it easy for you.
Build effective communication between employees to strengthen relationships and improve the work environment through chats.
Users and employees can also use the application from their mobile devices.
Strengthen teams further with feedback.
Establish and list goals to maintain a stable momentum of growth.
Price: $3 per month for each individual is charged with no free trial.
HRMS Software #6 : SAP SuccessFactors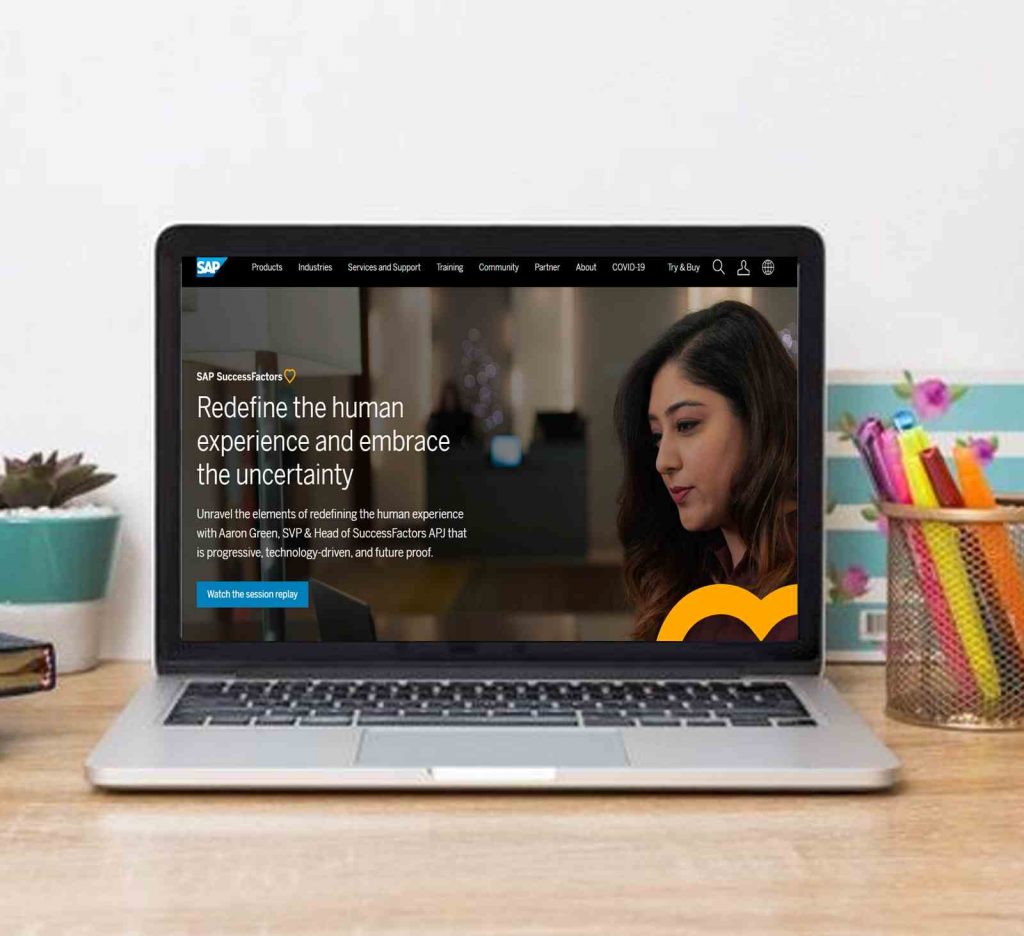 SAP SuccessFactors serve many large businesses and are among the top HRMS tools. It uses the latest technology to create a smooth workforce so you can compete with top businesses.
Get detailed instructions through guides and videos that show you how to use the Human resource management system and extract the most help out of it.
Assume direct control over all employee management functions like managing paychecks, delivering leaves.
You can also get live attendance of employees and track the total hours they have worked.
SAP SuccessFactors provides you advanced tools that can help you with planning and application of workforce for different tasks.
Communicate well with employees through meets and chats to get ideas to develop your business.
You can also hire new employees and manage their learning skills.
Price: Per month it costs $8 for each user and annually $85 for each.
HRMS Software #7 : Kissflow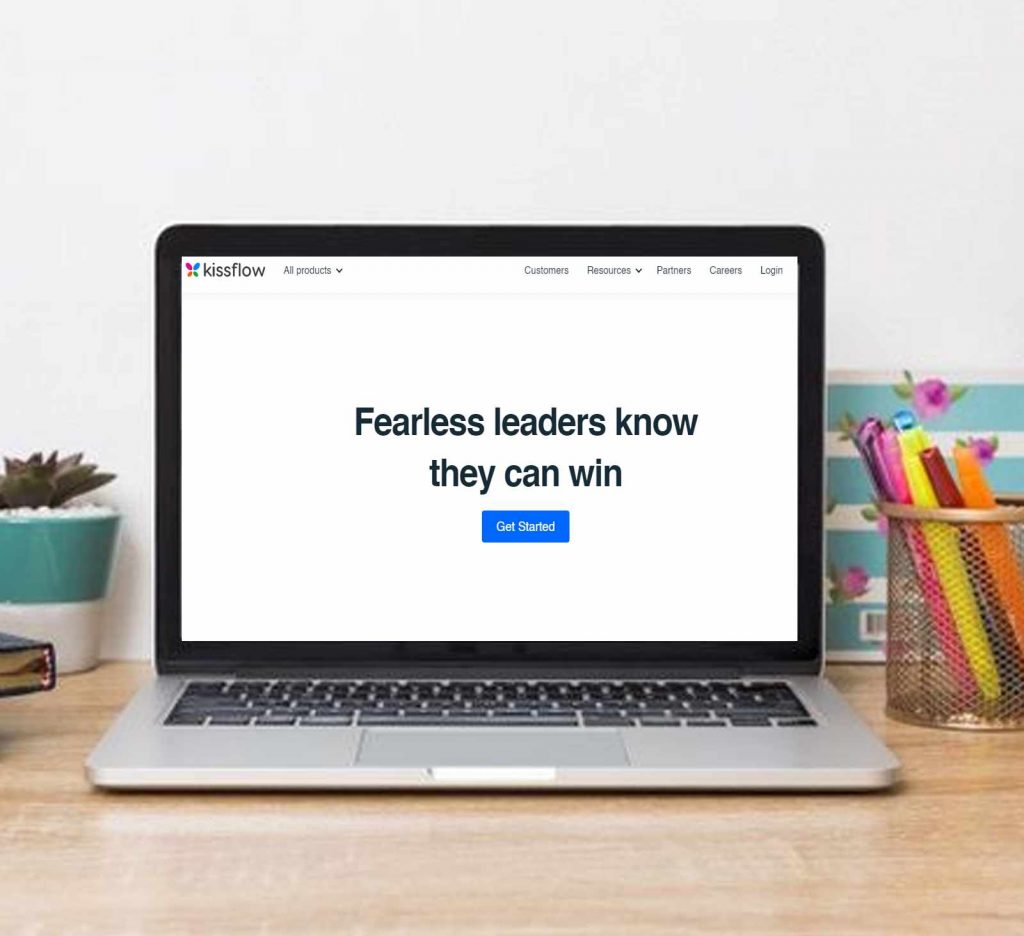 You can easily make important business-related decisions by evaluating your human resources and their performance with the top HRMS tool, Kissflow. It ensures worry less flow of work and manages to bring the best out of the employees.
Helps you to categorize applicants who are interested to join your business based on their talents and specialization.
Make your new employees at ease with the systematized process of workflow and effective interactions.
Track and manage employees who have taken leave. Also, track their attendance and hours of work as well to get progress on each employee.
You can see the data of the applicants in an easily understandable format. The years of experience, departments, and specialization are all mentioned.
Get feedback on the workplace environment by forms that ask employees to rate or give their opinions.
Also, enforce rules for every employee to notice and track whether they follow them.
Price: The basic starter plan is for $390 per month for 20 users. There are other additional plans for $690 with 50 users and $1500 per month for 100 users.
HRMS Software #8 : ADP Workforce Now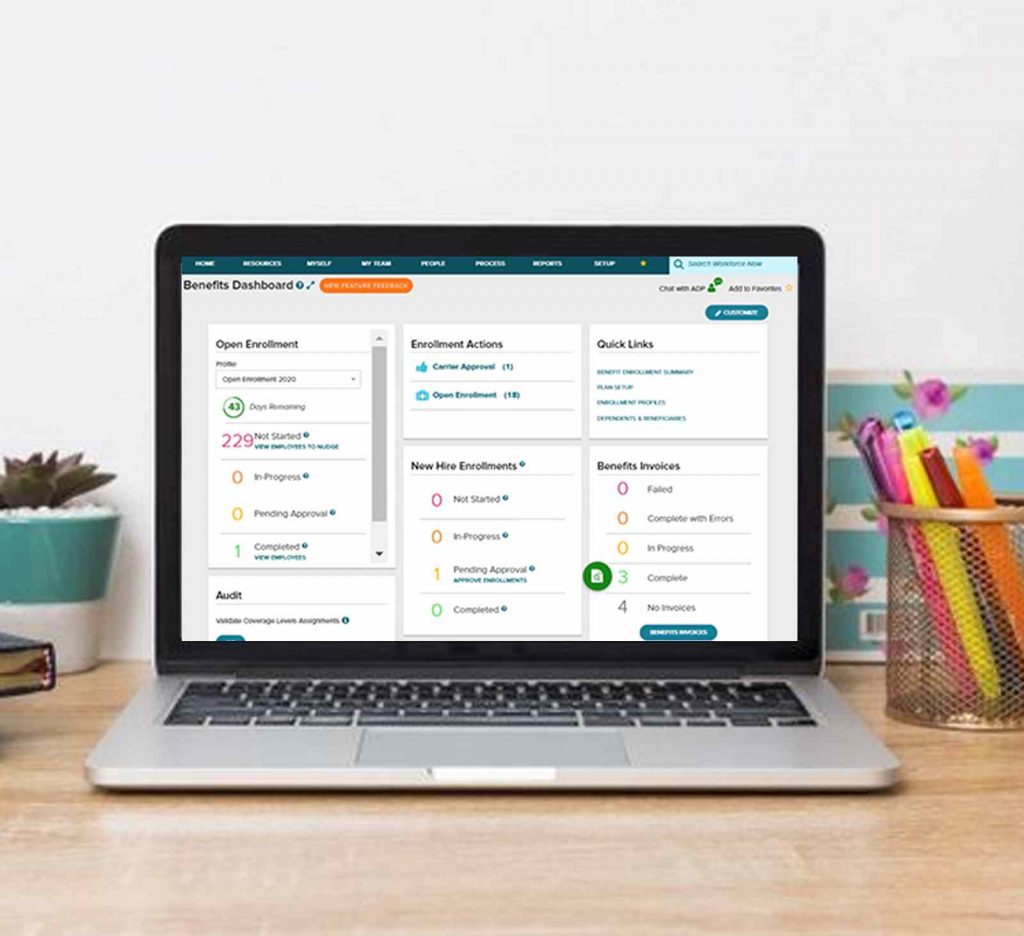 ADP Workforce Now is an ideal human resource management software for large firms. You can easily manage all HR functions from recruitment to leave of employees. The exclusive features that make such activities possible are as follows.
The interface for this top HR software is very easy to use and does not require complex instructions to operate.
Employees can themselves use it to give attendance and can access company information.
You can also integrate with other software which may be office software or storage ones.
Track expenses and bills to control expenses and save a lot for your business.
Since you can integrate as well as store useful data, you find all your data in one place and access is made easy.
HRMS Software #9 : Peoplesoft
Grow your business and manage your workforce with one of the too HRMS tools, Oracle Peoplesoft. Arrange your information and maintain good relations with employees to get the most benefit for the business.
Oracle offers you the advantage of managing the payment of your employees.
Peoplesoft can adapt to new emerging technologies and methods of running a business as well.
If you want to keep a check on all employee activities like working hours and leaves, this is the perfect software for you.
It provides effective service at a low cost and helps you save resources for your business.
Price: You need to contact Oracle for pricing rates eligible for your business. Plans start from $35 dollars and do not provide a free trials.
HRMS Software #10 : Gusto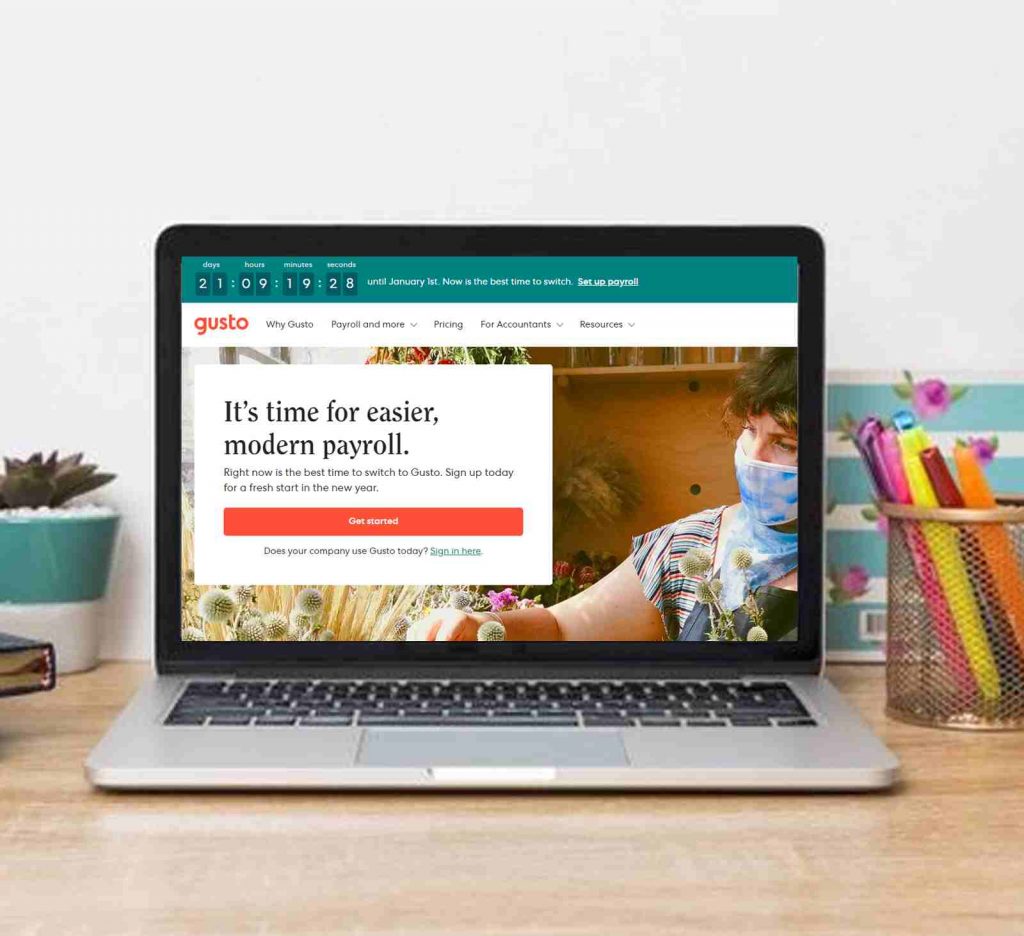 Gusto ranks as a top HR tool and is a great choice for small businesses. It does all those works that a human resource management system can do, even more as well.
You can customize your reports and works as you like according to the method of your choice.
It is very flexible to use as well.
It is also capable of creating team and groups to better arrange work.
Price: starts at $25 per month.
HRMS Software #11 : Zoho people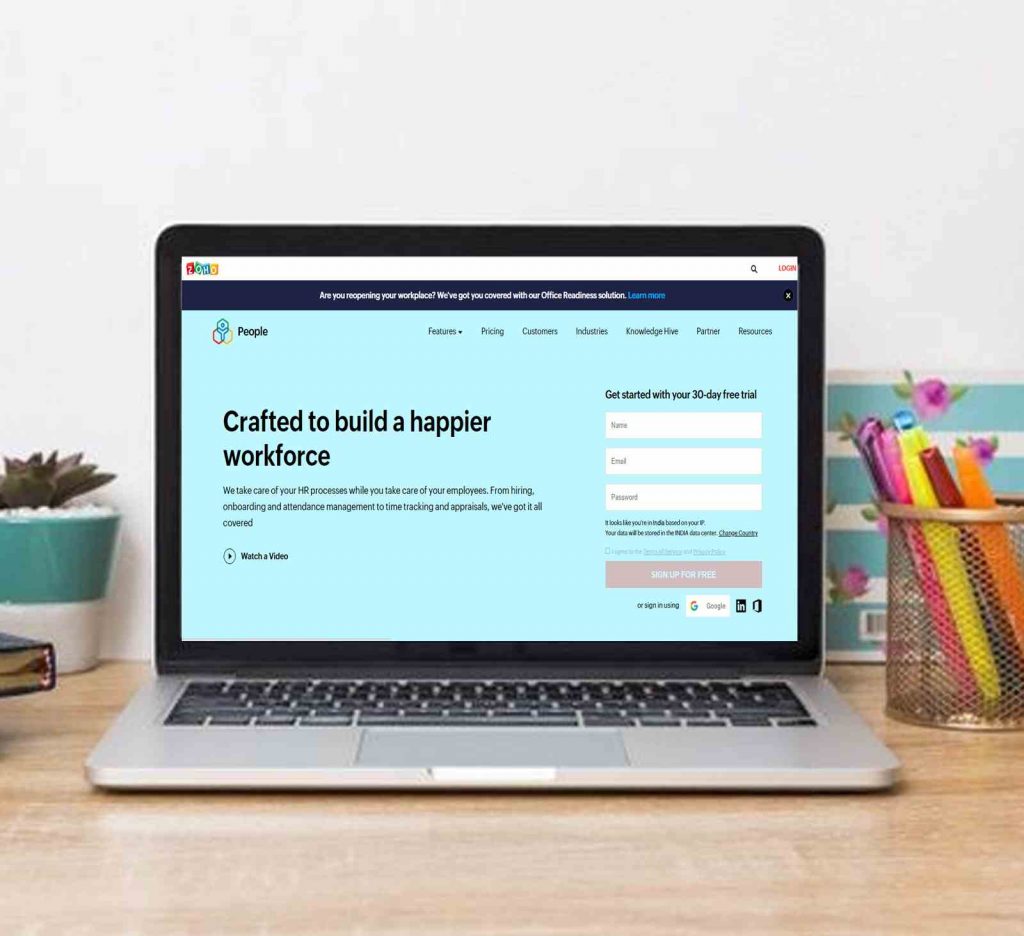 Zoho People is one of the most powerful among top HR tools. You can manage employees with ease at your own convenience. Some of the best features that it offers are as follows.
Lets you hire employees from many sources to ensure that you get the best workforce.
Set attainable goals for your employees to evaluate their performances overall. Employees also get an opportunity to improve their flaws and serve the business better.
Zoho people offers great integrations with tools that you may require to go about with other activities like expenses, analytics and project building software. Google, Zapier and all types of integration is possible.
Store data on leaves, paycheck and daily attendance of employees.
Build checklists to organize your tasks and appoint people for them easily. This helps to meet your business goals in no time as well.
Also create announcements to let everyone know about important events.
Price: With a minimum of 5 users for all the plans the price for a basic plan per month is $2 per user and if billed annually it becomes $1.66 per user.
Conclusion:
All these human resource management software is quite capable to perform tasks and ease out your business workflow. If you want to explore more options there are many in the market as well. So, you can always find one that suits your needs.