Slack is one of the top collaboration tools, used by more than 8 million people at present. It is popular and has won awards in the past for being a collaborative messaging app which is like a modern alternative to emailing in your workplace. It is an internal company online chatting app for easy collaboration at your workplace. It basically serves as a real-time chatroom and can collaborate with many third-party applications. Users can edit and delete their messages, unlike emails. They can also enable reminders and integrate with business tools of their preference. But all the people who use Slack at present aren't quite elated with it and many of them are looking for better Slack alternatives. Many users have said that Slack is too costly for a chatroom, whereas some said that its free version has extremely limited functionalities.
Whatever your reason is, you can always shift to something better. To make the work easier for you we have brought together some of the top Stack alternatives. So what are you waiting for? Dive in!
Slack Alternative #1 : Google Hangouts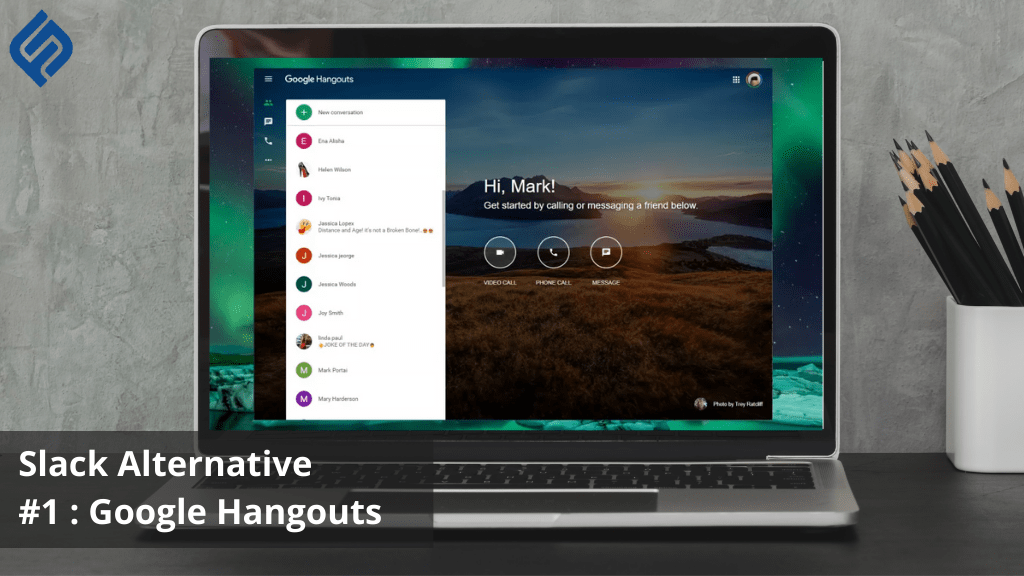 Google Hangouts is basically the Google team's chatting solution for workplaces. It may be focused mostly on video messaging but is encompasses many instant messaging features too. If you have a G suite account for $5 per month you get free access to Google Hangouts as well.
Pros:
This application doesn't have public channels as Slack does but you will be allowed to send messages when you are a part of a particular channel or room. If you have a new idea you can start a new thread to which your teammates can respond.
Also if you are interested in integrations, Google Hangouts provides that too! Especially if your company already works with Google Drive and Docs it is even easier to integrate with Google applications. Users may also integrate with third-party applications like UberConference, HipChat, or ZenDesk.
It also has a free trial of 14 days during which users may decide whether to invest in it or not.
Con:
Google Hangouts is not free like most of the other Slack alternatives. It is a counterpart of the G suite.
Available on: Android, iOS, macOS and Web.
Pricing: $5/month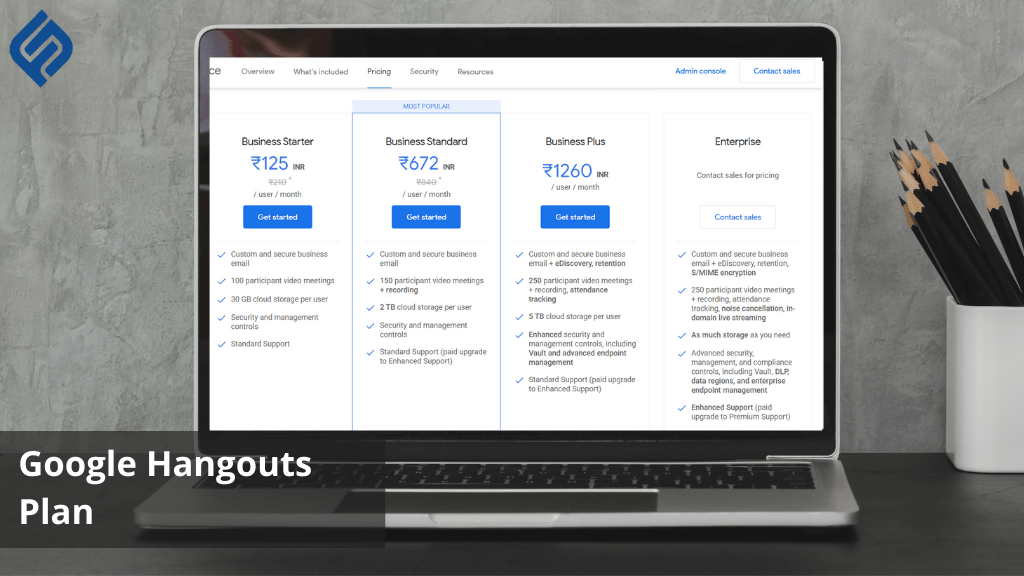 Slack Alternative #2 :Microsoft Teams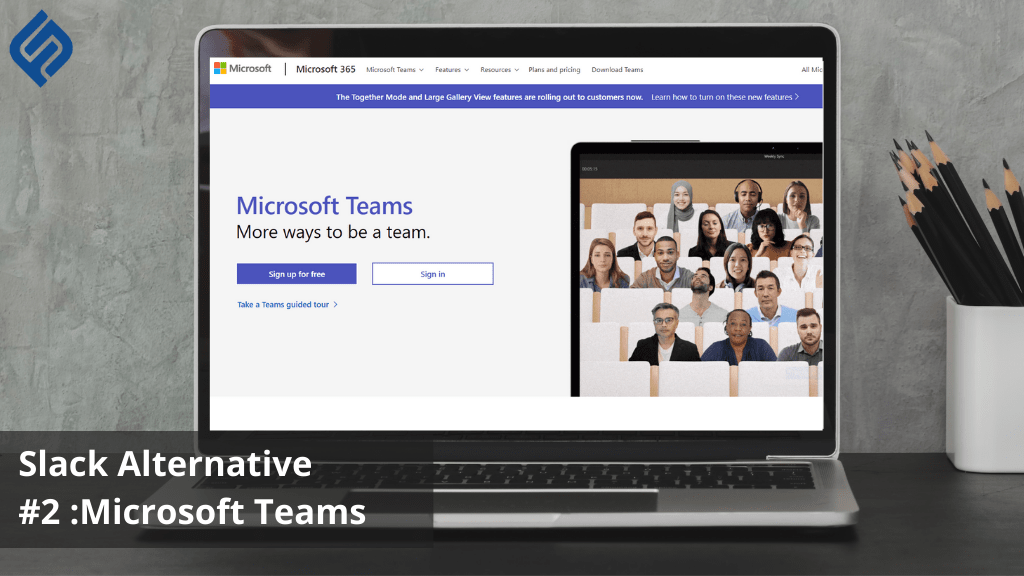 It is basically Microsoft Team's chatting solution that offers the similar basic capabilities of Slack and also integrates with the Office 360 suite. It is perfect for the companies that have been working consistently with the Microsoft Suite.
Pros:
It consists of the necessary features of a chatroom including instant messaging, audio, or video calls.
It can also easily integrate with Office 360 products along with 180 other third-party apps
Its video calls can hold up to 80 participants and that is helpful if you have a large team. It also enables screen sharing
Con:
The free plan offered isn't a trial plan and so it has limited functionalities.
Available on: Android, iOS, macOS and Web.
Pricing: Business Essential plan: $5/user per month
Business Premium plan: $12.50/seat per month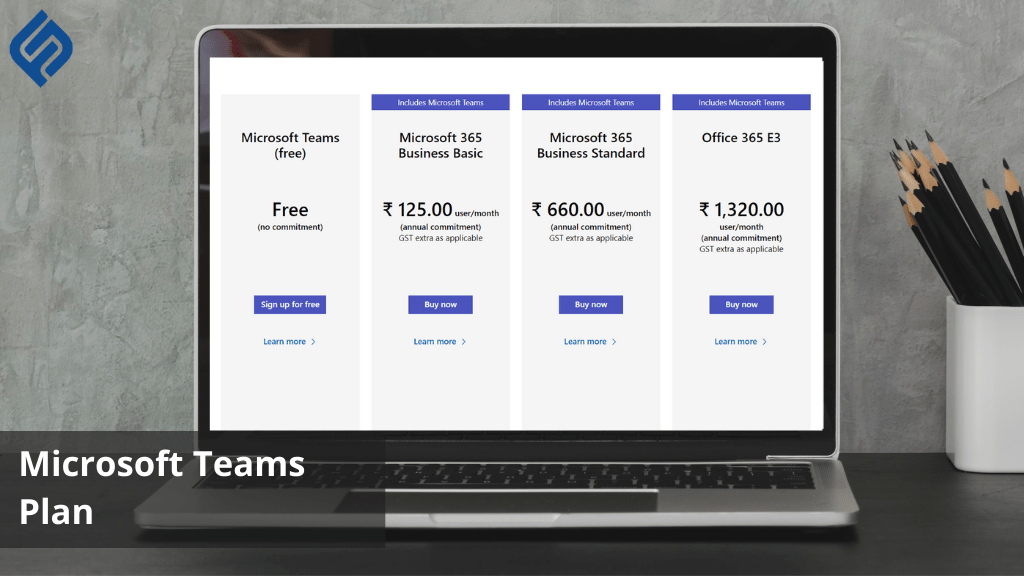 Slack Alternative #3 : Discord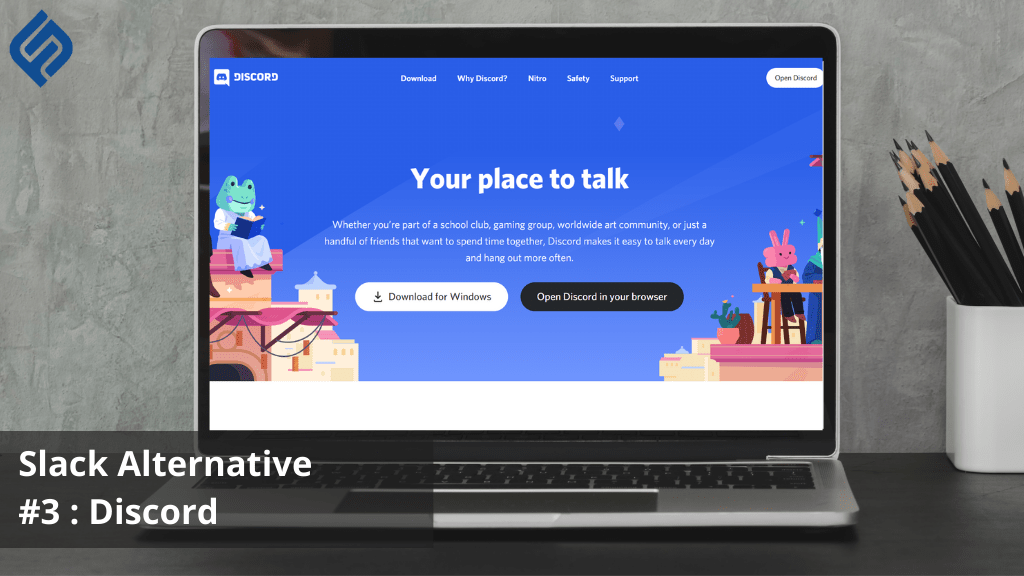 Discord is one of the most popular communication apps for gaming. However, owing to its broad functionality and unlimited texting features people can make good use of it for workplace communication too!
Pros:
You can form your own channels and divide them accordingly based on text and voice communication
Implement the public and private channel concept by changing the channel settings accordingly
It also offers push-to-talk features which is a Discord-special feature
Con:
This is maybe the only reason why it isn't that popular in workplaces-it doesn't offer any integration. But if you do not require integrations and just need a place to chat and communicate via audio or video calls, Discord is the best place for you.
Available on: Android, iOS, macOS, Windows, Linux and Web
Pricing: Another reason why people opt for Discord is that it is absolutely free!
Slack Alternative #4 : Chanty
Chanty is an easy to use communication tool that allows real-time collaboration and includes a lot of other features than simple chatting. This Slack alternative is ideal for small to medium-sized teams and new businesses or startups.
Pros:
You can communicate through both private and public channels along with one-on-one conversations. It is extremely easy to use and is ideal for people who aren't that tech-savvy.
Chanty takes up the responsibility of arranging your files, tasks, links, and conversations into a folder which is called Team book.
It also provides integrations with third-party applications including Zapier, that makes working a lot more methodical
You can use Chanty to assign tasks and also for video conferencing.
Con:
The free plan has a limitation of 10 people only that makes it disadvantageous in respect to its competitors
Available on: Android, iOS, macOS, Windows, and Web
Pricing: $3/user per month if the team exceeds 10 people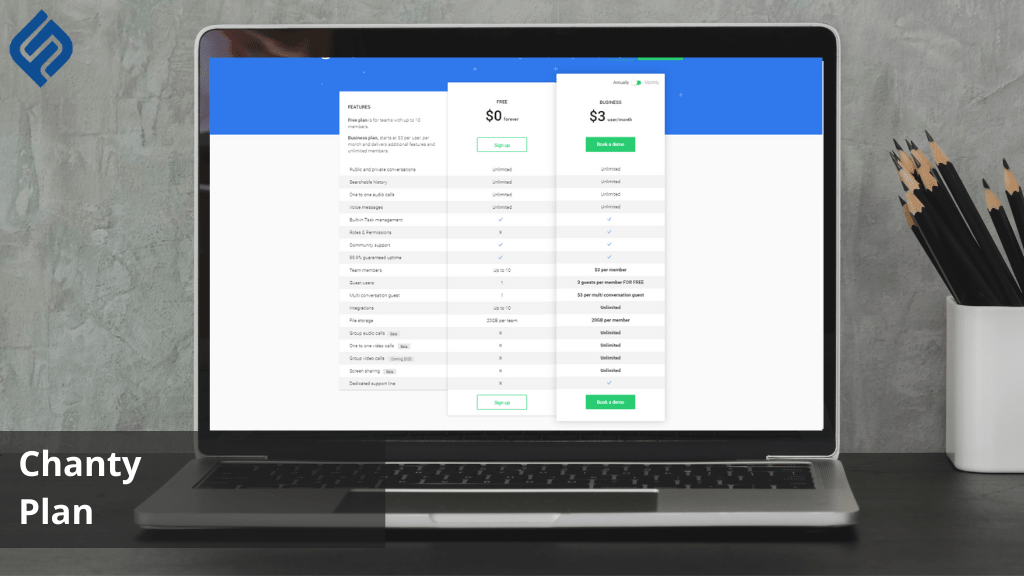 Slack Alternative #5 : Flock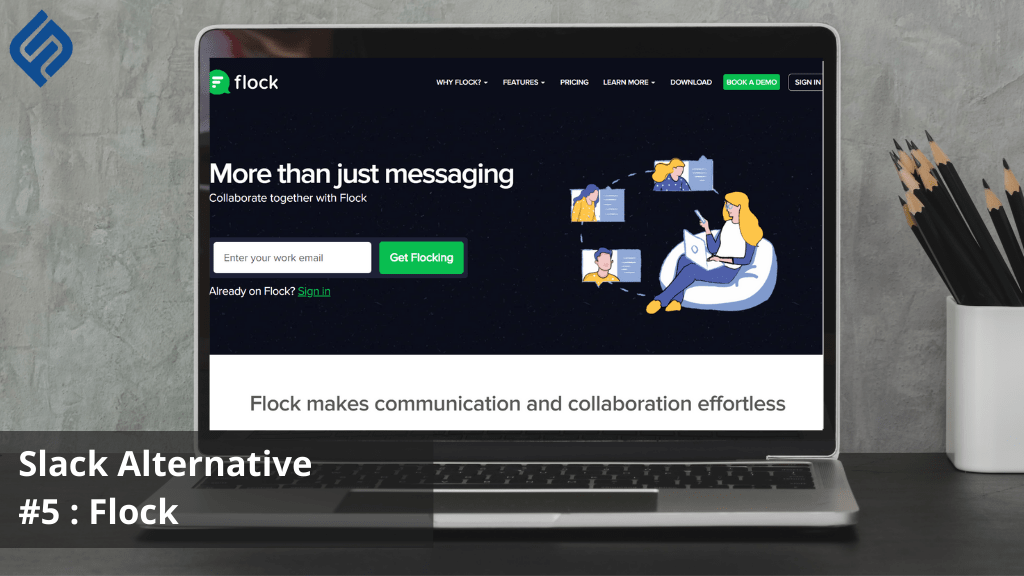 Flock is a workplace communication software that runs a lot faster than Slack. This Slack alternative consists of productivity tools including highly useful to-do lists as a part of its basic interface.
Pros:
Apart from the common communication features including instant messaging, audio, and video calls, it offers special features including reminders, notes, built-in polls, and code-snippets.
Its free plan allows up to 10,000 searchable messages.
It also allows connecting with 50 more applications.
Con:
Its free plan doesn't consist of important features like screen sharing, and unlimited message history
Available on: Android, iOS, macOS, Windows, Linux and Web
Pricing: $6/user per month when billed monthly and $4.50/user per month when billed annually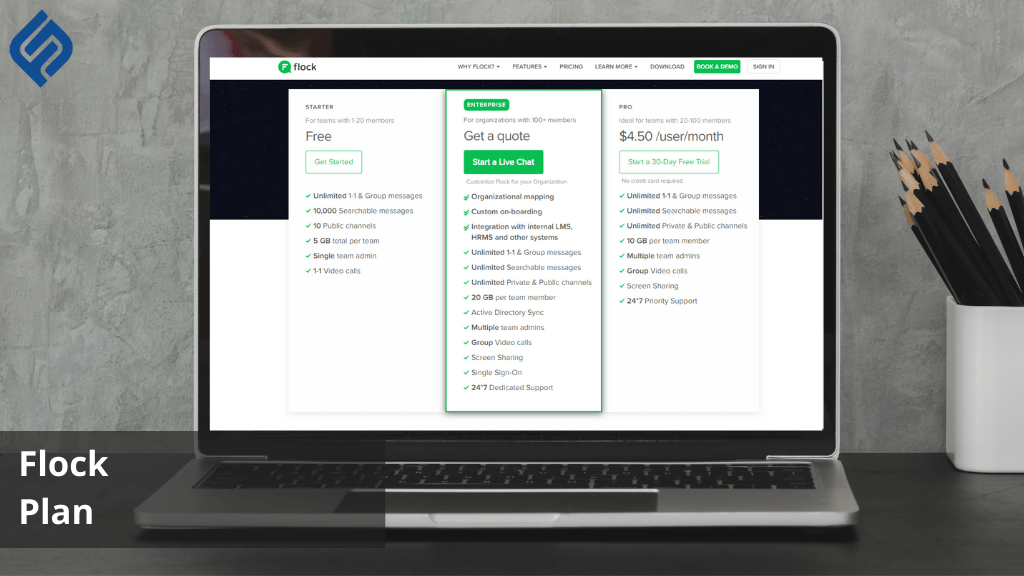 Slack Alternative #6 : Flowdock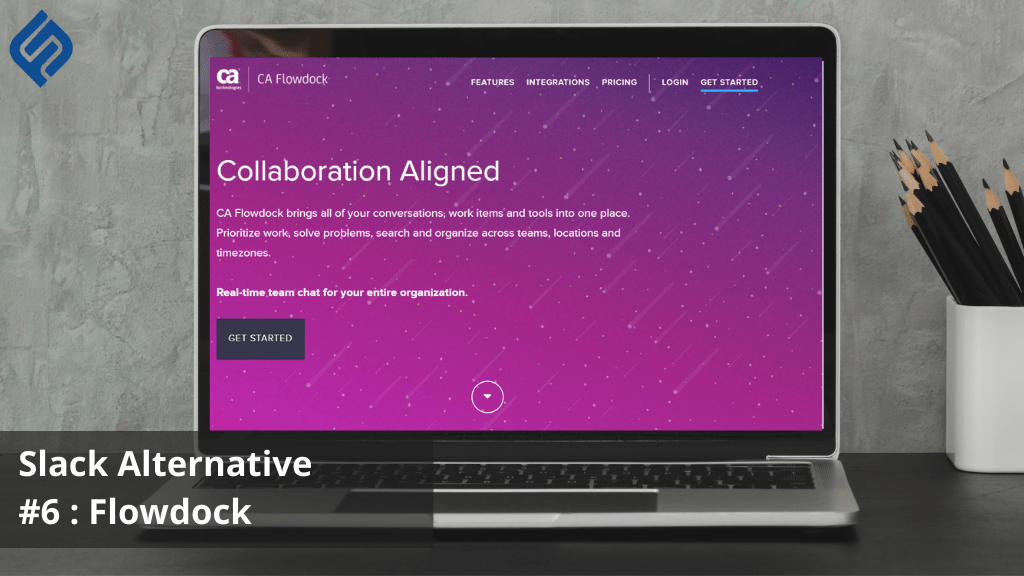 Flowdock focuses mainly on threaded communication and organizes conversations accordingly. Its interface is quite different in comparison to the other Slack alternatives.
Pros:
You can easily segregate topics and threads because of Flowdock's color-coding feature. Adding people to these threads is also simple in this interface.
Users can integrate with more than 100 third-party applications and a video calling feature is available with the specific appeair.in integration.
It includes a 30 days free trial which gives users the time to think and decide whether or not to invest in this application.
Con:
Above 5 members, you need to pay for continuing with Flowdock.
Available on: Android, iOS, macOS, Windows, Linux and Web
Pricing: $3/user per month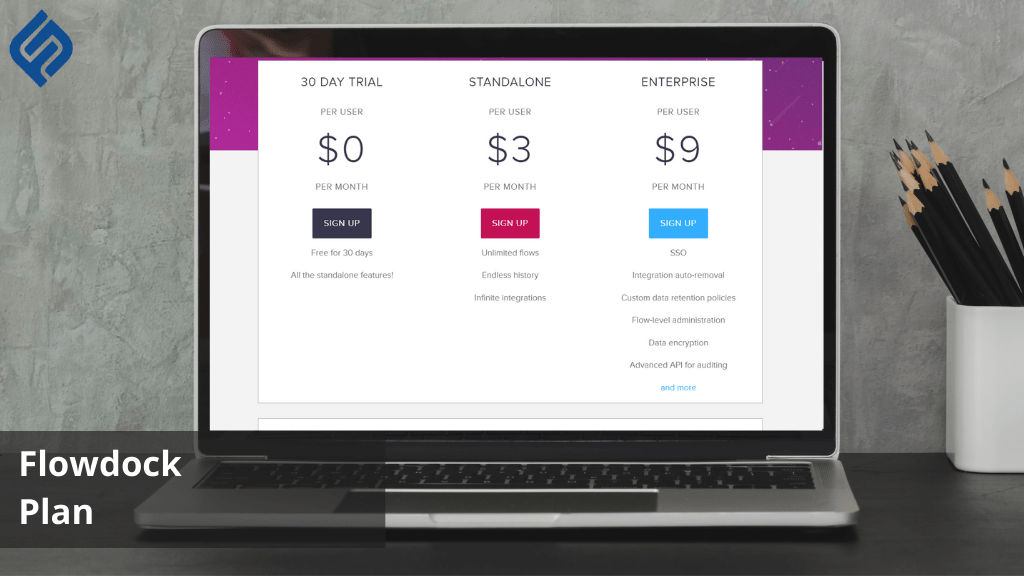 Slack Alternative #7 : Fleep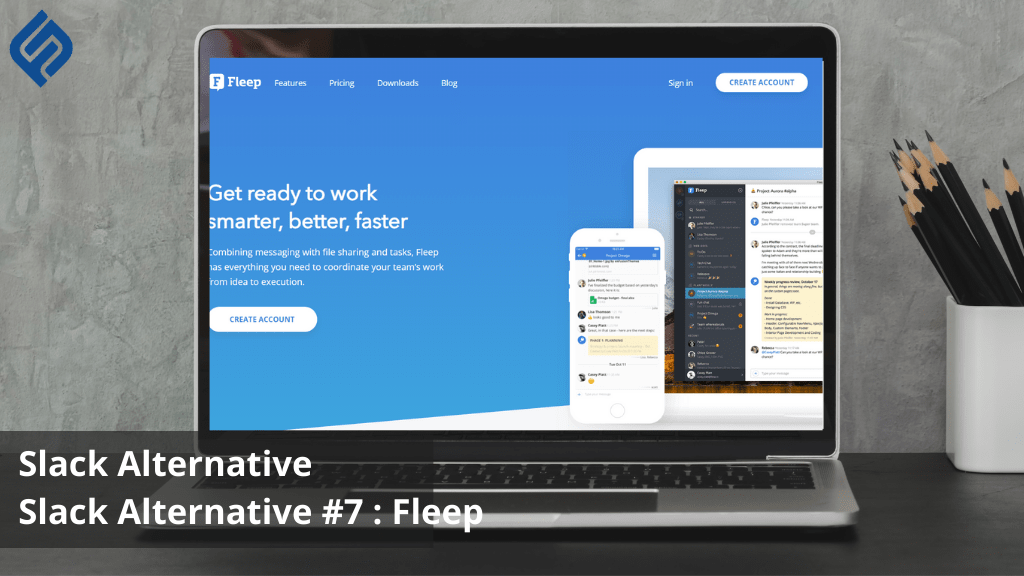 Fleep is much more than a simple communications app, that helps organizations, unlike the other Slack alternatives. It allows project management and is suitable for those companies which use it for communication across departments.
Pros:
It offers special features like tasks, teams, pinboards, and file management which gives it an advantage over its competitors.
The messaging feature allows users to even text to people who are not on Fleep.
It allows audio and video calls with the help of the Whereby integration
Con:
Its interface may look cluttered at times and is not that organized because of its absence of colour coding and similar features.
Available on: Web, desktop and mobile app
Pricing: Its free plan has limited functionalities and its business plan starts at $5/user per month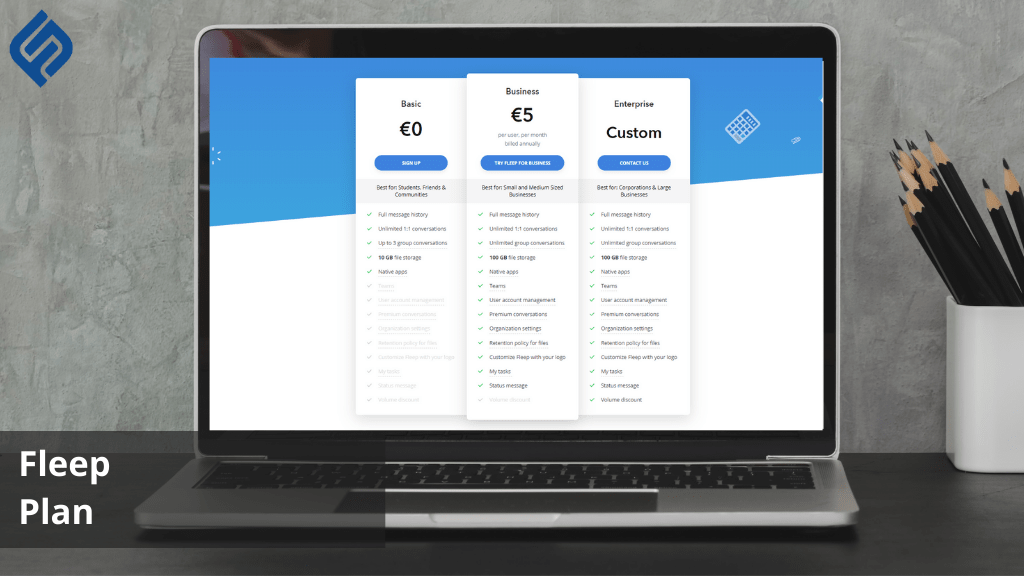 Slack Alternative #8 : Glip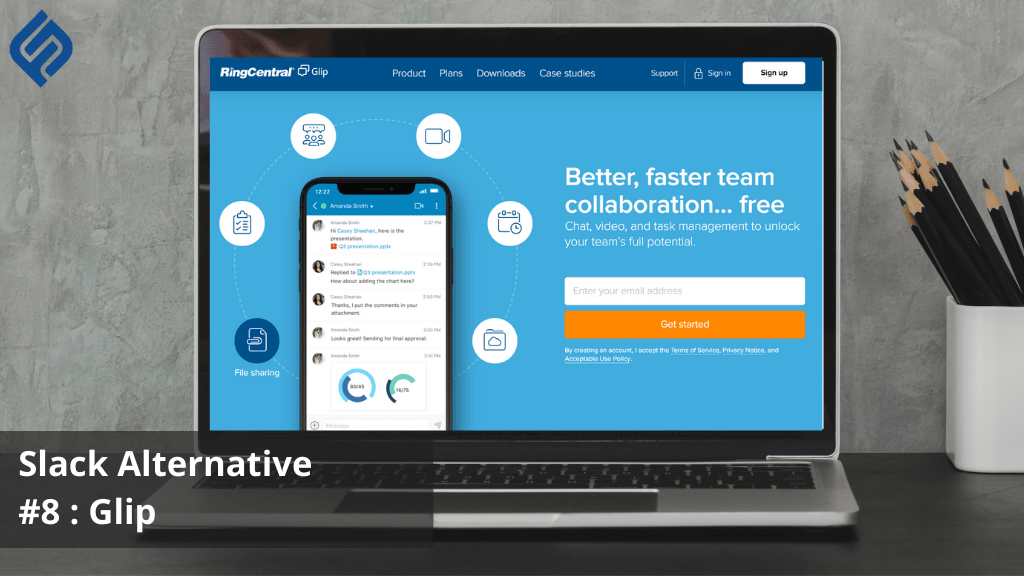 Glip is one of the newer Slack alternatives released in 2015 that helps in task management and helps organizations to keep their staff on the right track. It is a collaboration tool that was released by RingCentral.
Pros:
It offers built-in features like calendars, notes, and tasks.
You integrate with over 20 applications including Zapier.
Its free version gives around 500 minutes of free video chatting.
Con:
You have to download the RingCentral application for video calling which is mostly an inbuilt feature in other applications
Available on: Android, iOS, macOS, Windows, and Web
Pricing: $5/user per month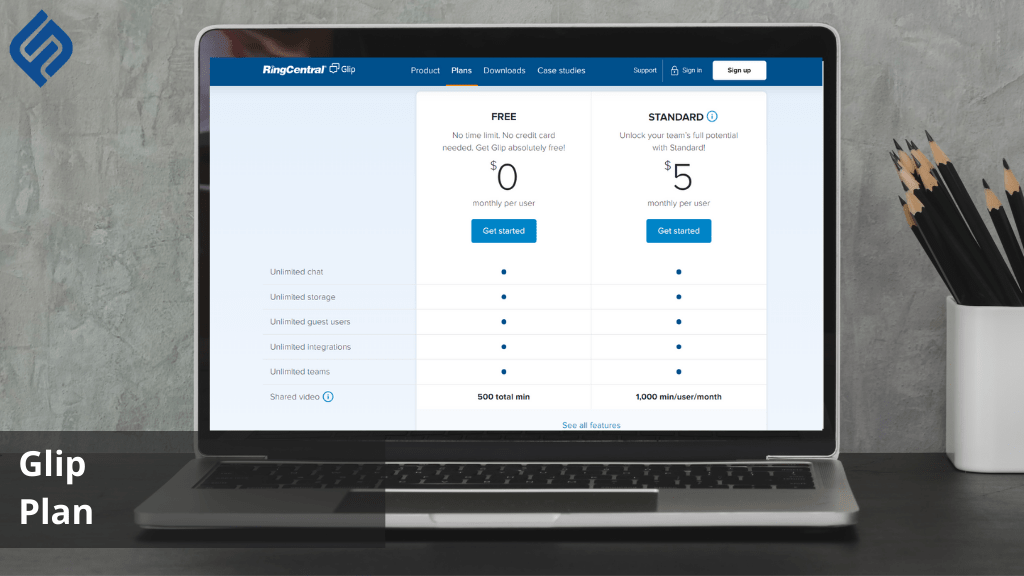 Conclusion:
We have listed these top 8 Slack alternatives but there are many more similar applications available online that you can check out. In the list given above, we have mostly listed those applications that can be useful for all kinds of purposes for different businesses alike. The "best one" will always depend on the size of your team, your requirements, and the type of applications you are already using at present with which you can integrate the communications app with. So it basically depends on what works best for your company.
So if you feel there are even better Slack alternatives available in the market apart from what we mentioned, do not hesitate to mention them below. We would love to check out your thoughts in the comments box below!
Thanks for reading.