Airtable is an online project management tool that combines the features of spreadsheets with a database. Its popularity has increased massively over the past few years. The tool is simple and easy to use but its major drawback is its limited functionality. Airtable may be sufficient for creative projects, customer data management, personal productivity, and more but for project management, this tool is not as useful and it fails to fulfill all your requirements. For this reason, many people search for alternatives to Airtable.
Some main reasons for which users tend to search for Airtable alternatives are:
It has limited task and project management features
It is unable to track time for projects
Generally acts as a data storage and visualization tool.
Airtable may be a popular data and project management tool but it is logical for wanting to shift to something better. To help you with the same we have formulated the top 10 tools that serve as the perfect Airtable alternatives:
Airtable Alternative # 1 : ProofHub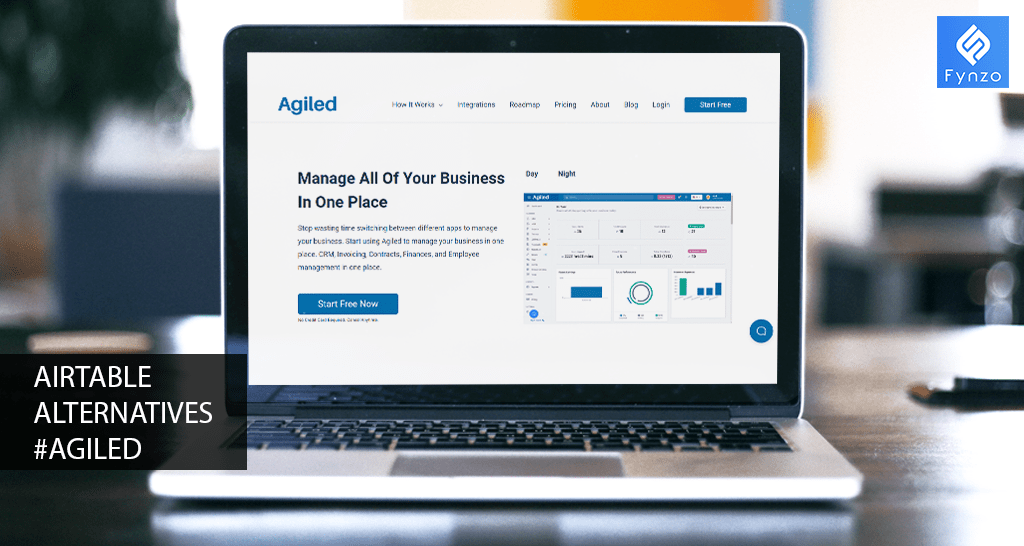 ProofHub, a suitable alternative for Airtable, allows teams to keep track of time. It shows the billable and non billable hours of the project with the help of Timesheet and time reports. This gives it a major edge over Airtable. Some other features that make it #1 Airtable Alternative are:
ProofHub allows teams to share files, ideas, and documents without having to write an email.
It allows teams to plan out and visualize multiple parts of the project in one place in a timeline with the help of a Gantt Chart
The project managers can view the overall project and its progress in a simple click with the help of Custom Reports
Pricing: $45/ month for unlimited users (when billed annually)
$50/month for unlimited users (when billed monthly)
Airtable Alternative # 2 : Asana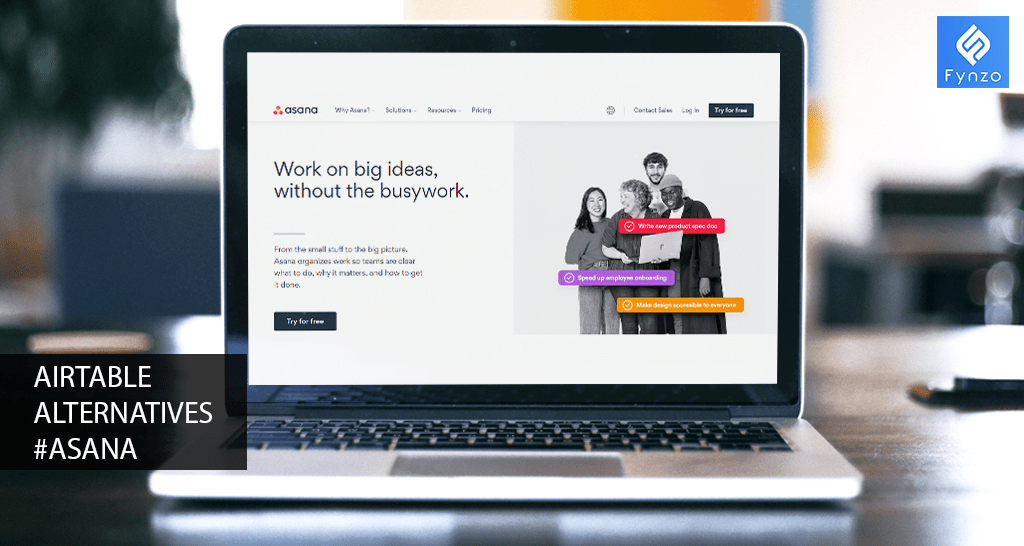 If the user has a simple project management tool in mind, Asana serves as the best Airtable alternative. Setting up projects and tasks on Asana is easy as they use kanban boards for setting up different stages and creating cards to manage tasks. Some major features are:
It has a calendar for tracking time and managing schedules.
It allows teams to view the project and communicate back with the help of both desktop and mobile applications
Its best part is its free version that is sufficient for most businesses
Pricing: It's pricing starts from $0. It also has a $10.99/month plan
Create surveys with #1 survey maker: Fynzo Survey
Airtable Alternative # 3 : Zenkit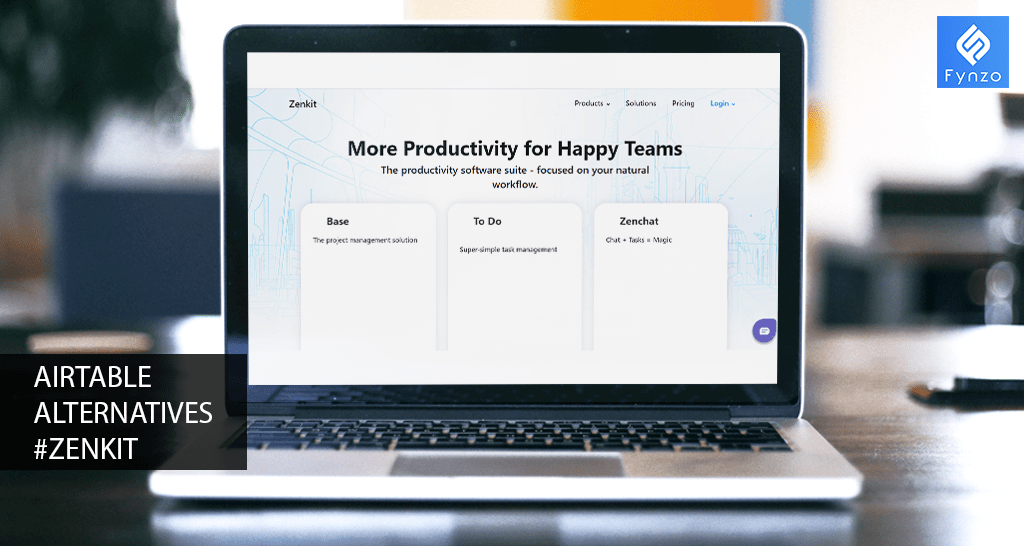 It has a calendar view for keeping a track on tasks, employees and important events.
It's inbox feature lets you view all your tasks and projects
It has easily accessible desktop apps (for windows, Mac, and Linux) and mobile apps (for Android and iOS).
Pricing: It starts with a $0 plan. It also has two middle plans at $6/month and $9/month.
Airtable Alternative # 4 : Basecamp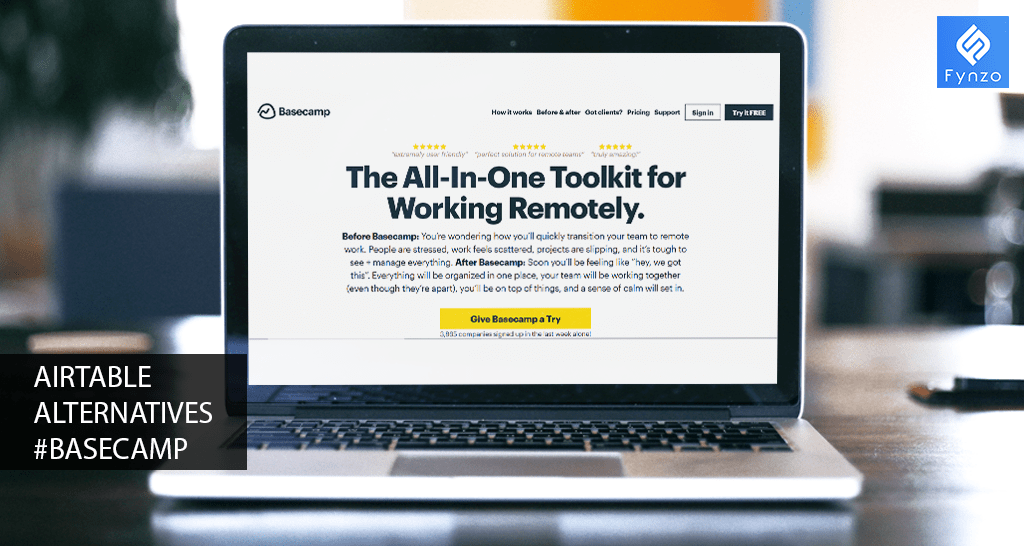 Basecamp is a popular information sharing and online communication tool. This Airtable alternative makes it easier for teams to be updated on all advancements of a project when working together. It offers a simple, user-friendly interface that makes creating projects, assigning tasks, and managing teams a lot easier. Some of its major features are:
It allows members to create to-do lists and assign tasks to different members of the team
It makes communication easier with its message board feature and campfire chat room.
All the files that had been used in the project get accumulated in a single place that makes it easier for team members to access them
Pricing: The basic plan is $0/month. The premium plan is for $99/month
Airtable Alternative # 5 : Quip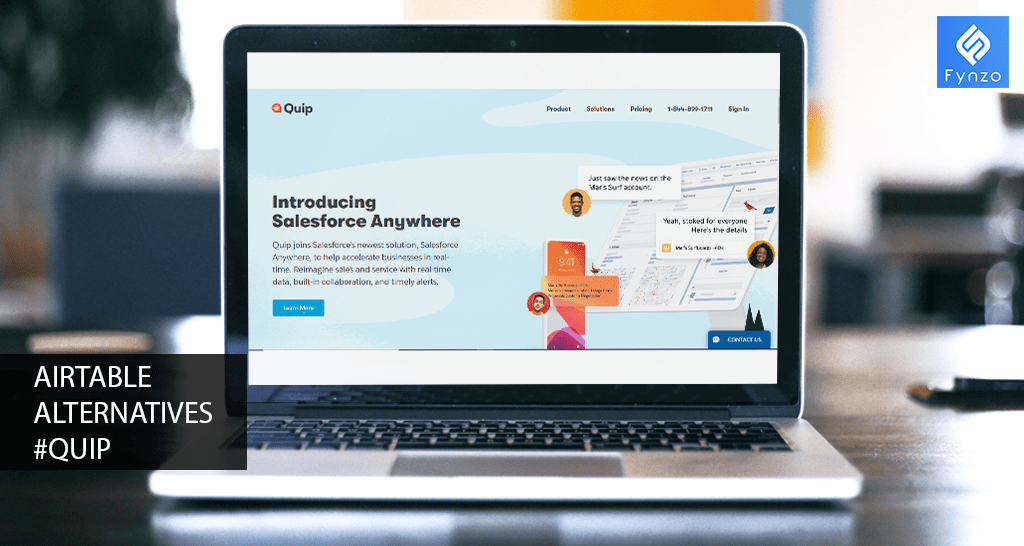 Quip, one of the suitable Airtable alternatives, is a simple app that allows teams to create living documents. It provides tools for creating and editing documents, lists, and spreadsheets, along with updating them on the cloud. Some of its popular features are:
It allows the team to manage projects on Salesforce. Members can introduce documents, slides, charts and spreadsheets on Salesforce and work on them together
The slides and the documents shared can not only be viewed but also edited there
Teams can easily communicate over Quip because of their team chat and 1:1 messaging feature
Pricing: $10 per user/month
Airtable Alternative # 6 : Podio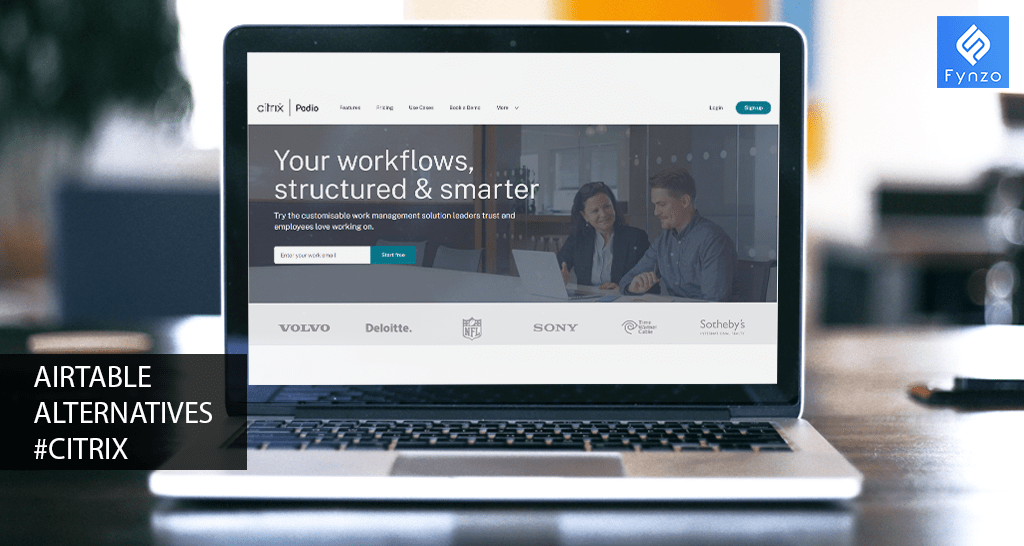 Podio, one of the most multitasking Airtable alternatives, is used to manage both clients and employees efficiently. It can be used just like any other task management tool; hence shifting from another tool becomes easier if it's Podio. Some of its popular features can be:
It offers different views on efficiently managing separate projects and tasks. The view can be selected on the basis of the preferences of the people working on the project.
Podio integrates smoothly with multiple third-party tools including Citrix's GoToMeeting.
It offers a free plan which allows users to test the tool before investing in it
Pricing: $0-$24/month
Airtable Alternative # 7 : Agiled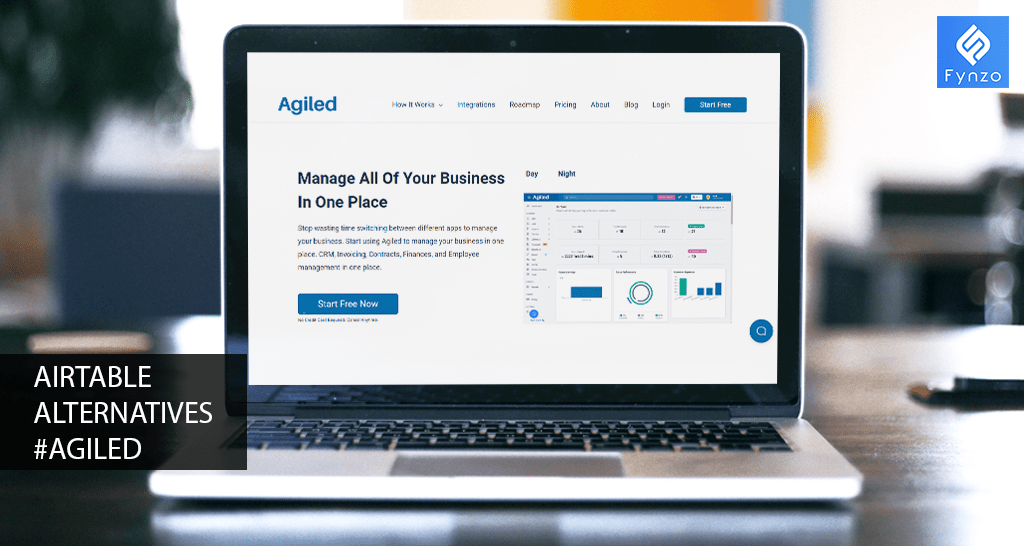 Users can employ it as an efficient Airtable alternative that can be used for managing employees, clients, and leads. It has the feature of creating a white label portal for each of the clients. Some major features of Agiled are:
Contracts and proposals for clients or for managing finances- can be created on Agiled.
It has versatile Employee Management features that enable the creation of new projects/tasks, employee attendance tracking, and time tracking.
Its insight features help you track the performance of your team members
Pricing: $0-$79/month depending on the plan chosen by the user
Airtable Alternative # 8 :Trello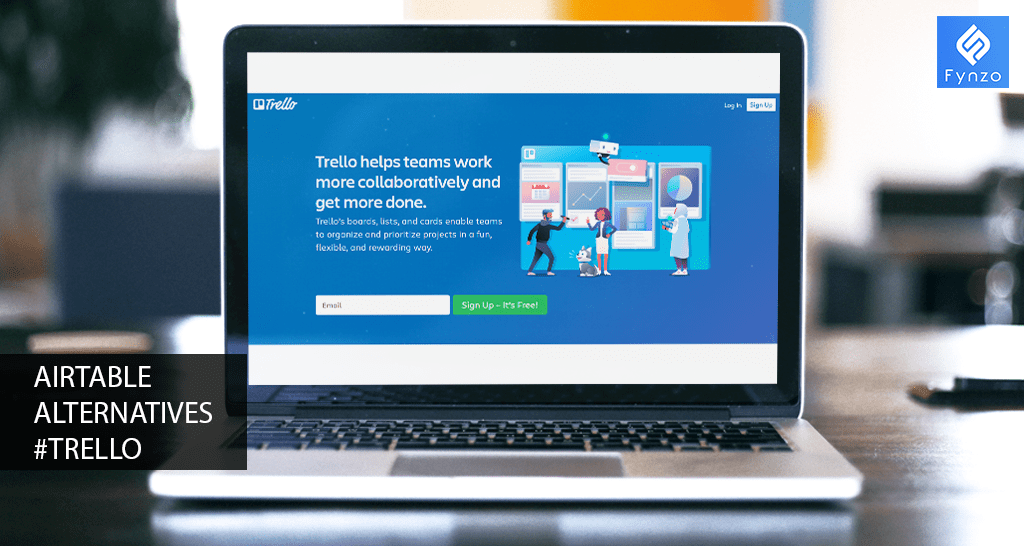 Trello is an easy to use project management app that has a user base of over 50 million. Some of its features are similar to the app Asana. It is extremely easy to learn so it can be set up and put to use in just a matter of a few days. Few noteworthy features of Trello that make it a suitable Airtable alternative are:
The kanban board view can be utilized for creating different stages of your project
The project can be divided with the help of cards and the tasks can be assigned individually to your teammates.
If you have any questions, Trello's customer support and knowledge base has the answers for you
Pricing: $0-$17.50 per user/month
Also read : Airtable may be a popular data and project management tool but it is logical for wanting to shift to something better.
Airtable Alternative # 9 : Stackby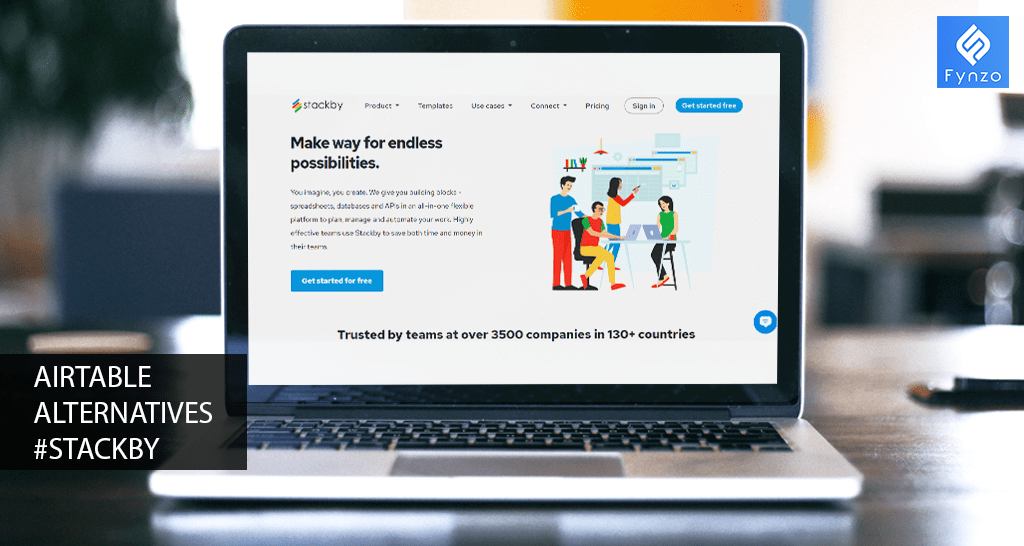 Stackby one of the closest Airtable alternatives is a collaborative platform that helps users customize their work tools just as they want. Some popular features are:
It offers more than 25 column types and 30+ native column connectable API integrations with common services like Google Analytics, YouTube, MailChimp, Facebook Ads,
Users can visualize data with customizable forms along with Kanban and gallery views
It is easily available as a Chrome extension, and it offers both web and mobile apps
Pricing: $5-$648/month depending on the user's requirements
Airtable Alternative # 10 : Wrike
Wrike is a popular Airtable Alternative with more than 20,000 users. This project management software is used to create projects easily with the help of readymade templates. Its popular features include:
Users can easily visualize and complete projects on time with the help of both Kanban and Gantt chart views
Users can simply select form the readymade templates and assign the individual work. They can also set the start and due dates.
Team members can communicate on real time if they have any doubts
Pricing: The pricing varies form$0-$24.80/month, based on the user's requirement.
Conclusion:
All of the mentioned – 10 Airtable Alternatives are one of a kind and the user can select the one which best suits their needs. Some software is easier to use, whereas some are availed at a cheaper price. The software you choose must depend on the budget you are willing to spend and your project requirements. So remember to assess their benefits carefully before selecting a particular software.
You may avail the free trials of each of these software and invest in the one which suits your business requirements. Do you have any more suitable Airtable alternatives in mind? If so, let us know below!