You may be interested in promoting your websites or business with the help of photographs, but they should be able to catch your customer's attention. The average attention span of a person on the internet is lesser than 8 seconds, so the photograph must be extra special to be able to capture their attention and redirect them to your website. Nowadays smartphones are being built with 3 or more rear cameras and companies have been increasing the megapixel count in a rapid manner. But in spite of the resolution of your pictures captured, they need to be given that extra touch that makes it special. Here is where photo editing apps come in.
The basic gallery or Google Photos of every phone comes with basic editing features but if you want that something special, you need to check out these top 7 photo editing apps to be downloaded on your phone for easy and quick editing.
Photo Editing App #1 : PicsArt Photo Studio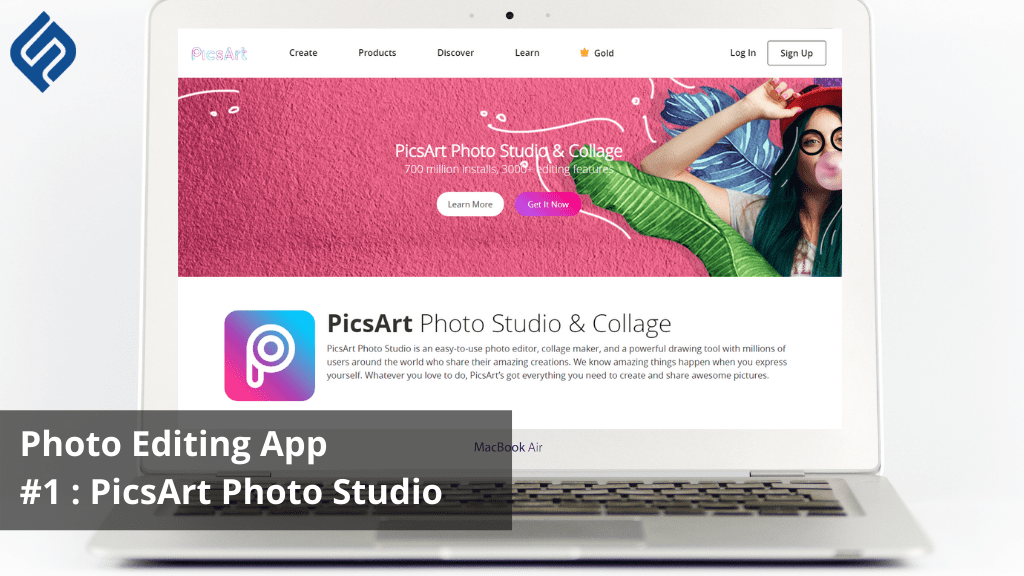 PicsArt Photo Studio is quite popular nowadays with over 500 million downloads on Google Playstore. But, the varied customization features of this application are the main reason behind its popularity.
Users can directly capture the picture with its camera feature and start editing it instantly. It can also be shared immediately to different social networking sites. The main features include effects, stickers, drawing tools, collages, frames, etc.
Key features:
Advanced AI-powered effects.
In-built camera for instant editing.
Brush mode, which can be used on specific areas of the picture.
Use of layers and adjustable transparency features.
Pricing: The application is free but has some in-app purchases. It also shows ads.
Photo Editing App #2 : Snapseed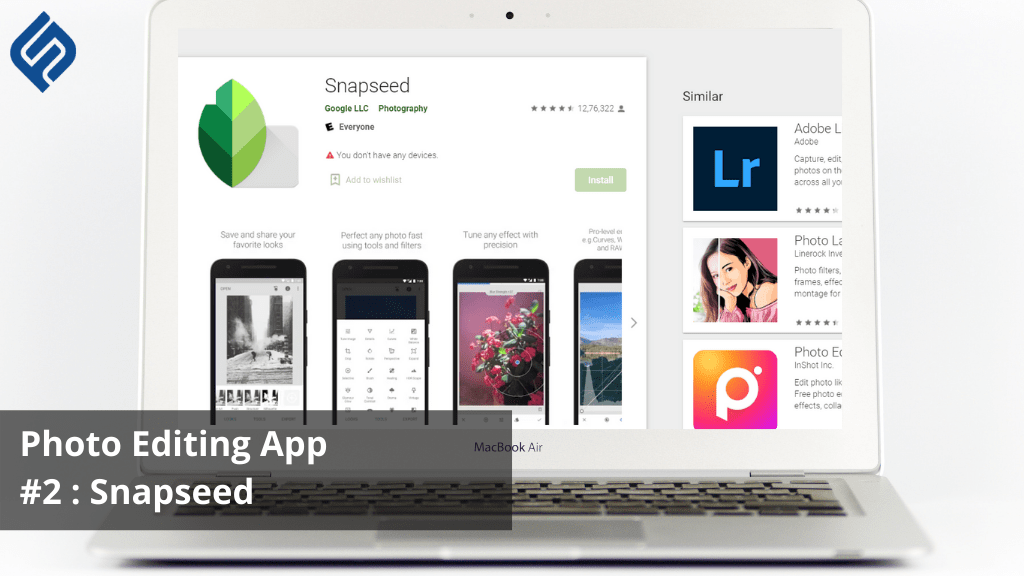 Snapseed is an all-inclusive Android and iOS photo-editor which has an extremely beginner-friendly interface. Also, the wide variety of preset filters are editable and not fixed like in other applications. It has over 29 editing tools with easy sharing options to various sites.
Key features:
The "Selective Adjust" tool helps you select a particular area of the picture you are editing. The saturation, brightness, and contrast can be specifically changed for that particular portion.
It has a dark theme mode which is app-specific. Change the theme according to your preference.
Users can edit RAW and DNG files and export them in JPG format.
Its precision making feature helps to edit the depth of field of a picture.
Pricing: It is completely free and also doesn't contain ads.
Photo Editing App #3 : Adobe Photoshop Express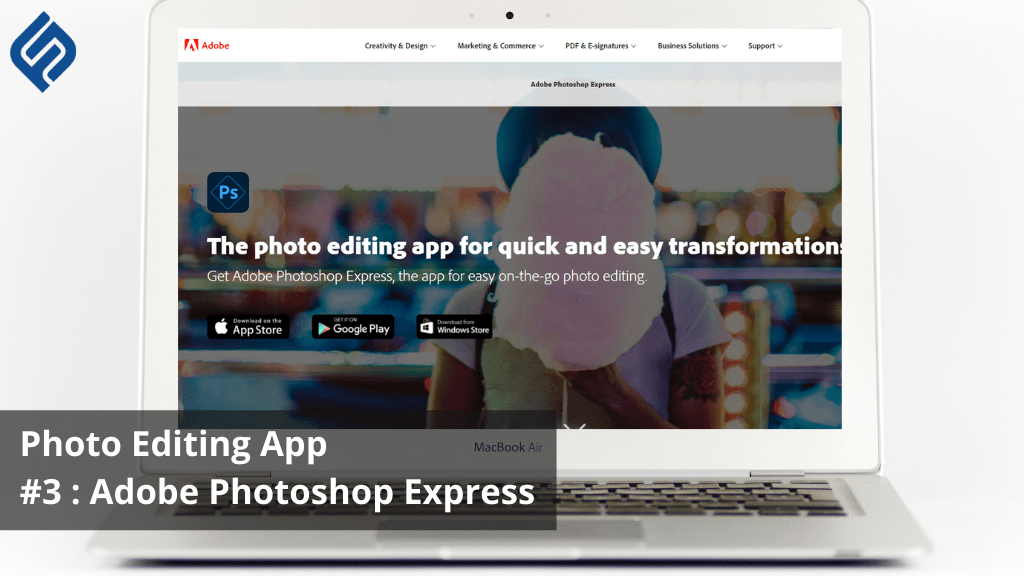 Adobe Photoshop Express has an easy to use interface and is extremely feature-rich. Adobe Photoshop Express contains the best of Photoshop's editing tools and is a popular Android photo-editor. Also, it has all the basic essential features including crop, rotate, one-touch filters, auto fix, frames, etc.
Key features:
It has advanced tools like Image Rendering Engine for editing large files like panoramic photos.
80+ filters for instant photo editing.
The noise reduction feature minimizes unwanted grain and speckling in photos that are captured in the dark.
Import and edit the photograph in RAW format.
Pricing: The sign up is free and can be done with an Adobe ID account. It also doesn't contain ads.
Photo Editing App #4 : VSCO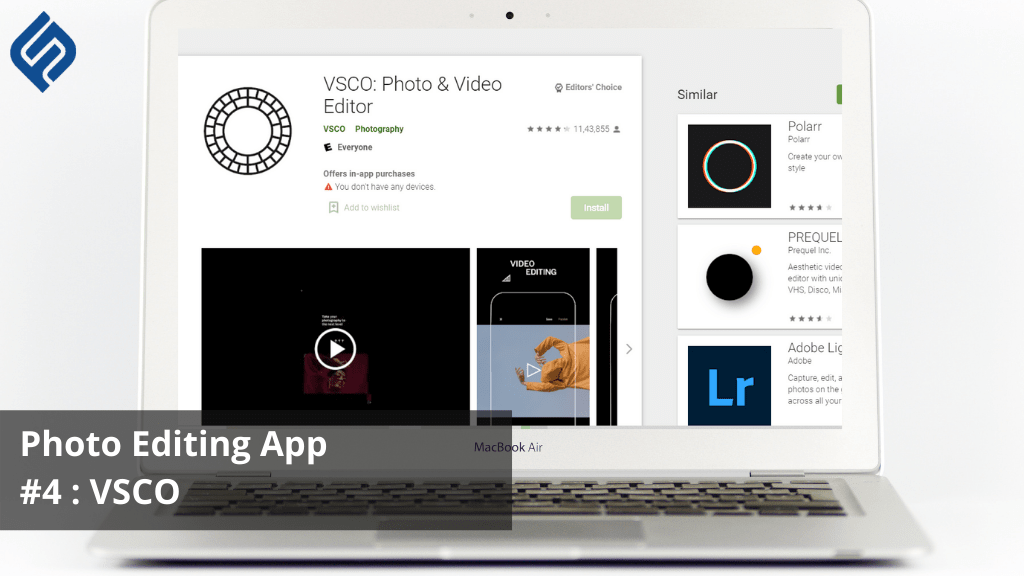 VSCO, a popular photo editing app consists of an in-built camera, varied editing tools, and an online community as well. But its popularity is mainly because of its filters which make your photos look like they have been shot on an analog film camera.
Key features:
Professional tools like Split Tones and HSL are available for editing photographs.
Filters are subtle. You can adjust them by a slider.
10 free presets are available for editing photos instantly.
VSCO community encourages photographers to post their edited photos.
Pricing: Completely free
Photo Editing App #5 : Prisma photo editor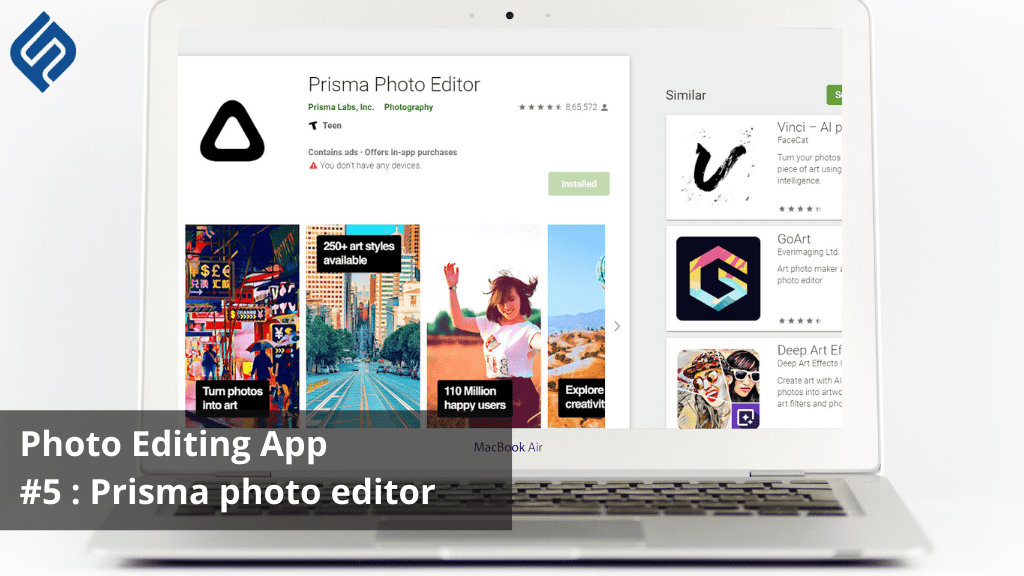 Prisma photo editor application is ideal for those who are interested in transforming their photographs into drawings or paintings. It utilizes artificial neural networks for this conversion, which gives it a realistic look.
Key features:
500+ creative filters. It even adds a new filter every day.
Advanced photo enhancement modes.
300+ art styles for your photograph. You have to pay for additional art styles.
Prisma community is quite similar to Instagram for showcasing your talent by posting on its feed.
Pricing: Basic plan is free but it contains in-app purchases.
Photo Editing App #6 : Toolwiz photos pro-editor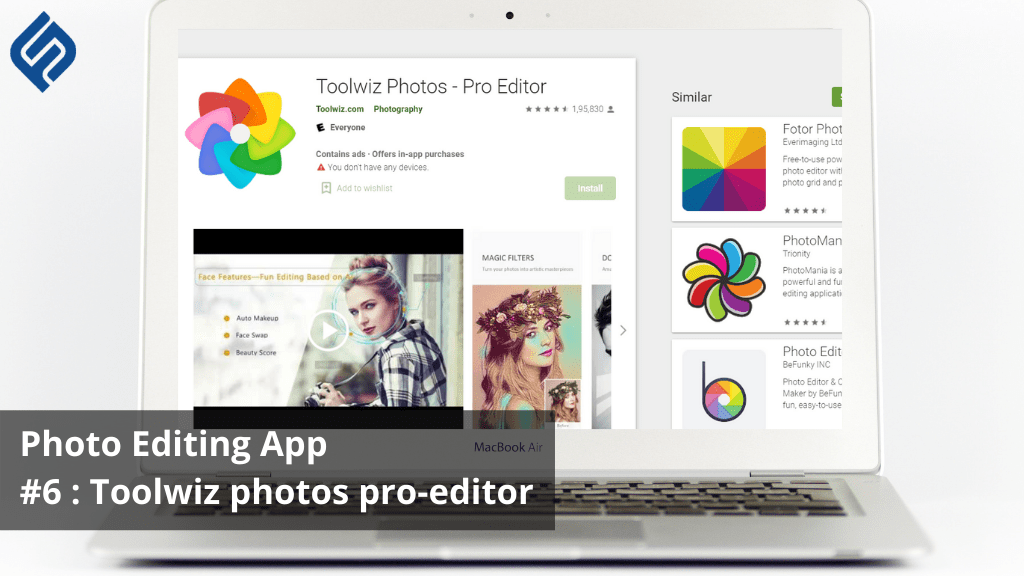 Toolwiz photos pro-editor is an all-in-one editor that has many powerful editing tools along with the basic ones. Users can even create collages with this photo editor. Also, it has easy to use features with a minimalist interface.
Key features:
Great selfie and skin polishing tools for instant editing.
200+ text fonts with shadow and mask features.
Swap-faces feature available which is quite unique.
Red eyes removal and bright eyes feature along with face rater.
Pricing: Completely free.
Photo Editing App #7 : YouCam Perfect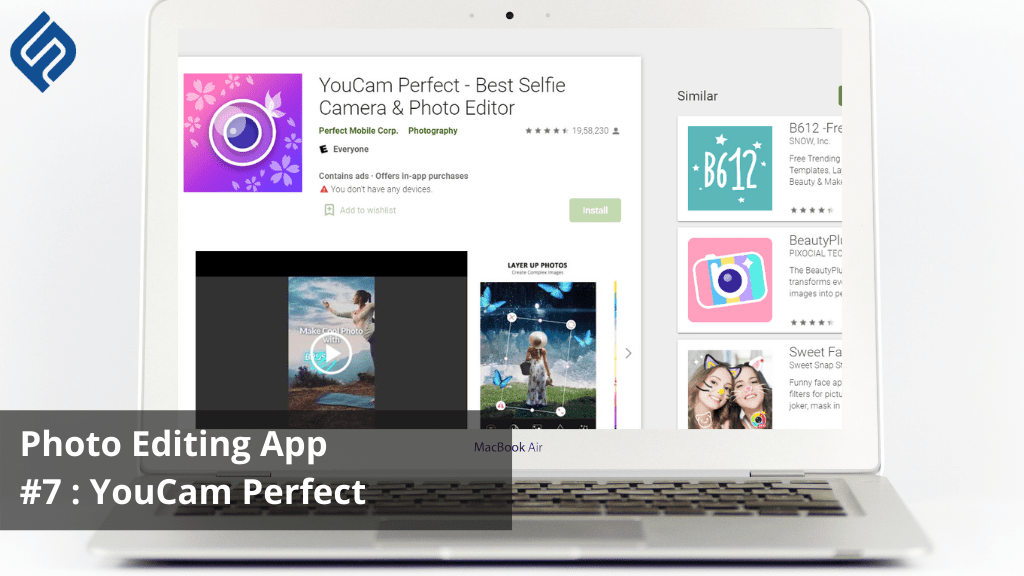 YouCam Perfect is a handy photo editor app for Android users. Complete the editing in seconds and save it to your gallery. It is one of the best for editing selfies. Also, it encompasses video selfie features.
Key features:
Extensive features including one-touch filters, mosaic pixelates for blurring the background, HDR, and vignette effects.
Beauty features like Eye Bag Remover, Face Reshaper, and Body slimmer available.
Multi-face detection features for editing group selfies.
Smile feature which allows users to add a smile to any image.
Pricing: Free with in-app purchases for extra features. Also, it contains ads.
Conclusion:
There are so many photo editing apps available that selecting "the best" is nearly impossible. For this, you and your business need to decide about the exact purpose which your photo editing app has to fulfill. This totally depends on the requirements. So did we miss out on a great photo editing app that you use and believe should be among the top 7. Do let us know below.
Thanks for reading. 🙂